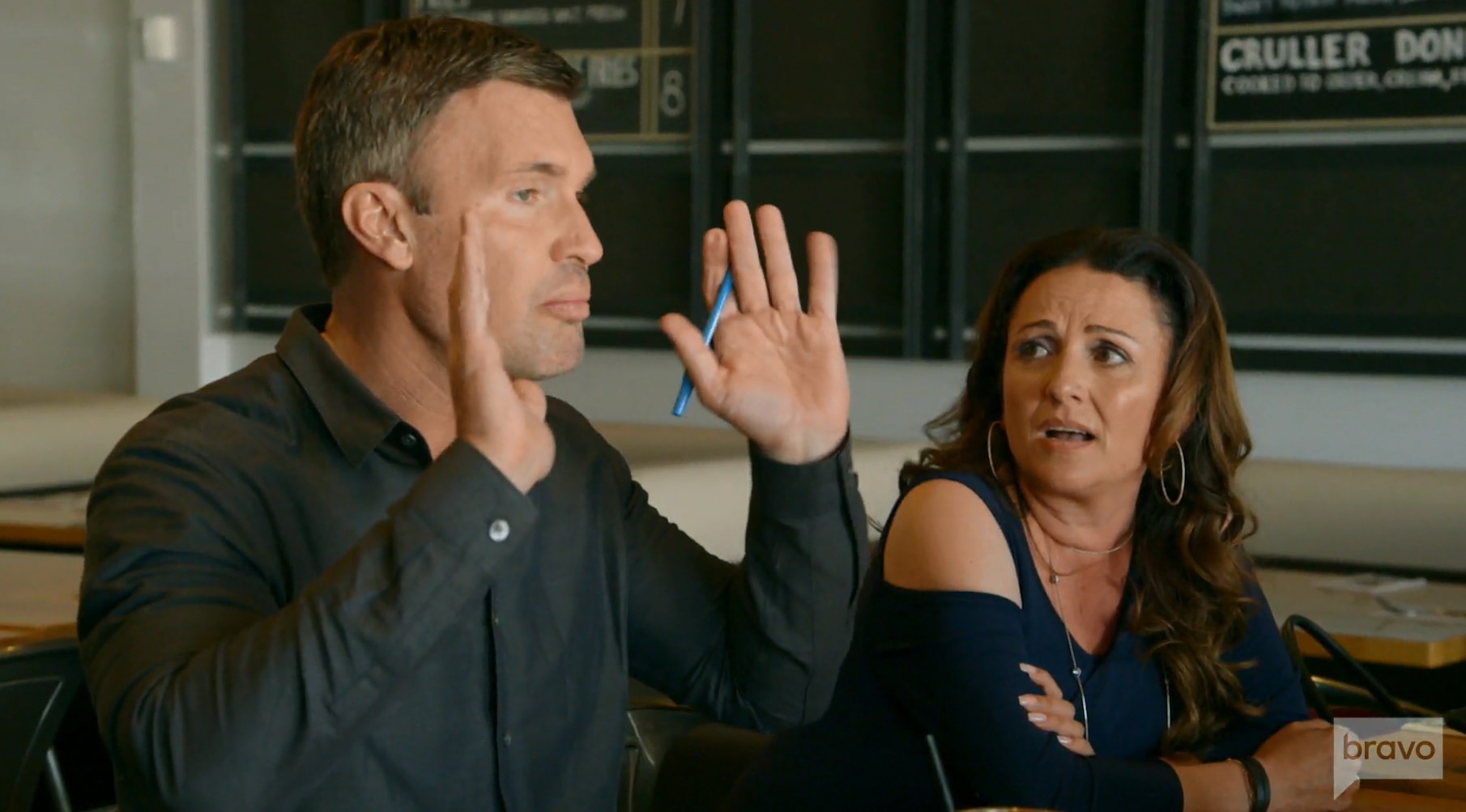 Bravo
Jeff Lewis and former assistant Jenni Pulos' feud is finally explained on Flipping Out's season 11 finale...and it ain't pretty.
In September, the Flipping Out star said on his Sirius XM radio show Jeff Lewis Live that the two had parted ways after a "fight," which occurred after he offered her "unsolicited career advice." It was revealed earlier this month that he fired her from his company Jeff Lewis Design in May over a lunch. Both the fight and the lunch meeting was shown on Tuesday's episode of Flipping Out.
Things got heated between the two as they and three colleagues had a productivity seminar in a coffee shop. The meeting was anything but productive. Pulos discussed her aspirations of becoming an actress and said she has turned down opportunities due to her commitment to her day job—a common pitfall for struggling actors in Hollywood.
"This is what I'm not going to buy into. I'm not going to buy into, somehow you could've developed a career as an actress but this job is holding you back," Lewis fires back. "Like, I'm not subscribing to any of that."
"You've always minimized my acting," Pulos tells him. "It's what you love to do. And I'm over it. I'm so over it."
"I'm not minimizing anything," Lewis replies, adding, "Jenni, I just live in a very real world. A very realistic, practical, tangible world. I don't live in a dream world. And I'm wondering if we should take a look at your strategy or something that you're doing, 'cause you've been in every room in L.A. and I'm just wondering why nothing has stuck."
Lewis says he thinks Pulos is ashamed of being his assistant, and continues to throw shade.
"I will absolutely work with you on the flexibility of going to those auditions when they come up, which is not very often," he says.
Later, on the awkward car ride back, Pulos, who is sitting in the backseat, tells Lewis, the driver, that last year, she "was asked to be on tape and it was a very final audition with an offer."
"I didn't do it because it was gonna be two weeks out," she says. "Two weeks. So I should have come to you and said, 'Hey, I might need to leave for two weeks, is this cool?' But instead, I just said no to it."
"This is the first I've heard about it, which is why I don't believe you," Lewis replies, adding, "We all would have heard about it. Show me the offer, 'cause I personally think you are lying."
Pulos later softens her position, admitting that she "pretty much" had an offer to appear in the film.
"She's a f--king liar!" Lewis shouts.
Watch:
Jeff Lewis Says Jenni Pulos Abuse Charges Put "Career in Jeopardy"
The group gets out of the car and going into a lighting store. They later return to the vehicle and Pulos starts crying.
"All I've wanted to do is be there for him," she says, sobbing. "And it's never, it's like I'm a liar, I'm this, I fabricate stuff. It's like, so, fine, if that's who you think I really am, then don't be around me."
A week later, Lewis and Pulos sit down for lunch at a restaurant he apologizes to her. Pulos thanks him for the apology. Lewis says he doesn't think she's a "liar" and adds that he believes in her.  He also says that he think he is holding her back from pursuing her dreams.
"What would happen instead of spending 50 percent of your time on your career path, what would happen if you spent 100 percent on your career path?" he asks. "You know what my guess is? You're going to accomplish everything you want to accomplish. And then I have to think about what I want for my business. And I'd like to go to the next level. And I'm realizing all of the things that are preventing me from doing that and mostly, it's staff, mostly, it's my employees. Like, my employees need to be in line with me, really. Their dreams, their goals, need to be in line with my dreams and my goals."
"I feel like I need to, for me, I need to have people in that office that are gonna commit to me full-time and have the same objectives that I have," he continues. "So I guess what I'm trying to say is I think it's time to move on. I think it's time for you to move on, and I am eternally grateful to you, 'cause I would not be here if it weren't for you."
"OK," Pulos says, working on her meal.
She later says in an interview she did not realize the purpose of their lunch meeting was for him to tell her that her future at Jeff Lewis Design was over.
"It's scary, the future, when you don't know," she says tearfully. "And you've had such a history."
Lewis said on his Sirius XM show Jeff Lewis Live this week, "I have looked at this episode and I have had a lot of time to think about it and I wish I would have handled it differently. I probably should have not called her out in front of other people because that really embarrassed her...It wasn't worth losing a friendship over. So I have deep regrets about that."
Watch the full episode of Flipping Out's season 11 finale here.