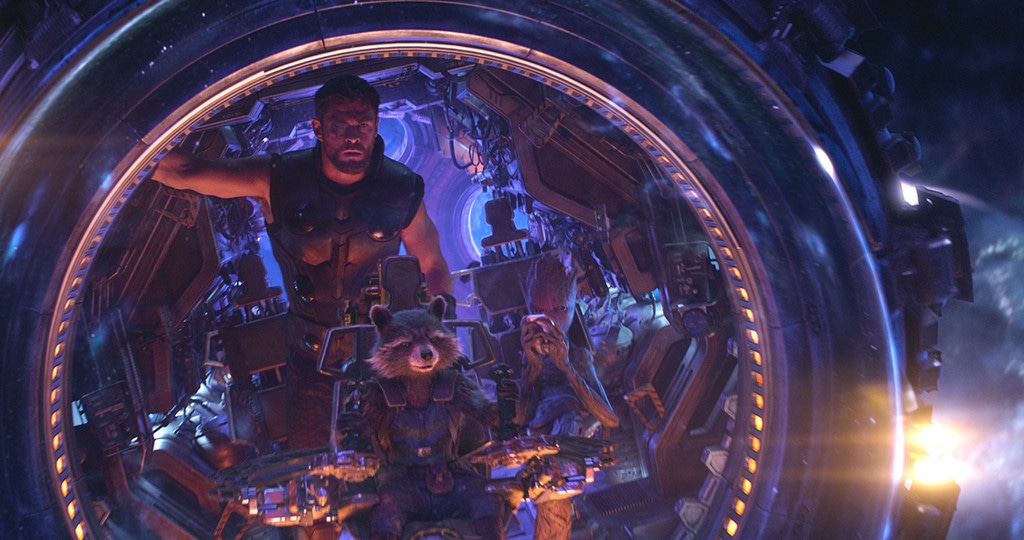 Marvel Studios
The season of giving is in full swing, and Netflix is giving its subscribers a lot to be thankful for before Thanksgiving. From new movies starring Jennifer Aniston (Dumplin') and Sandra Bullock (Bird Box), to Ellen DeGeneres' first stand-up comedy special in 15 years, December is a good month to stay inside and get through your queue. While Netflix is adding hit movies like 8 Mile and Avengers: Infinity War to its library, it will also lose Moana, Spotlight and other popular titles. On the TV front, all seven seasons of FX's Sons of Anarchy will stop streaming after Dec. 1.
Take a look at what's coming and going on Netflix in December:
Available 12/1/18
8 Mile
Astro Boy
Battle
Bride of Chucky
Christine
Cloudy With a Chance of Meatballs
Crossroads: One Two Jaga
Friday
Friday After Next
Hellboy
Man vs. Wild With Sunny Leone: Season 1
Meet Joe Black
Memories of the Alhambra
My Bloody Valentine
Next Friday
Reindeer Games
Seven Pounds
Shaun of the Dead
Terminator Salvation
The Big Lebowski
The Great British Baking Show: Masterclass: Season 5 Masterclasses
The Last Dragon
The Man Who Knew Too Little
Available 12/2/18
The Lobster
Available 12/3/18
Blue Planet II: Season 1
Hero Mask
The Sound of Your Heart: Reboot Season 2
Available 12/4/18
District 9
Available 12/6/18
Happy!: Season 1
Available 12/7/18
5 Star Christmas
Bad Blood
Dogs of Berlin
Dumplin'
Free Rein: The Twelve Neighs of Christmas
Mowgli: Legend of the Jungle
Nailed It! Holiday!
Neo Yokio: Pink Christmas
Pine Gap
ReMastered: Who Killed Jam Master Jay?
Super Monsters and the Wish Star
The American Meme
The Hook Up Plan (Plan Coeur)
The Ranch: Part 6
Available 12/9/18
Sin Senos Sí Hay Paraíso: Season 3
Available 12/10/18
Michael Jackson's This Is It
Available 12/11/18
Vir Das: Losing It
Available 12/12/18
Back Street Girls: Gokudols
Out of Many, One
Available 12/13/18
Wanted: Season 3
Available 12/14/18
Chilling Adventures of Sabrina: A Midwinter's Tale
Cuckoo: Season 4
Dance & Sing With True: Songs
Fuller House: Season 4
Inside the Real Narcos
Inside the World's Toughest Prisons: Season 3
Prince of Peoria: A Christmas Moose Miracle
ROMA
Sunderland Til I Die
The Fix
The Innocent Man
The Protector
Tidelands
Travelers: Season 3
Voltron: Legendary Defender: Season 8
Available 12/16/18
Baby Mama
Kill the Messenger
One Day
Springsteen on Broadway
The Theory of Everything
Available 12/18/18
Baki
Ellen DeGeneres: Relatable
Terrace House: Opening New Doors: Part 5
Available 12/21/18
3Below: Tales of Arcadia
7 Days Out
Back With the Ex
Bad Seeds
Bird Box
Derry Girls
Diablero
Greenleaf: Season 3
Last Hope: Part 2
Perfume
Sirius the Jaeger
Struggle: The Life and Lost Art of Szukalski
Tales by Light: Season 3
The Casketeers
Wolf (BÖRÜ)
Available 12/24/18
Hi Score Girl
The Magicians: Season 3
Available 12/25/18
Anthony Bourdain: Parts Unknown: Season 11
Avengers: Infinity War
Available 12/26/18
Alexa & Katie: Season 2
You
Available 12/28/18
Instant Hotel
La Noche de 12 Años
Selection Day
When Angels Sleep
Yummy Mummies
Available 12/30/18
The Autopsy of Jane Doe
Available 12/31/18
The Bill Murray Stories: Life Lessons Learned From a Mythical Man
Coming in December
Watership Down: Limited Series
Leaving 12/1/18
Cabin Fever
Cabin Fever 2: Spring Fever
Groundhog Day
Happily N'Ever After
Happily N'Ever After 2: Snow White
Hellbound: Hellraiser II
Hellraiser
Sons of Anarchy: Seasons 1-7
Spider-Man 3
Spy Hard
Stephen King's Children of the Corn
Swept Under
The Covenant
The Game
Leaving 12/4/18
Air Bud: Seventh Inning Fetch
Air Bud: Spikes Back
Air Bud: World Pup
Air Buddies
Cars Toon: Mater's Tall Tales
Spooky Buddies
Tarzan & Jane
The Brave Little Toaster Goes to Mars
The Brave Little Toaster to the Rescue
The Crimson Wing: Mystery of the Flamingos
The Search for Santa Paws
Tinker Bell
Tinker Bell and the Great Fairy Rescue
Tinker Bell and the Lost Treasure
Leaving 12/7/18
Trolls
Leaving 12/10/18
Battle Royale
Battle Royale 2
Teeth
Leaving 12/15/18
Step Up 2: The Streets
Leaving 12/16/18
Tinker, Tailor, Soldier, Spy
Leaving 12/17/18
Beverly Hills Chihuahua 2
Leaving 12/19/18
Ip Man: The Final Fight
Leaving 12/20/18
Food, Inc.
I Give It a Year
Moana
Leaving 12/22/18
Spotlight
Leaving 12/25/18
Pirates of the Caribbean: The Curse of the Black Pearl
Leaving 12/31/18
Troy