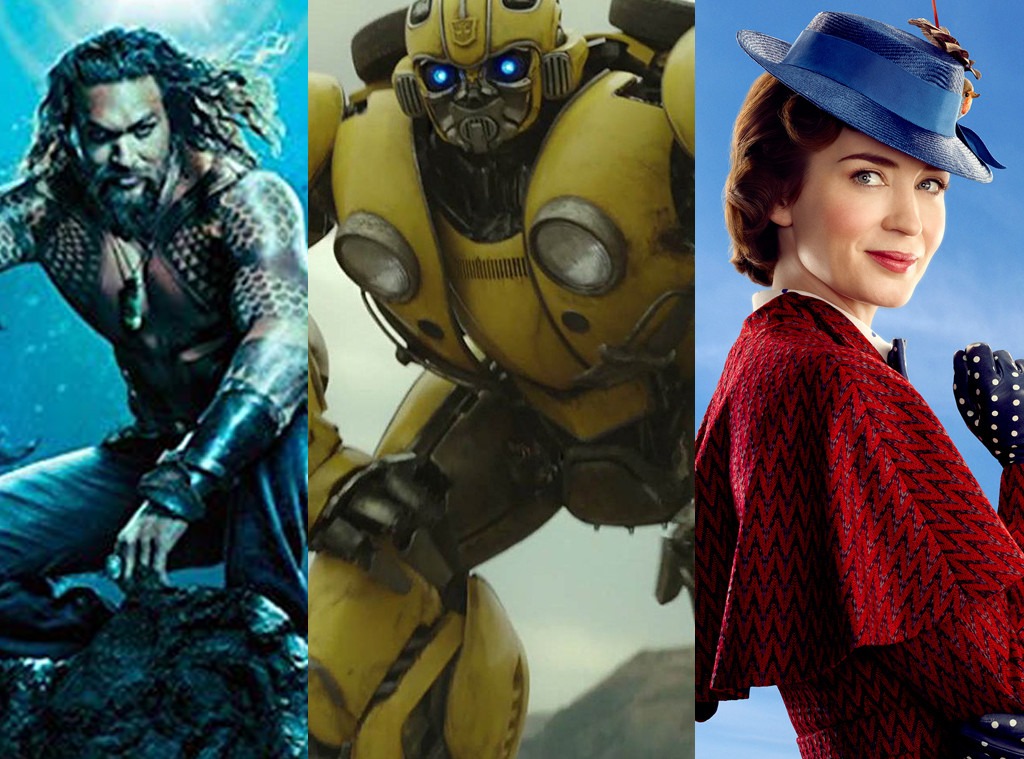 Warner Bros. Pictures Paramount Pictures Walt Disney Studios
We love December for so many reasons, like celebrating the holidays or having an excuse to bundle up next to the fire with a cup of cocoa.
But, we especially love how many great movies will be hitting theaters before the end of the year!
Summer isn't the only season when some of the biggest blockbusters of the year get released. So many phenomenal films have been slated for December releases, and we can't wait to see them all!
Dramas like Mary, Queen of Scots and On the Basis of Sex follow fierce females and depict where they went down in history.
Comedies like Dumplin', Second Act, and Watson & Holmes are sure to have moviegoers in stitches as well.
Oh, and those action-packed adventures like Aquaman, Bumblebee, Destroyer, and The Mule will keep audiences everywhere on the edge of their seats...trust us.
Not to mention, who doesn't want to see Emily Blunt bring the classic character of Mary Poppins to life in Mary Poppins Returns?
Seriously, everyone wants to see this happen and come December they can!
With so many great movies coming out before 2018 comes to a close, we are dying to know which one you're most excited to see.
So, let us know your top choice in our poll below.
Mary, Queen of Scots: Dec. 7
In the upcoming historical drama, Saoirse Ronan stars as the titular character, opposite Margot Robbie, who plays her cousin, Queen Elizabeth I. The film follows the events of the 1569 conflict between their two countries, Scotland and England. This movie definitely brings new meaning to the term family feud!
Dumplin': Dec. 7
This Netflix release is all about turning societal stigmas on their heads! Danielle Macdonald stars as Willowdean "Dumplin'" Dickson, an overweight girl whose mother Rosie Dickson (Jennifer Aniston) is known for being a pageant queen. Willowdean embarks on a hilarious and inspiring journey as she enters herself into a pageant in order to challenge the discriminatory standards of beauty. Go girl!
The Mule: Dec. 14
Clint Eastwood produces, directs, and stars in the upcoming crime drama, which is actually based on a true story! It tells the story of Leo Sharp, a World War II veteran who transported and dealt drugs for the Sinaloa Cartel as a man in his eighties. The star-studded cast also includes Laurence Fishburne, Bradley Cooper, and Michael Peña, so you definitely won't want to miss this one!
Mary Poppins Returns: Dec. 19
Cue the nostalgia! The new Disney film stars Blunt as the titular character in a sequel to the 1964 film that starred Julie Andrews and Dick Van Dyke. The story picks up 25 years after the events of the original movie, when Mary Poppins returns after a terrible tragedy to care for Jane and Michael Banks once again, who are now fully grown. This one is sure to tug at those heartstrings and take you back to your childhood instantly.
Aquaman: Dec. 21
We just love a good superhero movie! In this film, Jason Mamoa reprises his role as Aquaman for his comic book character's origin story. But Aquaman finds himself in a bit of a sticky situation when his brother Orm attempts to unite the seven seas and wage war on the surface world, causing the hero to fight for his rightful role as the leader of Atlantis. Sounds exciting, right?
Bumblebee: Dec. 21
Speaking of origin stories, Bumblebee follows the titular Transformer in a series spin-off that takes place 20 years before the events of the original film. Hailee Steinfeld stars as Charlie Watson, a teenager who finds Bumblebee and quickly bonds with him in this action-packed adventure that looks amazing!
Homles & Watson: Dec. 21
The dynamic duo is back! Step-Brothers co-stars Will Ferrell and John C. Reilly star as Sherlock Holmes and Dr. Watson in a comedy filled with the pair's hilarious hijinks. The funny film is sure to have us doubled-over in laughter the entire time as the two try and solve crimes as the two iconic English detectives.
Second Act: Dec. 21
A little white lie never hurt anyone, right? In this upcoming film, Jennifer Lopez stars as Maya, a 40-year-old mother stuck at a dead-end job...and later passed up for a big promotion. Luckily, Maya gets another chance at a corporate career, thanks to a fake Facebook profile that makes her the top candidate at a private finance firm. Oh, and Vanessa Hudgens, Milo Ventimiglia and Leah Remini are also in the movie, so that's even more of a reason to check it out!
On the Basis of Sex: Dec. 25
This is the inspiring feminist film we all need right now. The biographical drama follows a young Ruth Bader Ginsburg, played by Felicity Jones, as she takes the 1972 case Moritz v. Commissioner to the U.S. Court of Appeals—for free, by the way—in an effort to reverse sex discrimination in the United States. Notorious RBG is such an inspiration that we can't wait to see this film.
Destroyer: Dec. 25
Nicole Kidman, is that you? The acclaimed actress is unrecognizable as LAPD detective Erin Bell, who must face her past demons in this crime thriller. Back when she was a young cop, Bell went undercover with a gang, but it ended tragically. So, when that very gang leader returns years later, she has to dig up her horrific history. Clearly this story is going to be intense.
The time has come to tell us which movie is the one you'll be racing to the theaters to see. Sound off in the poll below now.