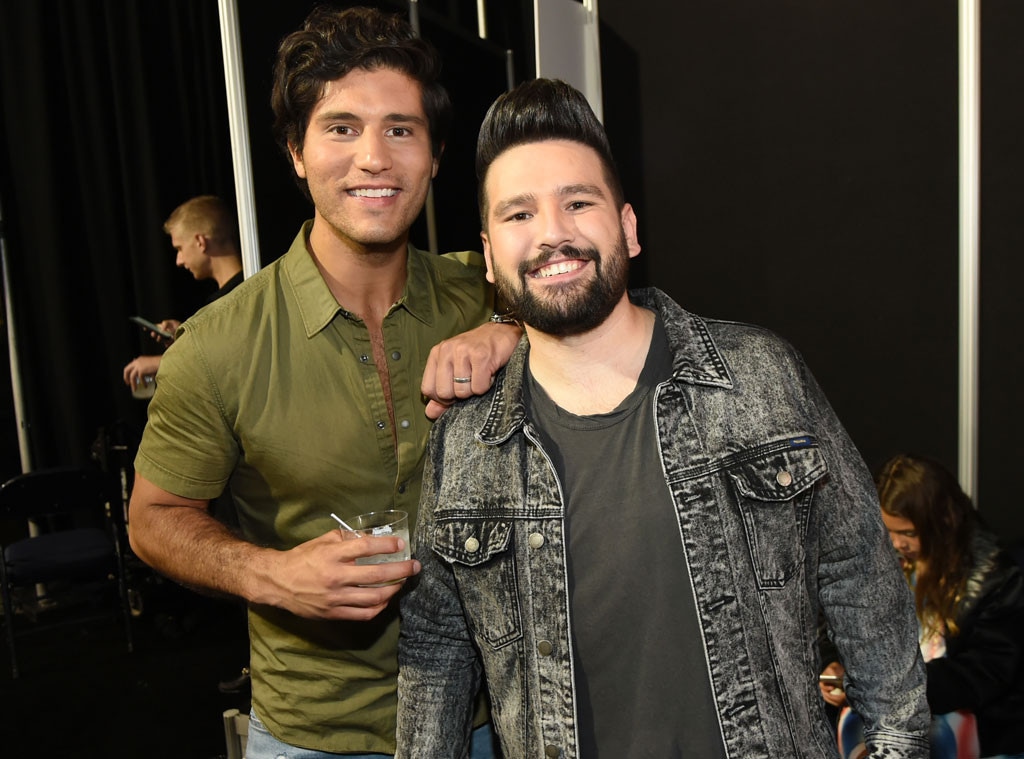 Rick Diamond/Getty Images for CMT
When you taste "Tequila," does a certain song come to mind? If it's Dan + Shay's irrestistable single, you are not alone.
For country duo Dan Smyers and Shay Mooney, their track not only pleased critics when it was released. But as it turns out, music fans from multiple genres couldn't help but fall in love with the heartfelt lyrics and catchy beat.
"We knew it was really special, we were really proud of this song. Sometimes a piano ballad is a little risky to put out as a radio single, but we put ['Tequila'] out, and immediately we could feel the reaction was, like, so elevated," Dan shared with Billboard. "Radio embraced it, played it and the fans reacted to it. It's cool that we trusted our gut on that one."
Tomorrow night, the song could just win Single of the Year, Song of the Year and Music Video of the Year at the 2018 CMA Awards. NBD, right? 
But before the awards are handed out, we wanted to do some digging on one of country music's biggest hits of the year. Raise a glass and cheers to one unforgettable single.
1. For those who thought "Tequila" was destined to be a party song, think again. Dan + Shay wanted to flip the script and do something entirely different. "Tequila was basically the trigger that took you back to a certain place, so it's a nostalgic heartbreak song, which is kind of Dan + Shay's wheelhouse," Dan shared with the Seymour Tribune.
2. If you're in awe of the music video location, we found where filming took place. According to outlets, the project was filmed in Frisco, Colorado with Moose Jaw serving as one of the key locations. Be right back, we're packing our bags this winter.
3. When watching the music video for "Tequila," you may spot a familiar face by the name of Nyle DiMarco. When he was approached to star in the video, the America's Next Top Model alum had little hesitations. "It's extremely rare for a storyline to include a Deaf character and even more rare for casting directors to look for Deaf actors to play those roles," Nyle shared with E! News. "The video was a great opportunity to show authenticity and be part of the incredible story Dan + Shay were telling."
4. Viewers can instantly see the connection between Nyle and his co-star Mica Von Turkovich. They obviously have had to work together beforehand, right? "It was my first time working with Mica. She's incredible!" Nyle shared with us. "I taught her signs for her role and not only did she pick it up right away, she asked to learn more."
5. If you ask Nyle, Dan + Shay absolutely should win Music Video of the Year at Wednesday's award show. He also has a theory as to why the video became such a fan-favorite. "The story of this couple, how people connect to each other, really hits you and I think that is why the video resonates with so many," he shared with us.
6. If you're curious to know Dan + Shay's drink of choice, their answers may surprise you. "I think Dan, he does usually a soda water or a LaCroix with tequila," Shay revealed to Billboard. "Sometimes I do Red Bull and tequila."
7. Credit where credit is due! Both artists are happy to give shoutouts to "Tequila" co-writers Nicolle Galyon and Jordan Reynolds for making the song such a hit. "The first day I ever wrote with [Jordan] a few years ago, I texted my publisher and said, 'This guy is about to take over Nashville.' And then Nicolle, who is just prolific and genius," Dan explained to Music Row. "We've worked with her on a few of our albums and she's incredible."
8. While the finished music video looked pretty, there were some behind-the-scenes ooops moments that the camera didn't catch. "No one saw me fall, but now I'm confessing to you guys, I fell like 30 times," Shay shared with Billboard. "One of the things that stood out to me was that it was freezing cold. We were sitting there. We had a piano, I think they had got it off of Craigslist. We're trying to look cool, and it's freezing."
9. For those wondering just how successful "Tequila" is and was, we got the receipts. The music video has received close to 50.4 million views on YouTube alone. The song also helped them earn their first top 30 hit on the charts. "You see the list of names that are on the Hot 100, Drake, Cardi B, all these massive artists—and then Dan + Shay. It's like, 'Did somebody make a mistake?'" Dan joked with Billboard. "It's an honor."
The 2018 CMA Awards air Wednesday night at 8 p.m. only on ABC.