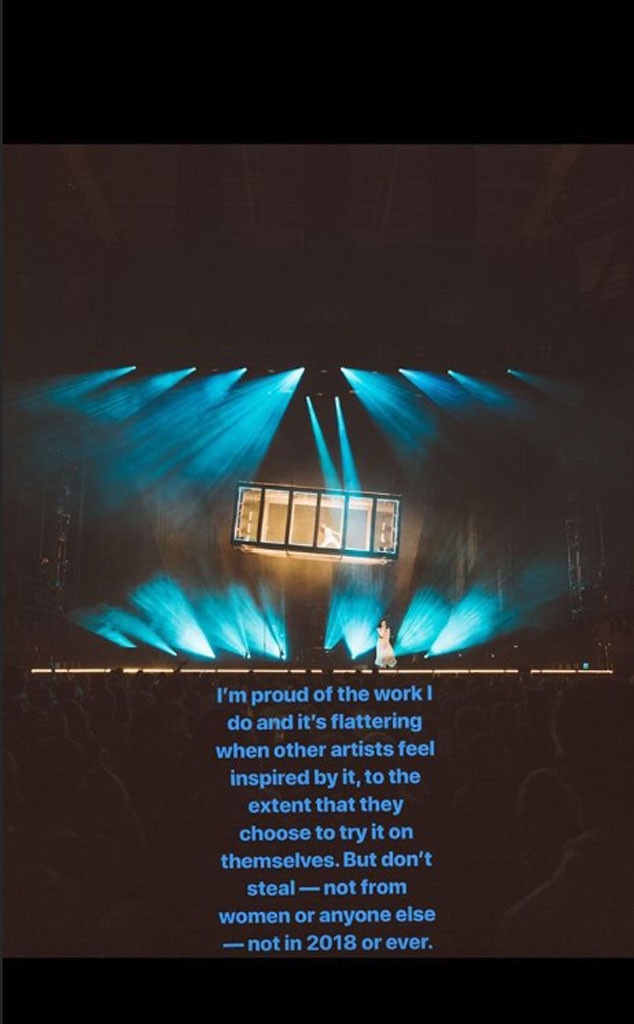 Instagram
UPDATE: Set designer Es Devlin has seemingly responded to Lorde's accusations, posting a photo to Instagram of a floating box she designed for the English National Opera in 2007. Noting the date, it appears she first used the design concept over 10 years ago. "CARMEN by Georges Bizet , English National Opera 2007," the designer, who has worked with Kanye West since 2005 and has also worked with Lorde, captioned the post.
TMZ reports that Devlin designed Kanye's floating stage for his Saint Pablo Tour in 2016, and worked with Lorde on a similar box look the following year for Coachella, a similar design was later used for Lorde's tour.
_______
Lorde is taking some issue with Kanye West and Kid Cudi's most recent concert at Tyler, The Creator's Camp Flog Gnaw festival in Los Angeles. The duo performed under the name Kids See Ghosts, which is also the name of the album they released together in June.
On Thursday, the "Royals" singer posted a few photos on Instagram comparing her 2017 tour set—including her headlining stint at Coachella—alongside pictures from Camp Flog Gnaw. In both instances, a transparent and enclosed stage-like area is suspended above the ground. Kanye and Kid Cudi were both in the box, whereas Lorde stood in front of it in her photos. Other dancers and performers were in the hanging stage during her concert.
Lorde, however, did not call out Kids See Ghosts by name on her Instagram story, but a picture can be worth a thousand words. In one part of her story, she wrote, "I'm proud of the work I do and it's flattering when other artists feel inspired by it, to the extent that they try it on themselves."
She added, "But don't steal—not from women or from anyone else—in 2018 or ever."
Lorde has never shied away from speaking her mind, and wears her heart on her sleeve—literally. At the 2018 Grammys, she had a piece of paper attached to the back of her red dress that ended up being a pretty politically-charged statement. "Rejoice! Our times are intolerable. Take courage, for the worst is a harbinger of the best," the note said. "Only dire circumstance can precipitate the overthrow of oppressors. The old and corrupt must be laid to waste before the just can triumph. Opposition identifies and isolates the enemy. Conflict of interest must be seen for what it is."
The words were from an excerpt from artist Jenny Holzer's work.
As evidenced in her Instagram story photo, the "Green Light" singer is adamant about female singers' voices being heard loud and clear. She was the only female nominated for Album of the Year at the Grammys and she thanked fans for "believing in female musicians" in a hand-written note that was published in The New Zealand Herald.
After stopping by the 2018 People's Choice Awards and winning Reality Show of 2018, Kim Kardashian, Kourtney Kardashian, Khloe Kardashian and Kendall Jenner attended the concert at Dodger Stadium and were having a ton of fun in the crowd.
Camp Flog Gnaw was one of Kanye's first sets since performing on Saturday Night Live in September. Kid Cudi made an appearance at the end of the show where the Kid See Ghosts duet, 070 Shake and Ty Dolla $ign sang "Ghost Town From Ye." In October, Kanye gave an impromptu and surprise performance via Twitter from Uganda, where he was allegedly finishing his upcoming album Yandhi. 
This story was originally published on Mon, Nov 12, 2018, 3:32 p.m.