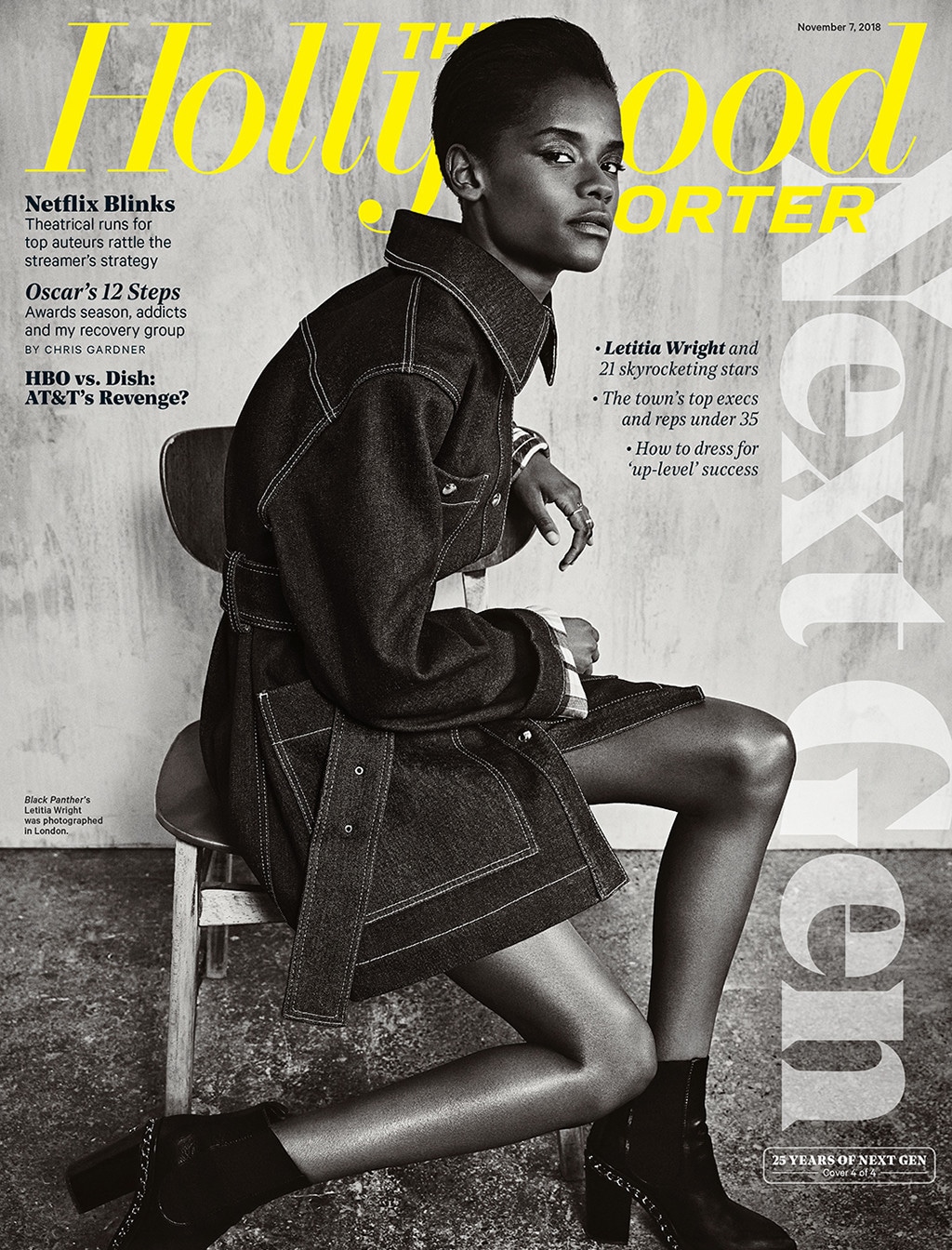 Miller Mobley/The Hollywood Reporter
Letitia Wright is on the precipice of greatness.
In February's Black Panther, the 25-year-old actress stole just about every scene she was in—no easy feat, considering the cast included heavy hitters like Angela Bassett, Chadwick Boseman, Danai Gurira, Michael B. Jordan and Forest Whitaker. In April, Wright reprised her role as Shuri for Avengers: Infinity War, assisting Vision (Paul Bettany) in trying to remove the Mind Stone before Thanos (Josh Brolin) could use it to wipe out half the universe. (The Marvel blockbuster became the top-grossing movie of 2018 and the fourth highest grossing film of all time.) And in July, she received an Emmy nomination for a supporting role in Black Mirror.
Needless to say, Wright is having a very, very good year.
So, it's no surprise that Wright is featured on one of four covers for The Hollywood Reporter's annual "Next Gen" issue. (Awkwafina, Noah Centineo and Ezra Miller appear the other three.)
Miller Mobley/The Hollywood Reporter
But before she hit it big, Wright says she did a lot of "weird stuff" to get noticed, like hand-delivering her résumé to every casting agent in London. "I never really knocked on the door, just put it through the letterbox and ran!" she says. While no one replied, she was recently offered a role by someone on the list. "It was a moment of realizing: You've come a long way."
At the age of 16, Wright enrolled in the London Identity School of Acting. But the school's founder, actor and director Femi Oguns, says a young Wright was like a "needle in a haystack."
And yet, she found work fairly quickly, booking a two-episode arc on BBC One's Holby City. More television roles followed, but Wright feared she'd never catch a big break. "I was putting so much pressure on myself," she recalls. At one point, Wright says she'd even questioned her place on Earth, saying, "You get comfortable with the idea of thinking, 'Maybe it's OK to leave.'"
And so, the actress sunk into what The Hollywood Reporter described as a "bout of crippling depression" that came to a head in 2015. A trip to a Bible study saved her from a "very dark place," she says. After devoting herself to Christianity, Wright was unsure if she would ever act again—and even turned down a role opposite Nicole Kidman. "I wrapped it up and was done with it, happy to do anything that was more chilled. But that's not the way God had it with me."
Miller Mobley/The Hollywood Reporter
Once Wright auditioned for director Ryan Coogler's Black Panther, she could see her future clearly. "I've got this role," the actress told Oguns after testing for the part. "God has told me."
Now, Wright isn't rushing to book another role merely to capitalize on her string of recent successes. "I pride myself on keeping it the same as when I came into acting, to not just change the lane and take everything, just because it may have a big name or a big budget. 'Am I right for this part? Is this what I should be playing?'" the talented star tells The Hollywood Reporter. "If something feels off in my spirit, I know that's God's way of saying, 'You shouldn't do that.'"