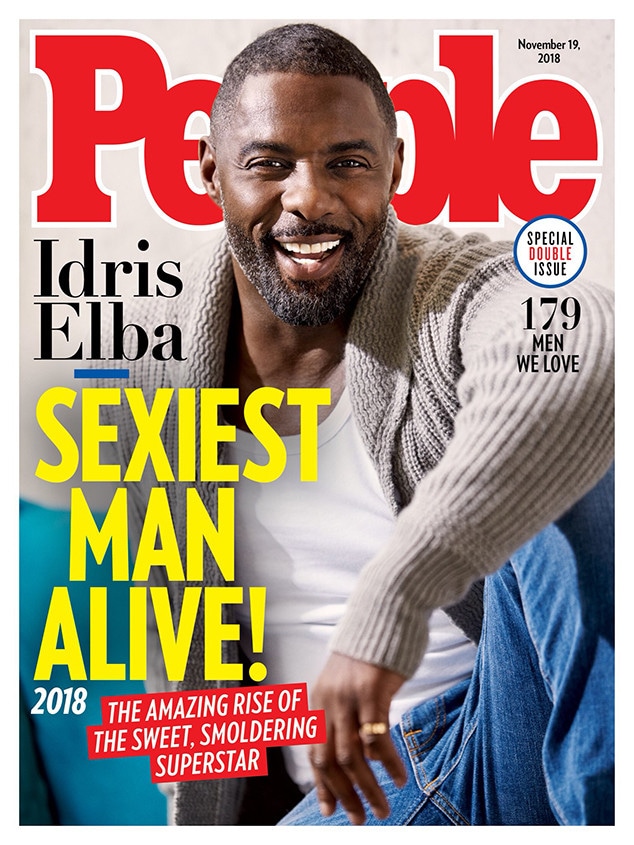 David Burton/People
Idris Elba is People's 2018 "Sexiest Man Alive."
Jimmy Fallon broke the news on Monday's episode of The Tonight Show. 
The 46-year-old British actor is the 33rd man to receive the honor. Past recipients include Blake Shelton (2017), Dwayne Johnson (2016), David Beckham (2015), Chris Hemsworth (2014) Adam Levine (2013) and Channing Tatum (2012).
"It's an honor," he told Fallon via Skype. "My mum is going to be very, very proud."
So, how does the magazine pick its winner every year? It turns out the recipient has to have more than just good looks.
"People really think of 'sexy' beyond physical appearance—although that certainly helps," editor-in-chief Jess Cagle told NBC 4 New York three years ago. "They like the idea of a guy who would be a good husband and father. We always feel out the readers to see what they want, and then we just argue about it!"
Here are five ways Elba meets the criteria.
1. He's sexy.
Have you seen the man's muscles?
2. He's a doting father.
Elba is the proud parent to two children: his 16-year-old daughter, Isan, and his 4-year-old son, Winston. And while he's won numerous accolades for his performances over the years—including a Golden Globe—it seems like his favorite role is "dad."
"Being witness to the birth of my children is the biggest and best thing ever," he told the publication. "I'm super doting, big hugs, kisses, lots of love-yous. I'm sure my daughter's like, 'All right Dad, chill out.' My son is still at that age where he loves a cuddle."
3. He's a loving partner.
Back in February, Elba proposed to his girlfriend, Sabrina Dhowre, at a movie theater in London. The two met while he was filming The Mountain Between Us, and they've continued to be each other's biggest support systems. After news of his Sexiest Man Alive win broke, the former Miss Vancouver took to Instagram to celebrate.
"That's my hubby!!! Yaaaaasssssss," she wrote. "Thanks @people but I already knew."
4. He's super talented. 
From doing the voiceover of Shere Khan in the 2016 reboot of The Jungle Book to starring in the hit TV show Luther, Elba has proven he can do it all. Over the course of his career, he's been nominated for six Golden Globes, three BAFTAs and five Emmys.
5. He's confident but humble.
With all of his accomplishments, it would be easy for Elba to develop an ego. While he certainly is confident, he also stays true to his roots.
"I love being confident, but also I know when to rein it in and just stay humble and grounded," he told the publication.
Congrats, Idris!