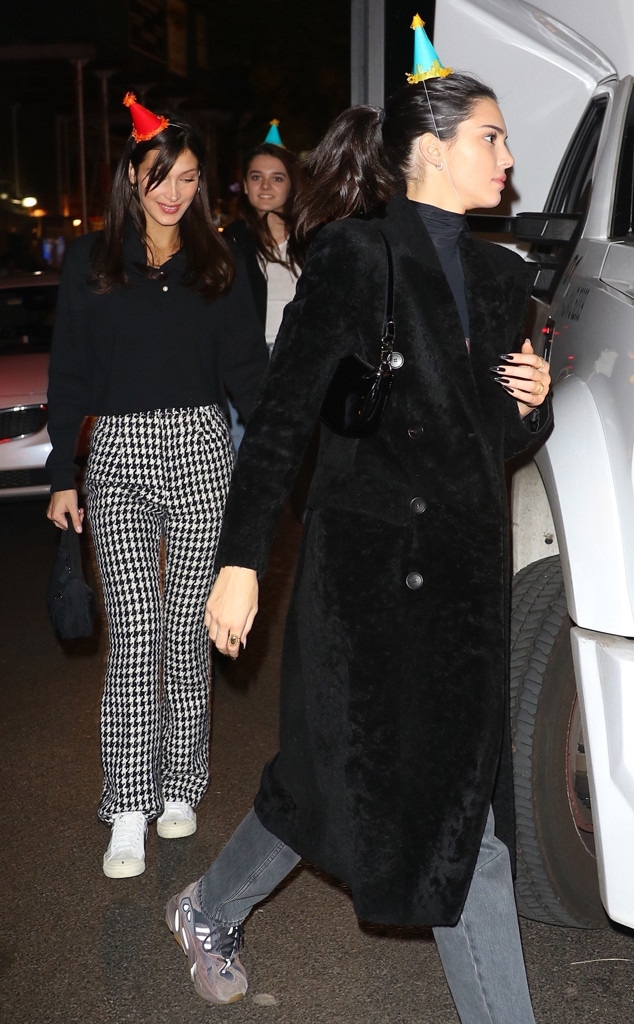 BlayzenPhotos / BACKGRID
Kendall Jenner celebrated her 23rd birthday in New York City, where she is preparing for the 2018 Victoria's Secret Fashion Show.
On Saturday night, she partied with fellow Victoria's Secret models Bella Hadid and Joan Smalls and other friends, such as Justine Skye and Tyler The Creator. Kendall dressed casually in a black turtleneck and matching jeans and a long coat, and sneakers. The group enjoyed karaoke, chips and salsa and guacamole and decorated balloon animals—courtesy of Bella!
"I love them so much...had to get them all," Bella wrote on Instagram Stories.
She also shared a photo of Kendall holding one of the balloons at the party.
The group belted out songs at the Sing Sing Karaoke bar.
"LMAO I love my friends," Kendall wrote on her feed, alongside a video of the partygoers dancing and singing.
Earlier in the day, Kendall shared a photo of the many flower bouquets she received for her birthday.
Instagram / Kendall Jenner
Per tradition, her family members also shared sweet tributes online, complete with childhood photos of her. Kim Kardashian posted a photo of her holding Kendall on her lap when her sister was a baby.
"Happy Birthday @kendalljenner," she wrote. "I've never met a sweeter or prettier human being and someone who has so much fun in life! I hope you get everything you've ever dreamed of for your birthday because you deserve it! I'm so happy you are my sister. I love you."