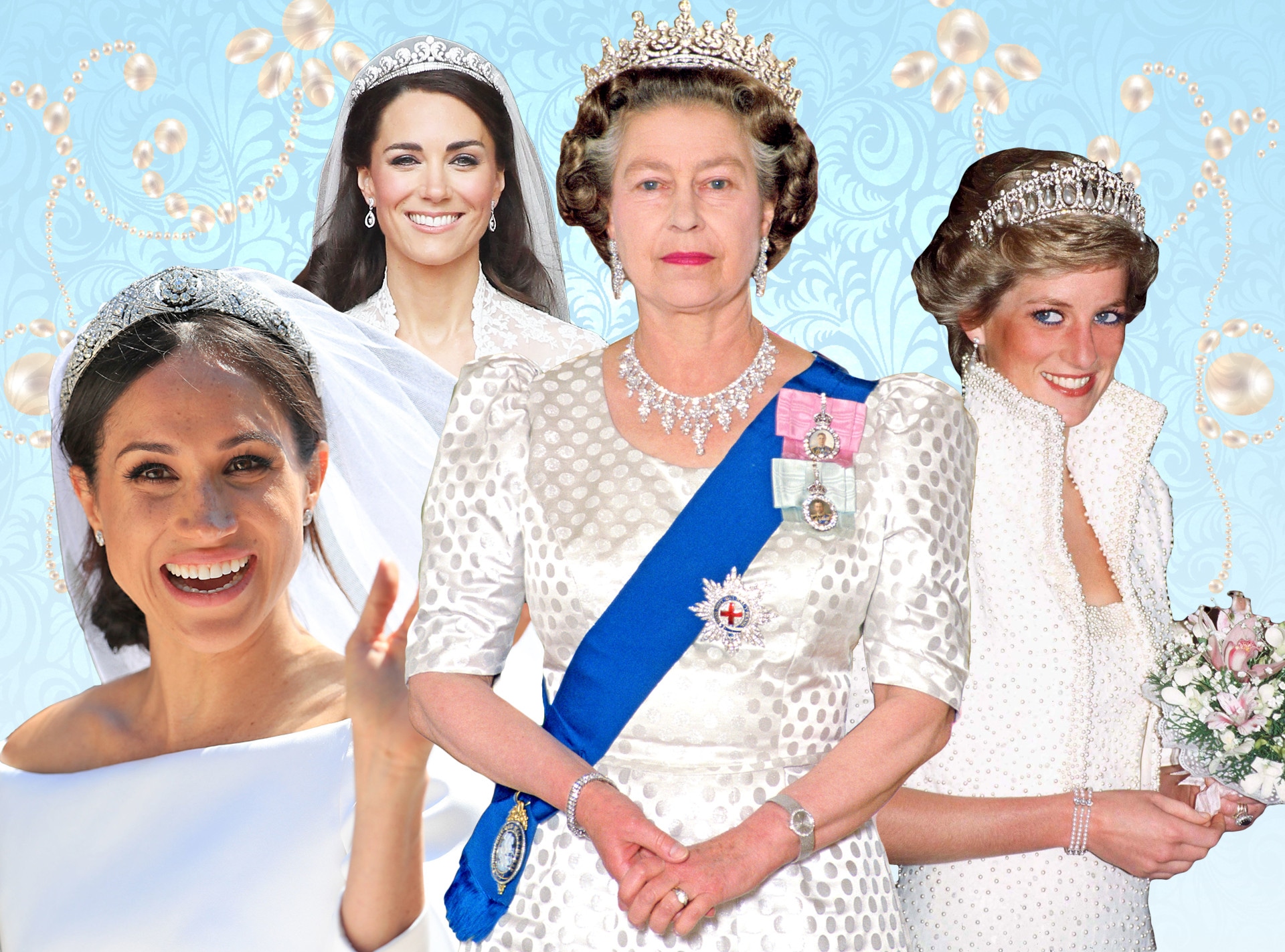 Getty Images/E! Illustration
Uneasy lies the head that wears a crown.
Quite literally.
"You can't look down to read the speech, you have to take the speech up. Because if you did, your neck would break and it would fall off," Queen Elizabeth II said in the BBC One documentary The Coronation, in which the monarch summed up the 2 1/2-pound Imperial State Crown, which is bedazzled with 2,868 diamonds, 17 sapphires, 11 emeralds and hundreds of pearls. 
"There are some disadvantages to crowns but otherwise they are quite important things," the queen added. Conveniently, she only wears it occasionally, when she presides over the annual opening of Parliament or, as the film chronicled, at the 65th anniversary of her own coronation. (For her Diamond Jubilee in 1897, Queen Victoria purposely declined wearing a crown in favor of a bonnet, much to her children's horror. To Victoria, it represented how she saw herself, as mother, grandmother and great-grandmother, as opposed to just a ruler, after 60 years on the throne.)
And despite its bulkiness, the Imperial State Crown is only half as heavy as the even more unwieldy St. Edward's Crown, or the Coronation Crown, which the queen has only worn once—when she was invested by the Archbishop of Canterbury in 1953. That golden heirloom stays locked up tight in the Tower of London's Jewel House.
"Is it still as heavy?" the queen quipped. She also astutely observed, "It is impossible to tell what is front and back."
But the Imperial State Crown is no slouch—it boasts the Black Prince's Ruby that was part of Henry V's helmet when fought in the Battle of Agincourt in 1415, as well as the 317-carat Cullinan II diamond.
Press Association via AP Images
So though the reigning queen is synonymous with "the Crown," crowns themselves really aren't all that practical. That's where tiaras come in.
Like little baby crowns, tiaras—which no matter how elaborate, do not fully encircle the head—also historically signify royalty, status, tradition and pageantry, and you can not only read with one on, you can eat, dance and, if you're Princess Margaret, take a bath. 
They also really come in handy—Prince Philip's mother, Princess Alice, dipped into the family vault and found a tiara from which he got the diamonds for Elizabeth's engagement ring.
The sparkling accessory even has its own day—May 24, Queen Victoria's birthday, is International Tiara Day, dreamed up for women of all ages to treat themselves royally. And if that involves wearing a tiara, go for it.
But not all tiaras were created equally, and even if you're royal you can't just go checking one of the queen's out of her vault as if it's a library book. And you most certainly can't wear a piece that belongs to her in the tub, even if you have been loaned it for a special event, like an Oscar nominee draped in $1 million worth of borrowed diamonds on the red carpet.
Margaret was only free to do what she wished in her famous photo shoot because that tiara was hers, bought expressly for her ahead of her marriage to photographer Tony Armstrong Jones, who became Lord Snowden.
When the 19th-century Poltimore Tiara went up for auction in 1959, someone—possibly Margaret herself, but it could have been a gift from her sister the queen, or their mother Elizabeth, the Queen Mother—snatched it up for a bargain £5,500. (Even more of a bargain because it can be taken apart into a diamond necklace and 11 brooches. In fact, royal tiaras in general are the Transformers of jewelry: many of them also double as necklaces.)
Central Press/Getty Images
Lord Snowden snapped a downright sexy photo of his wife wearing her wedding tiara, her lustrous dark hair piled on top of her head, in the bath at Kensington Palace in 1962—another moment in time that helped establish the spare heir's legacy as a royal who cheekily refused to be tamed. (She also tied a balloon to her tiara toward the end of the night at Princess Diana and Prince Charles' raucous pre-wedding ball.) 
Margaret and Tony divorced in 1978. Their children, Lady Sarah Chatto and David Armstrong-Jones, 2nd Earl of Snowden, had the tiara auctioned off with some more of their mother's possessions at Christie's in 2006, reportedly to help cover the inheritance tax on her estate. An unknown buyer paid £926,400 for the historic piece. (The kids made almost £10 million from the auction over all.)
On her own wedding day in 1947, Queen Elizabeth II wore Queen Mary's Fringe Tiara—its 47 diamond bars, made of stones taken from a necklace that Queen Victoria gave to Mary when she married her grandson, the eventual King George V, in 1893, looking like a dazzling picket fence. The queen's daughter, Princess Anne, also wore it on her first wedding day, when she married Mark Phillips in 1973.
Alas, much like the Stanley Cup or a Master's green jacket, cherished items that people don't get to keep in their own homes forever despite having won the titles that merit them, tiaras that are part of the queen's collection—not to be confused with the Crown Jewels, which also include swords, robes and other items used for ceremony—are loaned out entirely at the behest of the monarch herself.
And, of course, there are rules.
Tim Graham Picture Library/Getty Images
For instance, no tiaras before 6 p.m.—except, obviously, exceptions are made for the daytime weddings this family is so fond of. (Though of course, how else do you have an all-day celebration if it doesn't start at noon?)
Another exception the queen makes for herself is with the George IV State Diadem tiara, a heap of diamonds she—like her great-grandmother Queen Victoria before her—wore on the way to her coronation and which she wears on the way to opening Parliament before she exchanges it for the State Imperial Crown. The Diadem boasts a 4-carat canary diamond, plus 1,333 diamonds constituting 325.75 carats, and 169 pearls, and it's the tiara the queen is wearing on all the postage stamps bearing her image.
"I've always thought my Mama looks absolutely wonderful in that tiara," Prince Charles noted in the 2012 documentary A Jubilee Tribute to the Queen, in which he reminisces over home movies, many shot by the queen herself, and news footage.
At the same time, while tiaras at their best can make the wearer look like grace personified, it can be a royal headache arranging them and keeping them secured in place. 
"Before the invention of detergent there was no shampoo and the modern 'fire-hazard' hairdo was anathema," Geoffrey Munn, author of Tiaras—A History of Splendor, told Forbes in 2013, after Kate Middleton had made her first post-wedding tiara appearance. "Consequently, the hair was thick with sebum and pomades and could be set and curled and it stayed there. 'Enhancements' in the form of hairpieces and even wigs were also commonplace. Today the fire-hazard hair-do will only support jewel work when it is thick with lacquer and pins. This is one of the many aspects of the tiara that has brought about its fall from fashion."
Reporting from London for the queen's coronation in 1953, the future Jacqueline Kennedy (née Bouvier) wrote that all the ladies in attendance "had to have their hair done at 3:30 a.m. on Coronation Day so they could be in their seats at 6 a.m. wearing their tiaras, and that takes a bit of arranging."
In 1983, when she and Philip visited California, her private secretary was asked why the queen took so long to get ready for events. "She needs her tiara time!" the secretary replied (per Sally Bedell Smith's Elizabeth the Queen: The Life of a Modern Monarch). Elizabeth II also had a kit that she used to embellish her already dazzling tiaras with hanging pearls or other gems, whatever suited her fancy at the moment.
Chris Jackson/Getty Images
For her grandson Prince William's wedding to Kate in 2011, Queen Elizabeth II loaned the bride the diamond and platinum Halo Tiara (known as the Scroll Tiara prior to their nuptials), made by Cartier London in 1936.
Alas, we'll never have the queen herself breaking down who gets what and why, but this particular piece was commissioned by her father, the future King George VI, to give to her mother, also Queen Elizabeth, back when they were still the Duke and Duchess of York. (Queen Elizabeth II's son Prince Andrew is the current Duke of York.)
Then-Princess Elizabeth was given the Cartier Halo tiara for her 18th birthday, but she was never photographed wearing it, and once she became queen at 25 she seemed to prefer heftier head pieces. (We'll just think of it as her indoor tiara then...) 
Hulton Archive/Getty Images
Kate hasn't worn the Halo again since, but since becoming the Duchess of Cambridge she has been out in one of the late Queen Mother's old favorites, the pearl and diamond Lotus Flower Tiara, which the elder royal had made out of a necklace her husband gave her for their wedding.
In the 1920s, when she was in her 20s, the future Queen Mother wore the Lotus Flower low on her forehead, like a flapper's headband, but Kate—who wore it to her first tiara event in 2013, a diplomatic reception at Buckingham Palace—has yet to mimic that style. Nor did Princess Margaret, who was gifted the Lotus Flower in 1959. (It was reabsorbed back into the queen's collection after Margaret's death in 2002.)
John Stillwell - WPA Pool/Getty Images
The queen, meanwhile, did wear the Queen Mary—or Cambridge Lovers' Knot—Tiara numerous times before pretty much relinquishing it to Kate in 2015. The Duchess of Cambridge has worn it five times, most recently in 2018 to a state banquet at Buckingham Palace for the King and Queen of the Netherlands. (The queen wore the Girls of Great Britain and Ireland Tiara, and yes, that's its real name.)
The Queen Mary Tiara, in addition to having graced the queen's head on many occasions, would also have special meaning to Kate—and William, for that matter—because it was previously worn by Will's mother, the late Princess Diana, who dazzled in it at two state openings of Parliament, and, not so coincidentally, at a state dinner for the Dutch royals in 1982.
In a 1983 letter, per Sally Bedell Smith's Diana: In Search of Herself, the Princess of Wales wrote that she had been to "a lot of tiara functions, which left the head sore."
Diana, not royal at birth but having come from nobility, wore a Spencer family diamond tiara when she married Prince Charles in 1981, the same one her mother and sisters wore on their wedding days.
About 12 years later, Diana and her brother, Charles Spencer, had a falling out after he refused to let her come live in the Garden House on the family's Althorp Estate in the wake of Diana's separation from Charles, citing the lack of security and, basically, the big disturbance it would cause him. Soon after he asked her to return her wedding tiara to the family fold.
The queen, meanwhile, gifted her other most famous ex-daughter-in-law, Sarah Ferguson, Duchess of York, with a diamond tiara—the York Tiara—for her wedding when she married Prince Andrew. The unconventional bride, who also had a very nontraditional ruby engagement ring, wore a garland of gardenias, the groom's favorite flower, atop her tiara at the 1986 ceremony, then revealed the platinum and diamond (including a 5-carat center stone) topper when she signed her marriage certificate.
The jury is still out on whether this was an extra affectionate gesture on the queen's part, as she was said to have really appreciated her daughter-in-law in the beginning, or a sign of her concern about the match and reluctance to loan her son's boisterous bride a piece from her collection.
Sarah continued to wear her wedding tiara even after she and Andrew divorced in 1996, but the last public sighting of it on her was in 2001, at Elton John's White Tie and Tiara Ball.
There was some speculation that her daughter Princess Eugenie would wear her mum's tiara when she married Jack Brooksbank in 2018, but instead she wore one of her granny's pieces, the Greville Emerald Kokoshnik—notable for the massive 93.7-carat, Eye of Sauron-style emerald stone smack in the middle of it, which made for a true statement piece for the bride.
The tiara was originally made by jeweler Boucheron for British socialite Margaret Greville, who gave it to her friend the Queen Mother (then Queen Elizabeth), who then passed it to her daughter, the reigning queen. 
"It was the most incredible thing to wear such a piece of history that my grandmother had lent me," Eugenie said afterward, a "very proud moment and the beautiful earrings were a gift from my husband."
Eugenie's older sister, Princess Beatrice, may have had the tiniest of royal weddings last July when she and Edoardo Mapelli Mozzi swapped vows mid-pandemic, but she did get to wear the Queen Mary Fringe that the queen wore at her own wedding more than 73 years prior.
As it was for Eugenie on her wedding day, it was Beatrice's first time wearing a tiara.
Zara Phillips and Mike Tindall/ via Getty Images
Meanwhile, obviously no one gets to wear one of the queen's tiaras until they become a member of the family—or if you were born in, until you're married, which is why you don't see the unmarried princesses in the family prancing around in them.
Princess Anne's daughter, Zara Tindall, the first of the queen's granddaughters to get married, doesn't have a royal title but she's still family—yet she benefited from her own mother's collection. When she married Mike Tindall in 2011, Zara wore the Meander Tiara, which had been given to Anne by the queen, who previously received it from her own mother-in-law, Princess Alice.  
Charles' second wife, Camilla, Duchess of Cornwall, was his partner for years but not until after she married the Prince of Wales in 2005 was she loaned the Delhi Durbar Tiara from her mother-in-law. The Queen Mother got it from her mother-in-law, Queen Mary, who wore a tiara every night at dinner, even if she and her husband, King George V, were just dining alone.
Julian Parker/UK Press via Getty Images
Camilla's outing wearing the Delhi Durbar in September 2005 at a state banquet for the royal family of Norway was its first appearance since 1947.
Camilla's next tiara appearance was at the Commonwealth Heads of Government Meeting, held in Malta in 2007, with the Greville Tiara, or Boucheron Honeycomb Tiara. Also passed down from the Queen Mother, Queen Elizabeth II herself has never worn it.
Peter Nicholls - WPA Pool
Being the down-to-earth woman she is, Camilla (whose longtime hairdresser Hugh Green helps secure tiaras and make them more comfortable by adding some fake hair to the crown of her head) has sported the Greville almost two dozen times—including at the tiara-fest that was the state banquet for the Netherlands in 2018—and considers it a favorite. It was one of the tiaras the Queen Mother wore most frequently, and Charles was especially close with his grandmother until her death in 2002. 
Camilla has mixed it up a few times with the leaf-and petal-motif Cubitt-Shand Tiara, from her own family. What sort of family tiara did you bring to the table when you got married?
Naturally, there was plenty of anticipation for what tiara Meghan Markle—who, like Sarah Ferguson, didn't have a family tiara to call her own—would wear on her wedding day in May 2018.
Royal Collection Trust/PA Wire
As it turned out, the queen loaned Prince Harry's bride the art deco-style Queen Mary Diamond Bandeau Tiara, a wedding present given to Mary (when she was still Princess Victoria Mary of Teck) in 1893 and then passed to Queen Elizabeth II in 1953.
According to the all-things-crown-jewels site Order of Splendor, the DBT has been mistaken for other pieces, including the Queen Mary Lozenge Bandeau Tiara, which was last seen on Princess Margaret in 1965—but the one Meghan actually wore hadn't been seen since it was given to the queen in 1953.
And though there certainly must be a method to the queen's madness, once upon a time she herself was a young royal who had to figure out tiara and crown protocol, rehearsing for her command public appearances in the unlikeliest of places. 
"I remember Mama coming up when we were being bathed as children, wearing the crown. It was quite funny—practicing," Charles reminisced in A Jubilee Tribute to the Queen.
Is it that much of a leap to think that, after the kids were asleep, the queen drew another bath and got in, still wearing the crown?
(Originally published Nov. 3, 2018, at 3 a.m. PT)