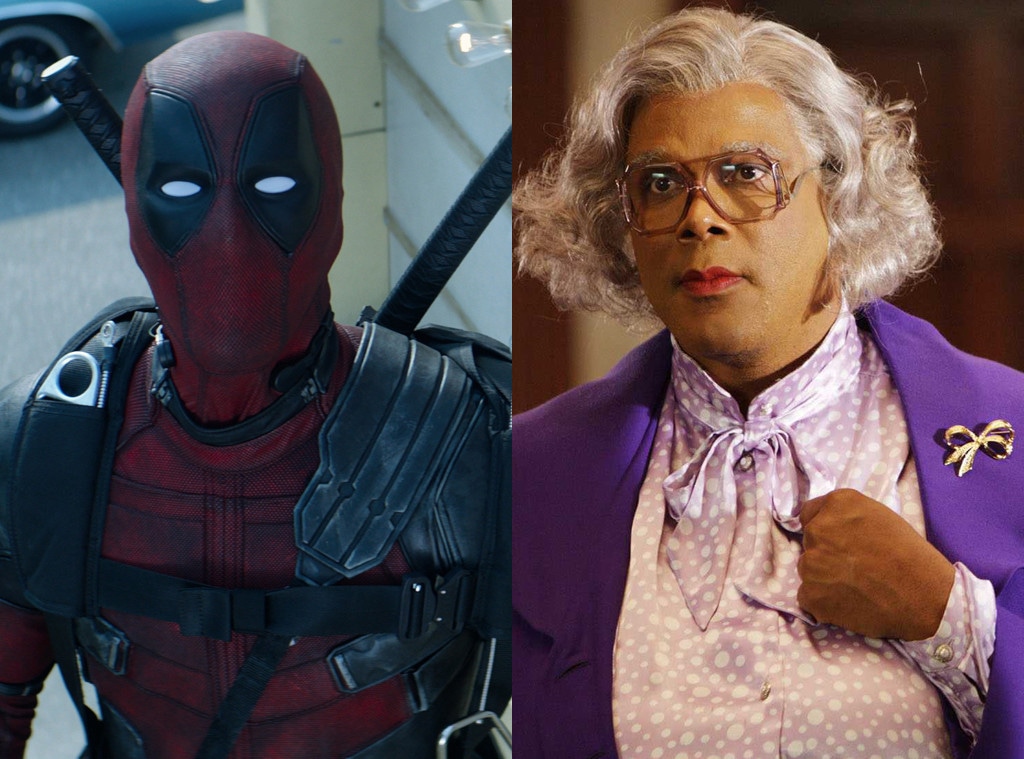 Lionsgate; Twentieth Century Fox
Tyler Perry's Ma-dea-d-pool?
In a video posted on social media on Halloween, the star reprises his recurrent role of Mabel Earlene "Madea" Simmons with a twist; his character is wearing a Deadpool costume.
"MA-DEA-D Pool!! Hiding from Tyler Perry. #NOBODYSFOOL EVERYWHERE THIS FRIDAY. @nobodysfool @TiffanyHaddish @VancityReynolds," Perry tweeted, promoting his new movie and tagging its star Tiffany Haddish and Deadpool actor Ryan Reynolds.
Reynolds was clearly impressed by the tribute.
"Um... @tylerperry, if you could film six more minutes of this, we'd have Deadpool 3," he wrote. "Or @nobodysfool part 2."
Perry seemed a little star-struck.
"You have no idea what a huge Deadpool fan I am!!," he tweeted in response. "You're amazing my friend. All the best to you and your family."
Broadimage/REX/Shutterstock; Charles Sykes/Invision/AP/REX/Shutterstock
Perry, 49, has been performing his Madea character, who is believed to be about 60, for almost 20 years.
Watch:
Tyler Perry Plays "What Would Madea Say" Game
"I'm happy to kill that old bitch, I'm tired, man. I'm tired," he told host Bevy Smith on the SiriusXM show Bevelations on Monday. "I just don't want to be her age, playing her."
"That's it, man, that's it," Perry confirmed on The Tonight Show Starring Jimmy Fallon the following day. "Time for me to bury that old broad, man...I don't want to be her age playing her, so it's time for me to let it go. I'm going to do my last Madea farewell tour next year and the last is the Madea Family Funeral movie that comes out in March. And then we're moving on to something else. There are so many more things I want to do."