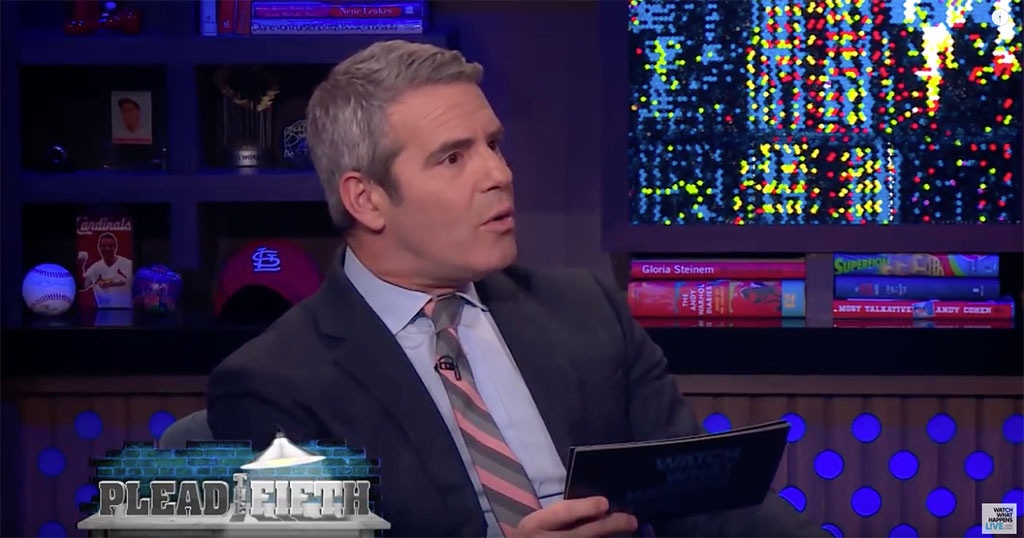 YouTube
Brace yourself because we didn't know this level of cringe was possible. 
It was just another night on Watch What Happens Live! when Andy Cohen kicked off a new round of his late-night staple, "Plead the Fifth," with guest Debra Winger on Tuesday. While the segment tends to ignite some chatter because of the personal questions the stars can choose to answer, this time, people got talking for a different reason. Simply, it was so, so awkward. 
For some quick background, the game involves a few questions that the guest can either answer truthfully or "plead the fifth," but they can only plead the fifth one time. 
Cohen kicked off with: "Who was the biggest pig or misogynist you've ever met in Hollywood?"
Winger responded indirectly with, "He's already under indictment, so...," which Cohen interpreted as a reference to Harvey Weinstein. 
What followed was where things started to get uncomfortable. 
"Back in the '80s, there were so many rumors about your relationship with Shirley MacLaine on Terms of Endearment. You wrote about this in your book," Cohen began. However, Winger corrected the question. 
"No! I didn't write about her. She wrote about me," the actress declared. "Let's try to get something straight...I mean, c'mon. It's rough—it's hard out here for a chimp."
Attempting to diffuse the awkwardness, Cohen added, "I figured that you wrote about it in your book because you wrote a great book."
"Thank you. I wrote a book, but I didn't write about Shirley," Winger responded. Cringe.
Trying to move on, Cohen continued with the question. "There were rumors that you tried to pass gas in her direction...you licked her leg."
"Yeah I wrote that!" Winger retorted sarcastically. 
"You licked her leg while she was filming a love scene with [Jack] Nicholson—was any of that true?" Cohen asked. 
"You mean—you want to just go in there and say, 'Is there something true in there?' There's something true in there," the star responded cryptically. 
For the last question, Cohen asked Winger to rank her on-screen kisses with former co-stars John Travolta, Richard Gere, Robert Redford and Anthony Hopkins from best to worst. 
"Oh God, what were you doing 40 years ago?" she asked Cohen. "Ok, so you remember somebody you kissed 30 years ago?"
"If it was in an iconic film, I probably would," the host answered. 
Winger did not agree. "You don't think that you sort of are busy investigating a character, which puts you in another self state? Right now it's pretty hard to be authentically a person."
"I'm not an actor, so I actually don't know whether I would remember or not," Cohen added. Trying to break any tension, he also noted she had not pled the fifth yet and could do so.
"No, I mean I dug kissing all of them," she said. "Some of them required a little more sucking in of the cheeks so as to simulate a tongue."
Cue uncomfortable face from fellow guest star Amanda Peet. 
It didn't take long for viewers to weigh in online. "I just had a hemorrhoid surgery that was less painful to recover from than watching tonight's show," one fan tweeted at Cohen. 
"@andy is getting his ass handed to him tonight & it's damn funny," another commented.
As for Cohen, he had just one more thing to say: "Daddy needs a drink."
(E! and Bravo are both part of the NBCUniversal family.)