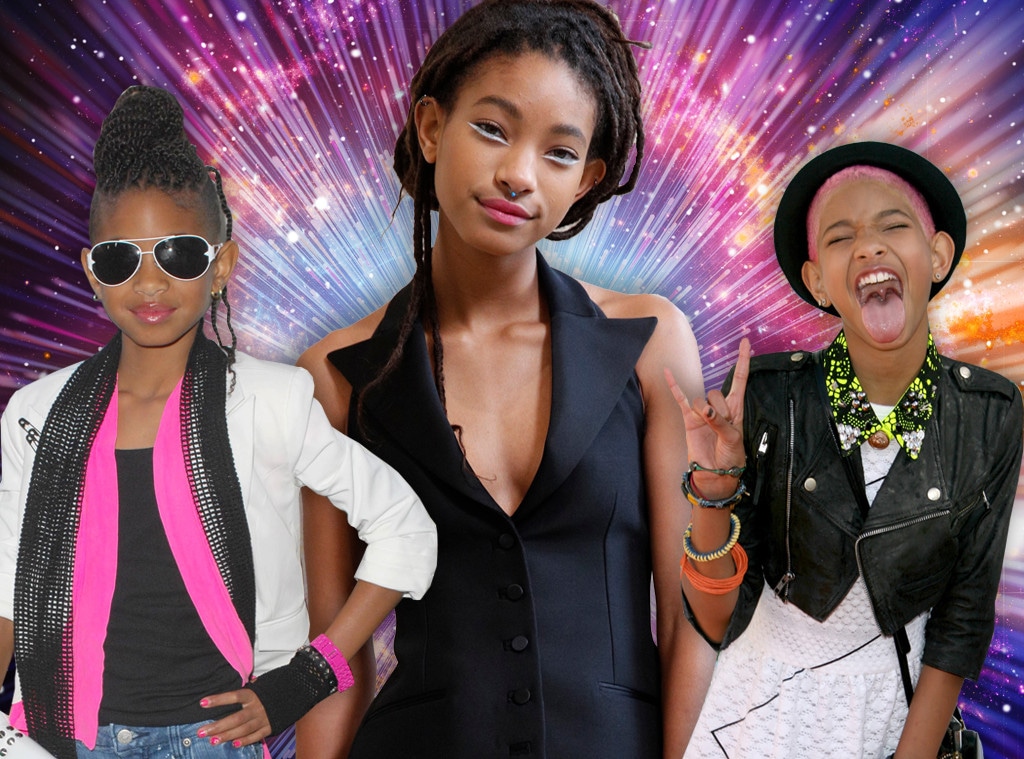 E! Illustration
By now, we know that Will Smith and Jada Pinkett Smith don't do other people's expectations. They don't do average, and they sure as heck don't hold back.
So why should the children of the couple who rewrote the script on marriage, commitment, success and what they share with the world be any different?
"You can't be afraid to be yourself. You have to be yourself and you can't let anybody tell you that that's wrong...My mom and me are very strong individuals, and I just know that because lots of people don't—they don't act like themselves, so they're not happy," said Willow Smith.
When she was 9.
At the time, she was busy learning her multiplication tables and being the youngest-ever artist signed to Jay-Z's Roc Nation. Her first-ever single, "Whip My Hair," was a metaphor, flinging her hair around with abandon meaning she was going to be herself and do exactly as she pleased.
Now that she's 18—celebrating her milestone birthday Wednesday—the avowed old soul obviously already has a wellspring of experience to draw on as she begins navigating actual adulthood.
Willow was taught to play by her own rules and trust her instincts, and she's done her best to do that—even when, ironically, they run counter to her parents' ideals. Her older brother Jaden Smith was so intent on going his own way, in fact, that he moved out at 15. His decision crushed Will and Jada, but they let him do his thing.
So Willow was never destined to remain unaware of the rewards and ravages wrought by the Hollywood machine, being a member of such a famous family. And despite her conscious decision to remain in the public eye, she figured out at an early age that fame wasn't going to be easy.  
"I literally hate Disneyland, 'cause I had one terrible experience, and everyone expected me to pay for them," Willow said, shaking her head at the memory, a few months ago on Pinkett Smith's Facebook series Red Table Talk. She went with some older girls who, without her knowing, just figured that the presumably wealthy young celebrity would foot the bill.
"It was painful," the teen recalled.
But instead of getting better as she got a little older, the pitfalls of being an increasingly famous member of a very famous family only became more precarious.
"Growing up and trying to figure out your life while people feel like they have some sort of entitlement to know what's going on, is absolutely, excruciatingly terrible," the teen told Girlgaze last year (via W). "The only way to get over it, is to go into it. You can't change your face. You can't change your parents. 
"When you're born into it, there are two choices that you have; I'm either going to try to go into it completely and help from the inside, or… no one is going to know where I am… and I'm really going to take myself completely out of the eye of society. There's really no in-between."
Reporting back from the inside, she continued, "I'm going to be completely and utterly honest, it's absolutely terrible. I feel like most kids like me end up going down a spiral of depression, and the world is sitting there looking at them through their phones; laughing and making jokes and making memes at the crippling effect that this lifestyle has on the psyche."
From that fragile place came her 2017 album The 1st, characterized as the "emotional regurgitation from the depths of a burgeoning woman." 
So she had added many more thematic layers since the simpler—albeit still deep for a 9-year-old—message from her youth.
Willow burst into the consciousness in 2010, primed for, if not exactly pop super-stardom just yet, than at least peak precociousness. "Their passion for Willow combined with their boundless vision and artistic integrity made Roc Nation the perfect home for our little girl," Jada said in an enthusiastic statement.
"Well, you can look at my birth certificate, or you can ask my mom," a giggly, pragmatic Willow replied when Ryan Seacrest expressed disbelief over her age during a KIIS-FM interview. She called the release of her first single "very, very amazing" and "very overwhelming, 'cause all of the red carpet and the flashes, and all the people like wanting to meet you and stuff. It's very, very overwhelming for a 9-year-old."
Her tune didn't change all that much as time went by.
The low-hanging fruit of showbiz had been put in front of her at an early age, and, as it turns out, once she plucked a piece off the tree her dad encouraged her to keep eating.
"She was like, 'Okay, I'm done, daddy.' I was like, 'Sweetie, you can't be done. You know, you made a commitment,'" Will Smith recalled his daughter's earliest days of touring on the latest Red Table Talk. "She was like, 'But I'm finished.' I was like, 'No sweetie, but you can't be finished, you made a commitment to Mr. Jay-Z.' 'No Daddy, you made a commitment to Mr. Jay-Z.'"
Alberto E. Rodriguez/Getty Images
In fact, she wanted to be done after five shows.
In the video footnotes to Jay-Z's 4:44 last year, Will Smith remembered that Willow had 30 shows to go and, when he told her that she had obligations to fulfill, that's when she memorably shaved her head.
"She had shaved her head bald," Will said. "She shaved her head bald in the middle of the Whip My Hair tour. And I'm looking at that girl like, 'got it.' I understand. You will not have this trouble out of me ever again. Let's go baby, we can go."
Reflecting on that moment further on Red Table Talk, the father of three remembered thinking, "'Does she know what she's doing?' Like, that was a deep protest.
"What it did for me is, I had a crazy realization in that moment. I was building what I wanted for her and she tried all of the different ways to say: 'I don't want that'. I was like, 'I get it.' I saw for the first what Jada had been saying about hiding behind my ego, my dreams and my desires and pretending like its love and I realized she didn't want none of the stuff I had built."
That was also around the time when Will and Jada's marriage came close to imploding, partly due to the various reasons Will described in that chat.
After Jada told him to cancel most of the 40th birthday festivities for her that he had planned, intimating that he had so much fanfare planned more to show off rather than to celebrate her, the actor admitted that he "snapped" for the first time in front of his family.
"I snapped in front of Willow, only time in her childhood, she ever saw me snap and I saw her look and Willow starts crying," Will said. "I was like, 'Baby, I'm sorry.' She's like 'Just figure it out! You guys, please, just figure it out!'"
Stefania D'Alessandro/Getty Images
And by the time she was 12, she was over the initial rush that came with overnight success. Touring, the demands and expectations (some of it from a source way too close to home), the social media trolls...not fun, not inspiring, not anything she wanted to put up with anymore.
"I honestly feel like I lost my sanity at one point," Willow also acknowledged on Red Table Talk, where the family has basically been having private conversations in public for several months now. "It was after that whole 'Whip My Hair' thing and I had just like stopped doing singing lessons and I was kind of in this gray area of, 'Who am I? Do I have a purpose? Is there anything I can do besides this?'"
Instead of finishing her intended first album, she decided it was time for a break. She also dropped out of the planned remake of Annie that she and her dad were originally attached to. (Jamie Foxx and Quvenzhané Wallis eventually played Daddy Warbucks and the titular optimistic orphan.)
"Willow was supposed to be doing Annie," Smith told an audience at Temple University in Philadelphia, taping "Real Talk with Sister Souljah and Will Smith" in 2012. "We got Jay-Z to do the movie, got the studio to come in, and Willow had such a difficult time on tour with 'Whip My Hair' and she said, 'You know Daddy, I don't think so' And I said, 'Baby, hold up!' I said, 'No, no, no, listen, you'll be in New York with all of your friends and Beyoncé will be there. You will be singing and dancing.'
"And she looked at me and said, 'Daddy, I have a better idea. How about I just be 12?'"
After she shut down the album and other projects hanging over her head, "and after all that kind of settled down and it was like a kind of lull," Willow recalled, "I was just listening to a lot of dark music and it was just so crazy." 
Then, the already jaded artist, not even 13 at the time, self-harmed.
Dimitrios Kambouris/WireImage
"I was just plunged into this black hole and I was, like, cutting myself," she said, to which a horrified Jada replied, "What? Really? When were you cutting yourself? I didn't see that part."
One friend knew at the time, a "long time ago," Willow said, adding, "Totally lost my sanity for a moment there."
"I never talk about it because it was such a short, weird point in my life, but you have to pull yourself...out of it," she continued. "You know, I honestly felt like I was experiencing so much emotional pain, but my physical circumstances weren't reflecting that."
Cutting herself was tangible, instead of having pain "as like a ghost in your mind." But "one night I was just like, this is actually psychotic.' And after that I just stopped."
She was lucky to have at least that much self-awareness at such a young age.
After initially buzzing her hair off, Willow memorably started experimenting with different colors and styles, prompting Jada to go to bat for her daughter—and for her own parenting approach, which was receiving an unsolicited barrage of criticism in response to the tween's chosen form of self-expression.
"The question why I would LET Willow cut her hair. First the LET must be challenged," the Girls Trip star wrote on Facebook. "This is a world where women,girls are constantly reminded that they don't belong to themselves; that their bodies are not their own, nor their power or self determination.
"I made a promise to endow my little girl with the power to always know that her body, spirit and her mind are HER domain," Jada continued. "Willow cut her hair because her beauty, her value, her worth is not measured by the length of her hair. It's also a statement that claims that even little girls have the RIGHT to own themselves and should not be a slave to even their mother's deepest insecurities, hopes and desires.
"Even little girls should not be a slave to the preconceived ideas of what a culture believes a little girl should be," she concluded. "More to come. Another day."
Dimitrios Kambouris/WireImage
Aside from attending events with her family, Willow took some time to herself, letting Jaden play the star for awhile. They all gathered for the premiere of After Earth, which starred Jaden and his dad (and was so critically panned, it may have turned Jaden off of the big-studio acting game for awhile).
Will Smith gave another little peek into his and Jada's long-leash parenting style, telling the U.K.'s Metro, "The way that we deal with our kids is, they are responsible for their lives. Our concept is, as young as possible, give them as much control over their lives as possible and the concept of punishment, our experience has been—it has a little too much of a negative quality."
That control included honoring both kids' choice to not go to regular school.
"Here's the deal: School is not authentic because it ends. It's not true, it's not real. Our learning will never end," Jaden told the New York Times' T Magazine in 2014, in a joint interview with his sister that was received as simultaneously esoteric and utterly ridiculous. "The school that we go to every single morning, we will continue to go to."
"Forever," Willow added, "'til the day that we're in our bed."
"Kids who go to normal school are so teenagery, so angsty," Jaden continued. Willow agreed, "They never want to do anything, they're so tired."
"I went to school for one year," Willow also shared. "It was the best experience but the worst experience. The best experience because I was, like, 'Oh, now I know why kids are so depressed.' But it was the worst experience because I was depressed." 
Asked what was next on her to-do list, she offered, "I think by the time we're 30 or 20, we're going to be climbing as many mountains as we can possibly climb."
Jeff Kravitz/MTV1415/FilmMagic
She tackled smaller hills in the meantime. Hair and fashion had become a canvas for Willow, who figured if she was photographed everywhere she went, she may as well have fun with it—such as when she wore a bright orange astronaut flight suit to the 2015 MTV Video Music Awards.
"I think my look changes all of the time and right now it's a bit more messy, kind of grungy," she told CR Fashion Book toward the end of 2014. At the time, Willow looked forward to having dreadlocks, "to embrace my full self, as natural as I can be."
Soon, she had her dreads, and a modeling contract with The Society. Willow attended the 2016 Met Gala and was the face of Chanel's Fall/Winter 2016 eyewear collection. She has been a regular at Fashion Weeks all over the world, making a glamorous splash in Paris at the beginning of this year at the Dior Haute Couture show.
But in the meantime, as she got ever closer to being actually grown up, the music was calling to her.
"I mean, 'Whip My Hair' was a great thing," she told T in 2014. "When I look back I think, "Wow, I did so much for young black girls and girls around the world. Telling them that they can be themselves and to not be afraid to be themselves." And I'm doing that now but in a whole different way, coming from source energy and universal truths. People will be, like, 'Oh, I'm not going to make a song about exactly how I feel, all the bad ways that I feel, and put it out in the world so everyone can judge me.'
"But for me, it's a part of me, it's my artistic journey."
In 2015 she finally released that debut album, Ardipithecus—so named after the first hominid bones found on earth because at the time she was, as she explained to The Fader, "digging deep in the soil of [her] heart and finding bits and pieces of my ancient self that tell stories, which end up being the lyrics to the songs."
With The 1st, which also carries a message about female self-empowerment, albeit from a more seasoned place than "Whip My Hair," Willow leaned into a singer-songwriter vibe previously unheard from her. In its review, Pitchfork noted shades of Alanis Morissette, Erykah Badu, Fiona Apple and Tracy Chapman.
"On much of The 1st, it sounds like Willow is still figuring out her own creative persona...That said, Willow is clearly biding her time, searching for the optimal self," the music publication said.
But when it comes to Willow Smith, that's hardly news. In 2014, at 14, she told T that she was reading about quantum physics and the mystic Osho, and would write her own novels, because there weren't any other novels that she wanted to read.
"This generation is hypersensitive spiritually, physically, mentally, emotionally," Willow told Girlgaze last year. "So when we look on our phones and we see people dying right next to us and we're sitting there about to go get a latte—that breaks you down. It's not just the phones. The phones are just a tool. The phones just heighten what was already happening."
The #MeToo movement having only recently started to take shape when the interview took place, Willow said, in her sage way, "If other women aren't going to respect other women, we are pretty much f---ed. I try to talk to other women about, you know, listening to misogynistic music and paying to see misogynistic rappers and putting their energy into things that are only going to hurt them in the long run, and we just all need that awareness I think."
Since she was 9 years old, it seems, Willow Smith has had awareness to spare.
In the final months of 2017, Willow joined Jhené Aiko as a special guest on Aiko's Trip (The Tour) and maybe, just maybe, she'll want to embark on her own tour sometime in the future. 
When she was really young and touring, despite her distaste for the grind and the lonesomeness, "what I loved the most about it is seeing different people and seeing different places," Willow recalled in a chat with Aiko for Billboard. And now, even the grind "can be beautiful, too."
So watch out, world. Not that she needed permission before, but now, 18-year-old Willow is truly free to go anywhere. We hear she's got a few mountains to climb.