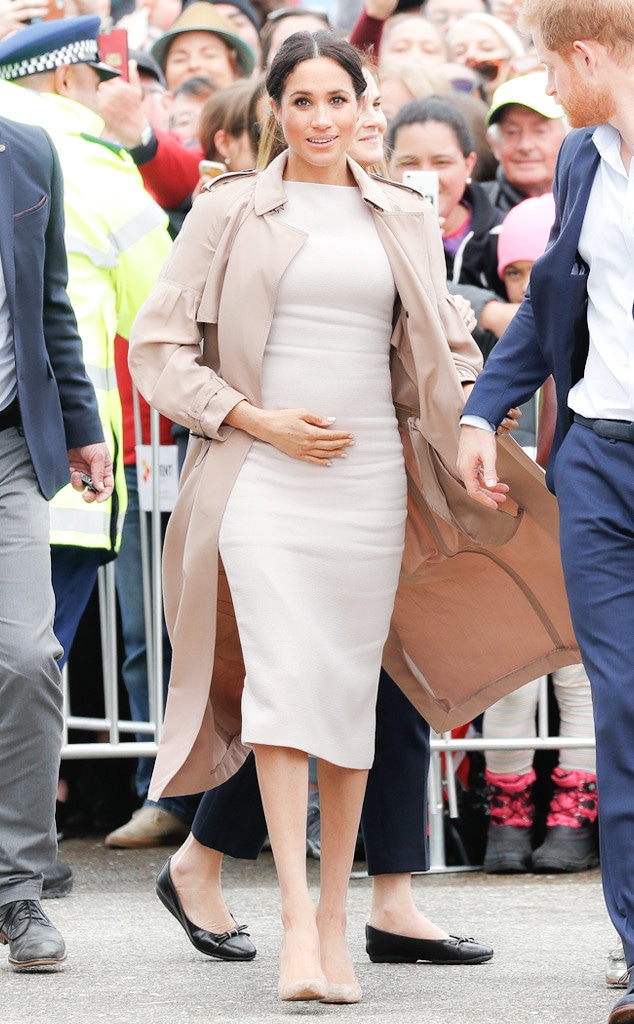 Chris Jackson/Getty Images
Meghan Markle made the day of one of her biggest fans in New Zealand.
While leaving the Viaduct Harbour in Auckland alongside Prince Harry on Tuesday, the Duchess of Sussex spotted a familiar face in the crowd, her former Instagram pal Hannah Sergel. Prior to shutting down her personal Instagram account, Hannah and Meghan used to talk on the social media platform. So when Meghan spotted 20-year-old Hannah, a Suits fan, in the crowd, her jaw dropped and she immediately made her way over to see her.
"Oh my gosh! How are you?" Meghan said as she approached Hannah. The two then shared an emotional reunion hug and a quick exchange before the expecting Duchess of Sussex had to go.
"It was so amazing!" Hannah tells E! News of her meeting with Meghan. "She was so lovely and kind about it all despite being rushed. I'm just so grateful I got the opportunity to meet her face to face and never expected a hug. I'm still on cloud nine to be honest!"
Hannah also spoke to 1 News Now NZ and explained how she knew the Duchess.  "I was friends with her on Instagram before she had to deactivate her account. We used to have conversations and stuff on there," she said. "She would tell me to do well at university and encourage me to be myself."
She added, "It means the world to me. I am so shaky and flustered. When I first saw her, I cried."
During the royal couple's walkabout on Tuesday, Meghan was given a Suits welcome when a marching band and choir performed the show's theme song, "Greenback Boobie," by Ima Robot.
Meghan and Harry arrived in New Zealand just days ago to continue on their royal tour, which wraps up this week. The couple began the tour in Australia two weeks ago, shortly before it was announced that they're expecting their first child together.
"Their Royal Highnesses The Duke and Duchess of Sussex are very pleased to announce that The Duchess of Sussex is expecting a baby in the Spring of 2019," the palace said in a statement on Oct. 15. "Their Royal Highnesses have appreciated all of the support they have received from people around the world since their wedding in May and are delighted to be able to share this happy news with the public."