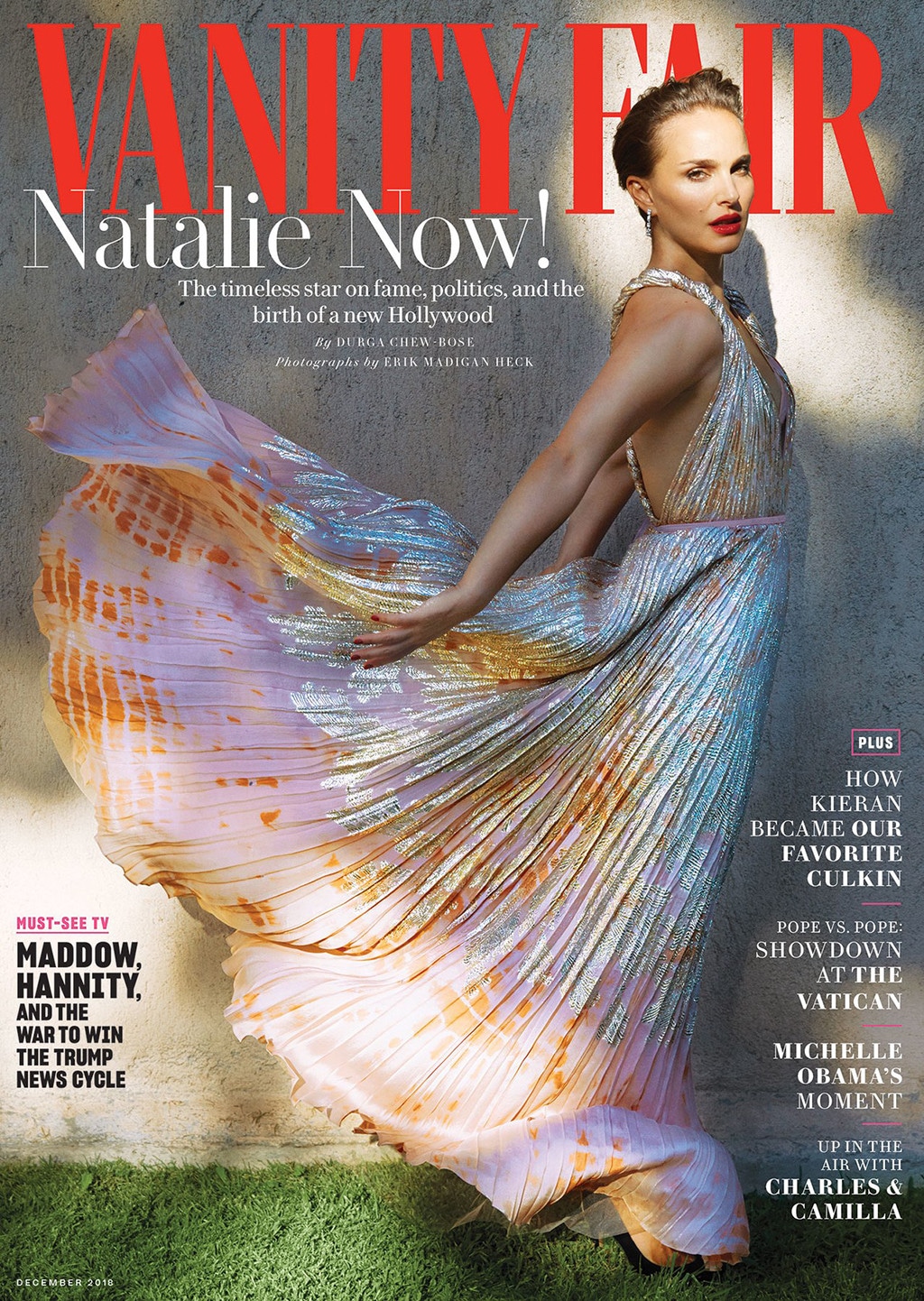 ??Erik Madigan Heck/Vanity Fair
Natalie Portman has always been a girl's girl.
But as the actress says in the December 2018 issue of Vanity Fair, it took nearly three decades for her to befriend other women in Hollywood. "I've been working for 25 years," Portman says. "I've never had friendships in my industry until now. You're usually the [only] girl in the movie."
The 37-year-old actress says the birth of the Time's Up movement last year galvanized her peers, uniting many for the first time. "It's made us come together," the Oscar winner says. "We're actively gathering. Just the power of us getting to know other women in our own industry and sharing information that can help us be safer, more productive, more successful."
Captain Marvel star Brie Larson likens their peer network to a "sisterhood."
"Natalie reached out and I thought, 'Why don't I know the other women in my industry?'" Larson says. "Within days we were sitting in circles talking. We learned that our personal experiences were not so personal. We had all gone through similar things, and through that shared experience we could identify tangible things we could influence for positive change."
Praising Portman's "miraculous problem-solving brain" and "gigantic, knowing heart," Larson tells the magazine (on newsstands Nov. 6), "She is a force I am so grateful to collaborate with."
Portman has also befriended Reese Witherspoon, who is producing her next movie, Pale Blue Dot. "Natalie is full of incredible ideas. She'll text me and a couple of the other girls, 'I have a crazy idea!' And they're always great. And then I'll say, 'Hold up, how are we going to pay for this?' And somebody else is, 'How are we going to execute this?' We all have our different proficiencies," Witherspoon says. "It is sort of a SWAT team. She is our instigator. Our catalyst."
According to Portman, the reckoning has been a long time coming.
The actress made her film debut in 1994's Léon: The Professional. Because of her youth, Portman didn't experience the same sexual harassment some of her peers did. "I was able somehow not to have an experience like that, so it's definitely a weird, privileged place to hold. Learning what so many women have been through and were going through right next to me. Ashley Judd, Mira Sorvino, Uma Thurman; these were women that I admired so much and felt lucky to work with. They were super-kind to me and super-supportive, amazing role models," Portman remembers. "It was completely shocking to know that they were going through that."
By "that," she means allegations that they had been mistreated by Harvey Weinstein in some capacity. The actress admits she had "heard the rumors" about the producer over the years "and took them as truth," even though she didn't know specifically "who it had happened to." (Weinstein, through his high-powered legal team, has repeatedly denied "any allegations of non-consensual sex.") She learned multiple women had gone on the record with their claims against Weinstein when everyone else did, she adds. "We're in a culture where it is regular for men to behave badly and for women to be hurt. But it is complete shift because all of us were like, 'Oh, God, he's a bad dude.' Now it's, 'No, this is abusive behavior—not just a bad dude.'"
Portman is working with her peers to be part of the solution, but it's been tricky. "I just did an interview for a women's issue [of a magazine]. The female interviewer was like, 'So, have you ever had a #MeToo story?' I have had things like every person. And she's like, 'Do you want to name names? Do you want to tell us right now?' On camera," Portman recalls. "I was horrified."
For more from Portman, buy Vanity Fair's December issue, on national newsstands Nov. 6.