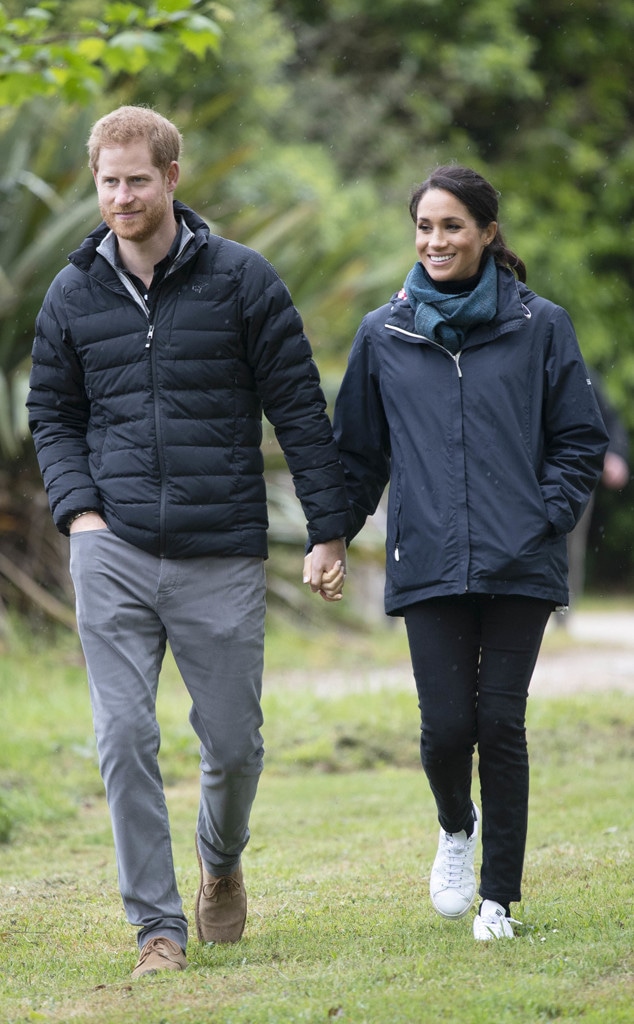 Paul Edwards/The Sun/PA Wire
We can't get enough of this photogenic couple—especially with the incredible scenery of New Zealand.
During the second day of their royal tour of New Zealand, Prince Harry and Meghan Markle's found themselves with a full itinerary and plenty of cute photo ops. The two kicked things off with a visit to Maranui Café for some morning tea and treats. Inside the cafe, Harry and Meghan sat down with youths to hear about local mental health initiatives. "You're all doing really excellent work," the Duchess praised during the discussion.
A group of students waited outside the shop with hopes of catching a glimpse of the royal couple, and some were lucky enough to get their hands on something sweet. When Meghan saw some of the young ones waiting outside, she made a generous suggestion to share the leftover cakes they did not finish with the schoolchildren. 
From the cafe, the couple hopped on a helicopter to jet to Abel Tasman National Park. Kensington Palace's official Instagram account even shared a photo of the breathtaking views shot by Harry himself. When they touched down, they walked along the beach with Ranger Andrew Lamason, who told them about the park's local conservation programs. The two kept dry from the rain walking side by side and cuddled under a single umbrella.
For lunch, Harry and Meghan were scheduled to enjoy a beach barbecue with students, though due to the wet weather, they joined the children under a marquee for a midday meal instead.
To wrap up the evening, the duke and duchess returned to Wellington for a Halloween-themed event at Courtenay Creative. Harry and Meghan stuck out from the crowd at the party—not because of their royal status, but because they weren't in costume! Still, the couple looked sharp, with Harry sporting a white button down and a nice jacked while Meghan stunned in a white suit dress.
Check out the gallery below to see more moments from Meghan and Harry's visit to New Zealand and the rest of their royal Invictus Tour.
The royal duo finish their tour on Oct. 31.