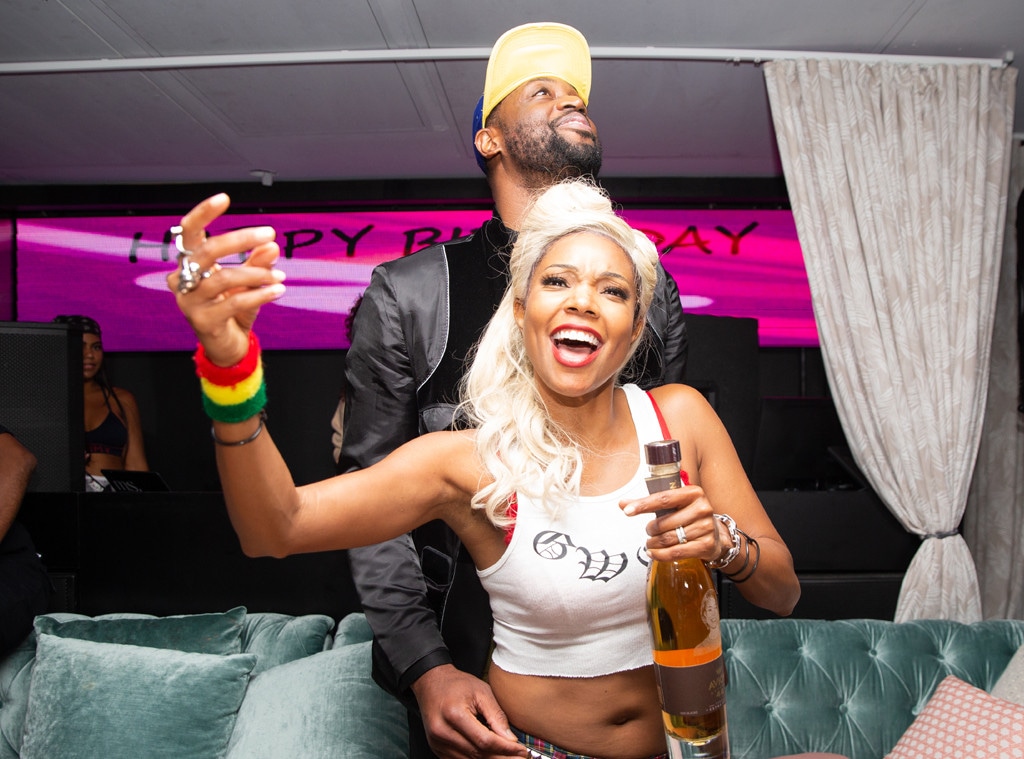 Bob Metelus Studio
We knew he was good on the court, but can we talk about Dwyane Wade's party planning skills?
Before Gabrielle Union turned 46 today, the Hollywood actress celebrated with family and close friends at an epic birthday party in Miami.
The '90s-themed "Smells Like Teen Spirit Birthday" bash was held in a private room at Miami hotspot Byblos on Saturday night. And guess what: Dwyane deserves a whole lot of credit for making it happen. 
The NBA player arrived as the Fresh Prince of Bel Air while Gabrielle showed up as Gwen Stefani. Close to 150 guests including Winnie Harlow and Fat Joe enjoyed nonstop dancing, custom made Avion 44 Tequila bottles with Gabrielle's face on them and even a special performance from Lil Kim.
"Dwyane and a group of Gabrielle's closest friends spent almost a month planning the big party. They flew in family and friends from all over," a source shared with E! News exclusively. "Dwyane wanted everything to be perfect. He planned the Lil Kim surprise. He flew her in and paid for her to perform. It was all him."
Our source continued, "Gab has always loved Lil Kim so Dwyane knew she would be the perfect surprise performer. The DJ played 'The Jump Off' and Gabrielle went nuts and started singing to the song. Dwyane started filming her and she was like, 'Why are you filming me?' He smiled at her and then Lil Kim appeared on the mic and started rapping. Gab went crazy and fanned out."
We're told Lil Kim performed six songs and Gabrielle knew almost every word. Fat Joe would also get on the mic and wish the birthday girl a special day.
"Dwyane and Gab looked more madly in love than ever before. There was tons of PDA. They were even spotted fixing each other's outfits throughout the night," a source shared. "Dwyane was starving since the party was right after the game. Gab wanted to dance so he was on the dance floor and eating at the same time. He just wanted to make her happy." 
And as it turns out, the celebrations are just beginning.
On Monday morning, Dwyane took to Instagram and showered his wife with a heartfelt birthday post.
"It's that time again!!! Everyone go wish my beautiful wife @gabunion a Happy Birthday!" he wrote. "No one celebrates their birthday like you baby. Continue to live your life to its fullest. I'll be right there living it with you."