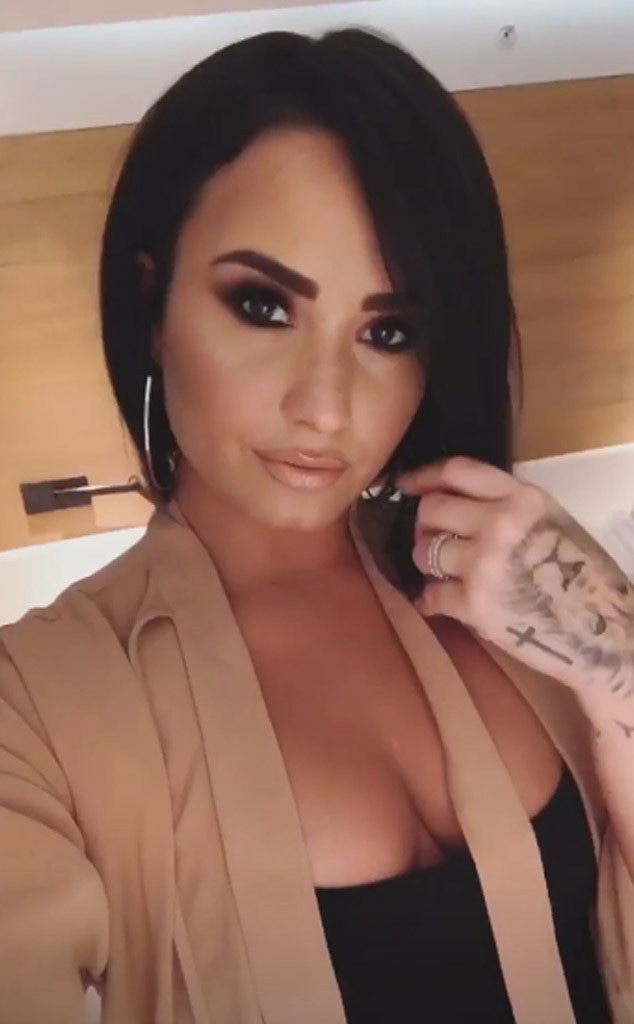 Instagram
Demi Lovato has reached the 90-day mark in rehab following an apparent overdose at her Hollywood Hills home back in July. Getting to this point in treatment is undoubtedly a step in the right direction, but as Demi herself has said many times before, recovery isn't a place you get to where this disease suddenly becomes a thing of the past...
Instead, battling addiction is an ongoing journey. As the 26-year-old singer put it in a heartfelt message to fans nearly two weeks after her overdose, "What I've learned is that this illness is not something that disappears or fades with time. It is something I must continue to overcome and have not done yet." 
And that, Demi said, is why she's taking "time to heal and focus on my sobriety and road to recovery." She flew to a rehab facility immediately after being released from a Los Angeles hospital and received additional treatment in Chicago, where she met with a therapist who specializes in sobriety, mental health and wellness. 
Earlier this weekend, the former child star's mother, Dianna De La Garza, spoke openly about her daughter's health during a podcast episode of Conversations with Maria Menounos, saying, "She has 90 days and I couldn't be more thankful or more proud of her, because addiction, being a disease, it is work. It's very hard, it's not easy, and there are no shortcuts."
A source told E! News that Demi "will be in rehab for several months and is doing an extensive program to ensure she gets the help she needs."
Prior to the events of July 24 (which included Demi receiving the overdose reversal drug Narcan from first responders), the singer had "been in a downward spiral" for several months, a source told E! News. Those closest to her "[had] been urging her to get help with her life coach and to seek treatment again, but Demi thought she could handle it on her own."
But then Demi suffered a near-fatal overdose, which "was obviously a huge wake-up call," said a source. The singer's mom and sisters rushed to be by her side at the hospital. They were there as Demi "[started] to grasp the severity of what happened, and that she almost died," said another insider.
"Her family has told her that this is the time to be a good example to her fans," said a source. And according to one insider, Demi actually agreed to go to rehab because "she wants to make a statement to her fans, family and friends that she is strong and can recover."
Cindy Ord/Getty Images for Mastercard
This recovery process, as we mentioned before, will take time—but according Demi's mom, things are off to a good start. In an appearance on Newsmax TV nearly two months after her daughter's overdose, Dianna said that Demi was "doing really well" in treatment. 
She's happy. She's healthy. She's working on her sobriety, and she's getting the help she needs," said the mother of three. "That in itself encourages me about her future and about the future of our family."
And Demi's 16-year-old sister, Madison De La Garza, feels the same. In an interview with Millennial Hollywood that took place 60 days into Demi's treatment, Madison echoed her mom's sentiments about Demi "working really hard on her sobriety" and said the whole family was "so incredibly proud of her."
That's not to say, though, that Demi's relapse hasn't been hard for those closest to her. "It's been crazy for our family. It's been a lot," Madison said. "We've been through a lot together, and every single time—I mean if you read my mom's book, you would know—every time we go through something, we always come out on the other side a hundred times stronger than before."
Demi's family, sadly, has dealt with addiction before. Her parents divorced when she was 2 and father Patrick Lovato, who died in 2013, was an alcoholic and drug addict. And Demi's mom had her own battles with depression, anorexia and Xanax addiction when her daughters were younger. 
Kevin Mazur/Getty Images for PhilyMack
The former Disney star was predisposed for substance abuse, and as she explained in the 2017 documentary Simply Complicated, "My dad was an addict and an alcoholic, and I guess I always searched for what he found in drugs and alcohol because it fulfilled him and he chose that over a family."
Demi began experimenting with drugs and alcohol when she was a teenager. After being bullied for years in school, a popular student peer pressured her into partying, and against her mother's many warnings, she tried cocaine. "I loved it," she later recalled. "I felt out of control with the coke the first time that I did it." 
And from there, Demi's young life quickly spiraled out of control. "I couldn't go 30 minutes to an hour without cocaine, and I would bring it on airplanes," she told Access Hollywood. "I would smuggle it basically and just wait until everyone in first class would go to sleep and I would do it right there. I'd sneak to the bathroom and I'd do it." 
Her family's attempts to reason with her back then were largely unsuccessful. In an interview with Refinery 29, Demi recounted telling her mom, "'Try to ground me—I pay your bills." 
And during this time, Demi "was a nightmare to work with," she admitted. "Prior to getting sober, I was one of those people who was like, I don't give a f--k, whatever. And I used that as an excuse to do whatever I wanted." 
Things came to a head when the singer, who was also struggling with bulimia and self-harm, had a physical altercation with a backup dancer while touring with the Jonas Brothers in 2010. As she later told Elle magazine, "When you punch someone on a plane, enough is enough." 
Shortly after the incident, Demi dropped out of the tour and checked into treatment "for emotional and physical issues she has dealt with for some time."
While in rehab, Demi was treated for addiction, eating disorders and self-harm, and she was also diagnosed with bipolar disorder. She later told Seventeen magazine she'd been "self-medicating...[and] doing things like drinking and using [drugs], like a lot of teens do to numb their pain."
Checking into treatment was an important first step for Demi, but it wasn't a one-and-done solution for the then 18-year-old star. Shortly after being released from rehab in 2011, the singer relapsed. This time around, though, she moved into a sober living house for the support and structure it provided. 
And from there, Demi seemed to thrive—both personally and professionally. She became an outspoken advocate for mental health awareness and shared her own experiences in an effort to help break the stigma surrounding mental health issues and addiction. 
"I've been very open about my story just because that the more honest and open I am, the more people that I'm gonna be able to reach," she said in an interview with Today in 2015. "Mental illnesses, in general, are...not talked about as much as they should."
But as a public figure, Demi has made a point to change that. As she explained during an appearance on Good Morning America earlier this year, "I think that it's important for me to use my voice for more than just singing. I just know how important it is to use my platform to help others and to share my story in hopes that it inspires people to either get into recovery or better themselves. Whatever it is, I just want people to know they're not alone and I'm here for them."
And Demi wasn't relating to fans purely from a past perspective. At every stage of her sobriety, dealing with addiction has been "a daily journey," she told E! News in 2011, "and it's definitely going to be a struggle that I'll have to deal with for the rest of my life."
Some days "it's felt really easy," Demi explained to Seventeen, "and I've felt great about where I am. But then I have moments when it's not. That's life."
She reiterated that there is no simple, surefire solution to getting and staying sober. "You can't just take your mind and your body into the shop and get it fixed," she told the magazine. "It doesn't come out repaired. It's not like a car. It takes time—pace yourself. Every day is a new opportunity to change your life and be who you want to be."
And Demi worked hard to live a healthy life and encouraged her fans to do the same. "I'm not going to be perfect," she told E! News in 2011, "but...if I can make it through the day, that's all that matters."
Kevin Wolf/AP Images for National Alliance on Mental Illness
She tackled clean living day by day, week by week, month by month—and this past March, Demi proudly celebrated six years of sobriety. In the coming months, however, Demi hit a snag and relapsed—a heartbreaking truth she revealed with her song "Sober" which was released in June. 
"She made the decision to come out publicly about her relapse recently because she thought she could inspire her fans and it would help her keep on track," an insider told E! News, "but she has been battling her own demons for months."
Demi's fans had noticed she was going out more—even going so far as to question whether the singer had broken her sobriety during a night out with some fellow Disney alums back in April. When asked about a drink she was holding, Demi fired back, "I don't have to defend anything but it was red bull."
According to a source, Demi was, indeed, "privately praying more wth friends" and "[wanting] to be more social and out and about" in the months leading up to her overdose. This was potentially problematic, because as Demi herself told Refinery 29 in 2016, "I had to learn the hard way that I can't do parties anymore, Some people can go out and not be triggered, but that's not the case for me."
And unfortunately, Demi was "hanging out with the wrong mix of friends who didn't have her best interest," said a source. She was "heavily using" in the weeks leading up to her overdose, said another insider, "and her friends have been very worried that this was going to happen."
Watch:
Demi Lovato's Sister Gives Update on Her Rehab Progress
This, of course, is referring to the 12 hours of partying that culminated in Demi's overdose. Quite simply, said a source, "She slipped up and thought she could handle it." 
But what could've been tragic turned out to be the catalyst for getting Demi into treatment. And there will difficult days ahead, because as Demi has said time and time again, addiction is a lifelong battle.
We don't know yet how many more days, weeks, or months she'll be in rehab, but the fact that she's reached this 90-day mark is encouraging. And as Demi told her fans before seeking treatment, "I will keep fighting."