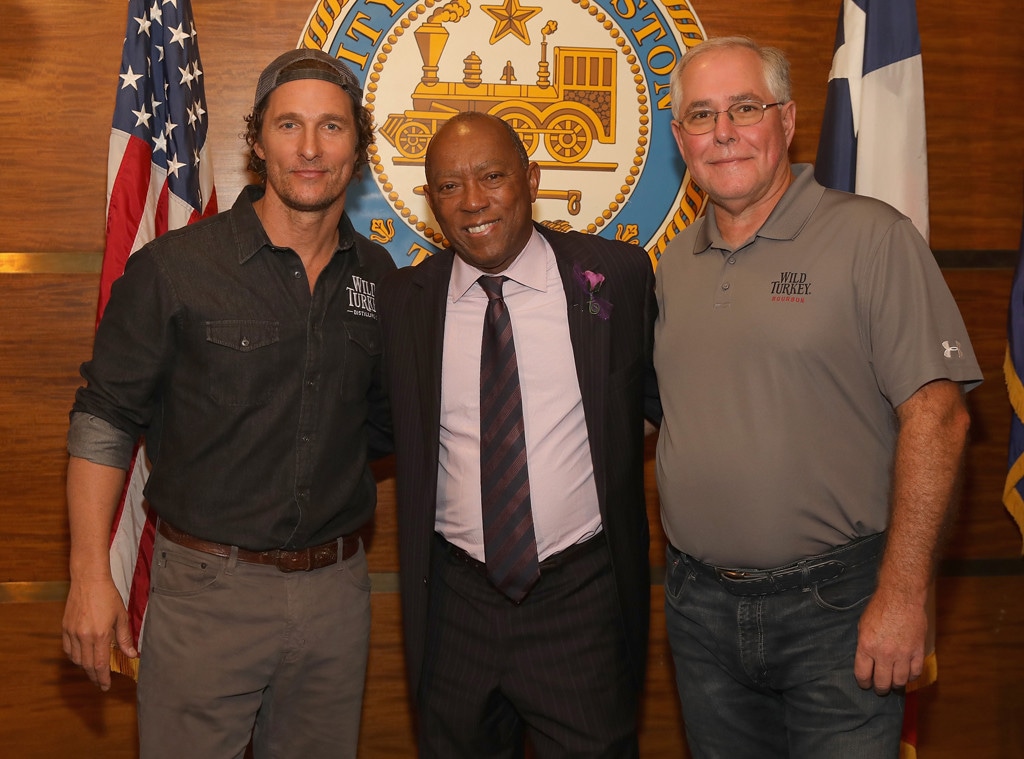 Rick Kern/Getty Images for Wild Turkey
Matthew McConaughey surprised many first responders all across Houston on Sunday as a part of National First Responders Day.
McConaughey and the Bourbon maker Wild Turkey teamed up again this year for the "Wild Turkey Gives back" campaign. The True Detective star, who hails from Texas himself, spent the day traveling around to different stations and hospitals in Houston that were impacted by the devastating Hurricane Harvey, which hit the area in the summer of 2017. McConaughey is also the Creative Director of Wild Turkey.
The actor was joined by Wild Turkey Master Distiller Eddie Russell and Houston's Mayor Sylvester Turner for the visits to Houston's heroes. McConaughey stopped by Houston Fire Station 26, Houston Police Department, Houston Emergency 911 Call Center and Ben Taub Hospital.
The Dallas Buyers Club actor discussed why supporting Hurricane Harvey responders was important to him. "I'm Texas born and raised, so acknowledging the hard work and dedication of first responders in Houston is meaningful to me personally," the actor said in a memo sent to E! News. "Over the past year alone with the hurricanes in Puerto Rico, the Carolinas and Florida and the fires in California, the number of heroic men and women on the front lines of natural disasters is staggering."
He discussed the mission and event in a Facebook video posted on Sunday. "Today is about giving back and saying thank you," McConaughey said. "We're dropping off a turkey and maybe slipping them some bourbon as well."
Mayor Turner thanked McConaughey on Twitter for his actions. "Honored to welcome him to our city and thank him for spending time and recognizing our @houstonpolice, @HoustonFire, and 911 dispatchers for their service," he wrote. McConaughey posed for photos with the responders that he visisted.
McConaughey did something similar last year, but in Kentucky rather than Texas. On Nov. 4, 2017, he delivered over 4,500 free frozen turkeys to people in Lawrenceburg, Kentucky. Even better, it was his birthday. "Thanksgiving, gratitude, we believe in our family that the more you're thankful for, the more that you show gratification, the more that you're gonna create in your life to be thankful for," he said in a video on his Facebook page. 
McConaughey is prone to doing random acts of kindness, especially if they occur in his home Lone Star State. In 2016, he surprised some students at his alma mater, The University of Texas at Austin, by picking them up in a golf cart and driving them home after a night out. A photo of him in the driver's seat of the cart said, "Longhorns take care of each other, and it's 'safe' to say Matthew McConaughey agrees." 
In 2015, McConaughey had another big moment in Houston by giving the University of Houston commencement speech. He later received a football jersey with his father's retired number on it.