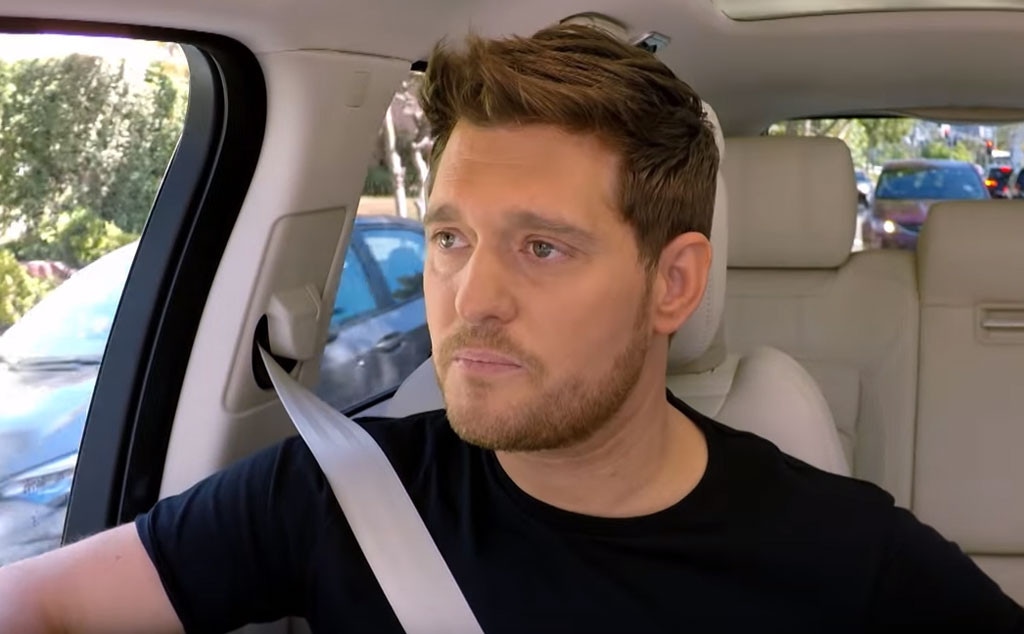 YouTube
Michael Bublé was brought to tears while struggling to discuss his son's cancer battle with James Corden.
The "Haven't Met You Yet" singer appears in a special Stand Up to Cancer edition of "Carpool Karaoke," during which he's asked about his son Noah's cancer diagnosis. Two years ago, the Grammy winner and his wife, Luisana Lopilato, revealed that their then-3-year-old son, Noah, had been diagnosed with cancer. "We are devastated by the recent cancer diagnosis of our eldest son Noah who is currently in treatment in the United States. We've always talked a lot about the importance of the family and the love we have for our children," the couple wrote on Lopilato's Facebook page at the time. "Luisana and I are going to spend all our time and attention to help Noah to get better, by suspending our professional activities for now."
In April 2017, Lopilato revealed the wonderful news that Noah is well.
"Thank God, my son is well. When things like those that happened to us occur, your take on life changes," she said. "It happened to us. Now I value life much more, the now and the today. I would like to thank people for their support, for the prayers they said, for their love, and I want them to know that they reached us and that it helped us a lot to come through this."
During Bublé's "Carpool Karaoke" episode, posted on YouTube Friday, he admitted that he's "not OK" after his now-5-year-old son's cancer battle.
"Now, you've had, by anybody's standards, you've had an incredibly tough couple of years," Corden said. "I think any person really, but particularly any parent of young children, essentially what I think you've gone through in the last few years is everybody's worst nightmare. Tell me about everything that happened with Noah."
"It's so hard to have to acknowledge it because it's so painful to talk about," Bublé, holding back tears, replied. "But obviously, we got the diagnosis, and that was it man, my whole life ended."
"It's weird man, I'm not OK," he later admitted to Corden. "My wife, honestly, when this all started, I became the strength to somehow pull us and lift us and to be positive. And when they got [the cancer] out and the chemo was done and they said, 'We did it, it's good, he's ok,' I fell, I just fell. My wife picks me up now."
Watch the video above to see how you can help find a cure and CLICK HERE for more information.