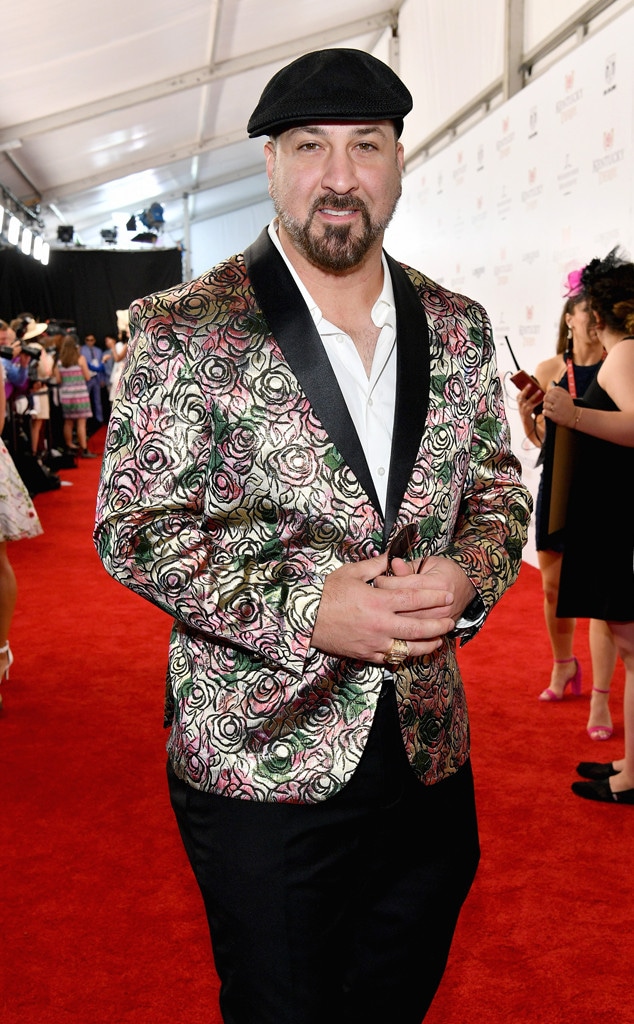 Dia Dipasupil/Getty Images for Chruchill Downs
This we promise you: Joey Fatone is switching up his look in a whole new way.
As Halloween weekend quickly approaches, the 'N Sync member decided to follow today's pop culture trends.
What's a guy supposed to do? Channel Post Malone, of course!
"Amazing how time goes by and you have to go with what is trending now ... hey if you can't beat em join em!" Joey wrote on Instagram while showcasing his new face tattoos. "@postmalone #postmalone #facetattoos #trending #cantbeatthemjointhem."
As you likely could have guessed, Joey's followers had a whole lot of hilarious reactions including one from a fellow boy bander.
"I miss the earrings buddy," 98 Degrees member Nick Lachey joked in the comments section. Joey replied, "@NickLachey Me too. Let's just put them back in…I can still put mine in lol."
For those who may not be the most familiar with Post Malone, the rapper has become a fan favorite in pop culture thanks to his music, personality, love for Postmates and face tattoos.
In fact, he recently appeared on The Tonight Show Starring Jimmy Fallon and discussed the motivation behind his first tattoo.
"We were working on 'Stoney,' and then we had a tattoo artist come through, and I was like, 'You know what? Justin Bieber's got some tatts, and I love you, but I know I'm way tougher than you,'" he recalled. "I was always so scared to get one and then I got one."
And in a surprise twist of events, Justin almost ruined his first ink job of a Playboy bunny.
"I guess Justin was watching this interview in the future when I said I was tougher than him 'cause we played basketball like two days later and he knocked the whole thing off," he recalled. "It was just blood dripping down my hand. It kind of looks like my tattoo got dropped in lava, but I like the story anyways."
So who else will be Post Malone this Halloween weekend? We can't wait to find out!