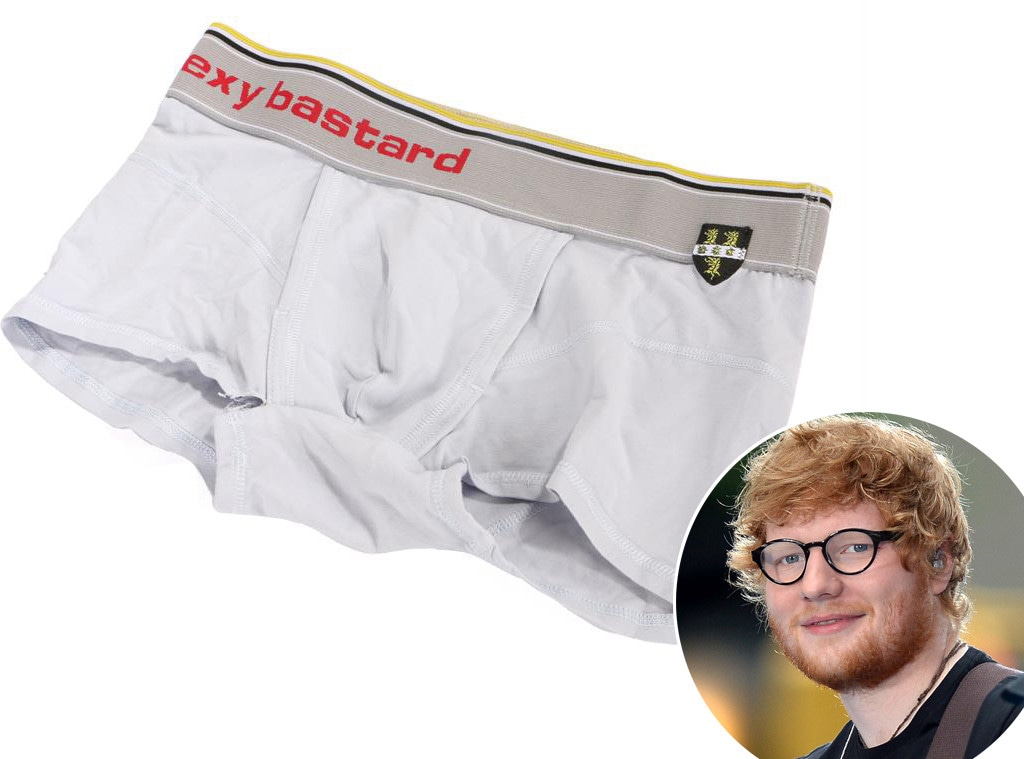 Ace Picture/Rex Shutterstock; bishopandmillerauctions.co.uk
Are you in the love with the shape of Ed Sheeran? And ever wonder if he's a briefs or boxers kind of guy?
The singer has donated 300 personal items, including not one but six pairs of his underwear, a mixture of both kinds, to a charity auction that will take place on November 10. Proceeds will go to Zest, a charity supporting the Suffolk, U.K.-based St Elizabeth Hospice, which provides care to young adults living with progressive and terminal illnesses.
Staring bids for Sheeran's boxers range from £20 ($25) to £80 ($102). They range from size medium and large. There are three black boxer shorts and boxer-briefs, one pair of black briefs with blue trimming with the words "Ibiza Rocks" printed on it, one pair of orange boxer-briefs, and one light gray pair of briefs with the words "aka sexy bastard" printed on the waistband.
Other items include a life-size LEGO version of Sheeran's face—made by Legoland as a gift, childhood toy such as a teddy bear, as well as a custom-made and played Martin guitar.
"I'm really pleased to be able to help St Elizabeth Hospice with their Zest initiative," Sheeran said in a statement. "The care of young adults living with terminal illnesses is vital and I'm so pleased that the auction will raise both awareness and support for this important cause."
This week, Sheeran's items were put on display at his former high school, Thomas Mills High School, where hundreds of people had the chance to make pre-bids.
Sheeran's items are part of the larger Music & Memorabilia Auction taking place at Bishop & Miller Auctioneers in Stowmarket and bidders from around the world will be able to take part online.