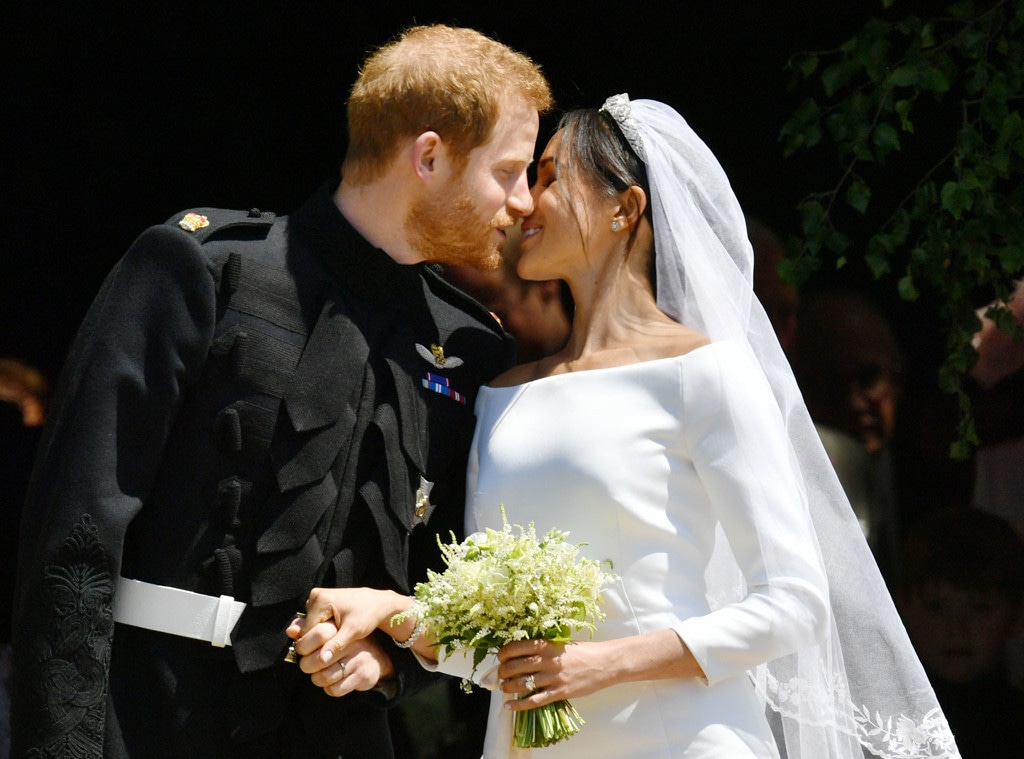 Ben Birchall/PA Wire
New details are emerging from Prince Harry and Meghan Markle's royal wedding.
The Duke and Duchess of Sussex tied the knot on May 19 at St. George's Chapel at Windsor Castle. For her special day, Meghan wore a Givenchy gown paired with Queen Mary's diamond bandeau tiara, which Queen Elizabeth II lent to her for the ceremony. Now, five months after the couple's nuptials, Meghan's dress, tiara and veil are on display in the Grand Reception Room at Windsor Castle for a special new exhibit, A Royal Wedding: The Duke and Duchess of Sussex. 
Meghan's gown is on display in the center of the room alongside a frockcoat uniform identical to the Duke of Sussex's wedding day uniform, which he still needs for use. Prince George's page boy outfit and Princess Charlotte's bridesmaid dress from Meghan and Harry's wedding are also on display. For the exhibit, the royal couple recorded commentary, in which they reveal secret scoop about their wedding.
In the commentary, the couple talks about finding a tiara for Meghan to wear on the special day, and how Harry joined Meghan and the Queen in choosing the piece.
Talking about joining in on the duo's meeting, Harry says in the commentary, "Every girl's dream to be able to try on a tiara, and, funnily enough, the one that suited the best, the one that looked the best on you without question, I shouldn't have really even been there, but such an incredible loan by my grandmother, it was very sweet."
Harry also helped pick out the music for Meghan's walk down the aisle, during which she was accompanied by Harry's father, Prince Charles.
For Meghan's trip down the aisle, Elin Manahan Thomas sang George Frideric Handel's Eternal Source of Light Divine, accompanied by David Blackadder on the trumpet.
"I was looking for something completely different and ended up stumbling across this piece of music," Harry shares in the commentary. "Something that epitomizes the whole day, the whole feeling that I have for her, and this incredibly impactful music with no organ whatsoever, with a soloist who actually did the most incredible job, to the orchestra."
"And now, both of us, wherever we are, whatever we're doing, we can close our eyes, listen to that music and take ourselves straight back to that moment," he continues. "It's a beautiful thing for both of us."