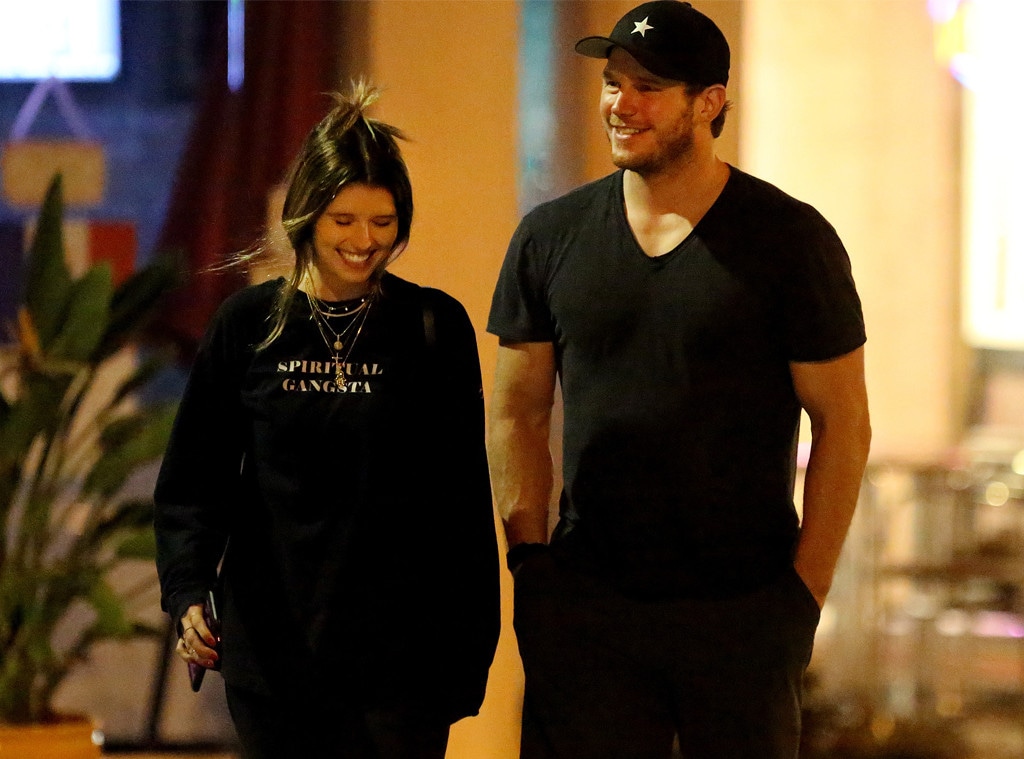 MB / MEGA
By early August it had already become a ritual, their thing that they enjoyed doing together. 
For Chris Pratt and Katherine Schwarzenegger Sunday mornings were for churchgoing. It wasn't just because they shared a strong devotion to their faith, with Pratt theorizing his Christianity was something he could give back to the world in thanks for his many blessings. "Nothing fills my soul more than to think that maybe some kid watching that would say, 'Hey, I've been thinking about that. I've been thinking about praying. Let me try that out,'" he recently told the AP. But behind that connection, in a way, the pair could thank God for bringing them together, seeing as how Schwarzenegger's mother Maria Shriver played matchmaker after meeting the Jurassic World: Fallen Kingdom star through church. 
And on Aug. 5, the couple followed up the business of prayer with a bit of pleasure. They shared a two-hour lunch at the Montage Hotel in Beverly Hills, before getting Pratt's car washed. Then it was off to Mama Shriver's house for dinner and a pre-meal ride around her neighborhood. Cruising aboard a pair of Bird scooters, the duo passed a group of paparazzi when Pratt joked to his gal, "It would be funny if we ate s--t right now, right?" 
It's an easy joke to make when you know how unlikely you are to crash and burn. Some six months in, the 39-year-old action star's romance with the author and lifestyle blogger, 28, has officially transitioned from let's hang out and see where this goes to, hey, are you thinking forever as well? "They are definitely getting more serious," an insider reveals to E! News. As in, let's build a home and maybe discuss ring sizes serious. Continues the insider, "Chris and Katherine have been talking about possibly moving in together sometime in the near future." 
Schwarzenegger is stoked about the chance to play house with the man who has checked all her boxes, but she's also equally thrilled for her other part-time roommate. The University of Southern California grad "adores Jack," the insider says of Pratt's 6-year-old son with former wife Anna Faris, 41. "She really sees a future with Chris." 
Really, the Parks and Recreation star should have seen this coming. On paper, the L.A. native appears to be a perfect match. Growing up the daughter of legendary journalist Shriver, 62, and body builder turned actor turned Gubernator Arnold Schwarzenegger, 71—not to mention a member of the famed Kennedy clan—means she has at least some comfort with being in the spotlight. (Plus her little bro Patrick Schwarzenegger has already tested the celebrity dating waters thanks to his 2015 romance with Miley Cyrus.) But unlike Pratt's previous relationships with Faris and Everwood costar Emily VanCamp, she's not an actress, meaning they'll never have to coordinate shooting schedules or commit to crazy travel arrangements just to guarantee a little facetime. 
"He really likes that she's not in the industry," one insider noted to E! News. "He likes the idea of dating somebody who isn't as heavy in entertainment." 
And there's no need to have matching careers when the rest of your interests are in lockstep. Much like the Washington state native, Schwarzenegger has a love of the outdoors, often making use of the California sunshine to ride her horses and walk rescue pup Maverick.
And she shares Pratt's penchant for sharing inspirational faith-based quotes on social media, like this gem from Rev. Run: "God's way is better than your way. His plan is bigger than yours, it'll be more rewarding than your wildest dream."
So when the two crossed paths this spring, Pratt was content to let Jesus take the wheel so to speak. Said the insider, "Chris was telling friends that he is genuinely excited to see where things go with her." 
Cautiously optimistic, if you will. Because the man who said he knew instantly that Faris would be his wife—"It took a while for me to admit it, because it would be crazy to be like, 'I want to marry you' the first day I met her," he told People "But I could have!"—was determined to ease his way back into the whole finding your mate situation. Though Faris had long since moved on with cinematographer Michael Barrett, "Chris intentionally took his time to get back into the dating field," says the insider. 
But there comes a point in every successful relationship when it just feels unnecessary to keep your foot hovered above the brakes. And for Pratt and the ASPCA ambassador that came right about the time they were outed, spotted enjoying a casual Father's Day picnic. "Chris was taking things slow with Katherine at first," says the insider, "but overall, he is not seeing anybody else and considers what he has with Katherine as exclusive. He's not afraid to show his affection for her in public, he really cares about her." 
By that point, the pair were both fully smitten and had settled into the type of easy routine you have when things just work. They both gravitate toward the quieter, more casual type of dates like grabbing frozen yogurt with Jack (they opted for matching medium-sized froyo with cookie dough during a July trip to L.A.'s The Bigg Chill) or just going for a walk. And the weekends? Those are reserved for prayer. "They go to church together and spend time with Maria," notes the insider, "and it's something they really enjoy doing together and connect on." 
As for Shriver, she loves watching her matchmaking work come to life and continues to pat herself on the back. "Maria is very excited for Katherine," a source tells E! News, adding she and the rest of the family have been keeping their fingers crossed that maybe one day soon they'll be welcoming Pratt into the fold. "They think Chris is an amazing guy and a great catch. They are really perfect together and have similar goals and values. Maria doesn't want to jinx it but is really hoping this works out." 
Pratt's brood is also sending thumbs up signs his way. Just last month, his brother Cully Pratt giddily posted about a weekend spent with the happy couple at Round Pond Estate Winery in Rutherford, Calif. followed by a charity gala for children's organization The Leaven. And Jack is in on Team Schwarzenegger as well, with the insider noting the grade schooler "really likes Katherine." 
Even Faris approves, comfortable in the knowledge that the children's book author has won over her beloved son. Having navigated through the initially awkwardness of transitioning from partners to co-parents, the exes have made it to the point where Faris can rave about their "great friendship" without a trace of deceit. And in a true conscious uncoupling success story, they've each found partners the other is cool with having around their child.
"Luckily they are both dating people who love Jack and are very good with kids," a source told E! News. "Jack is going to be a big part of their lives and they wouldn't date anyone that didn't accept that." 
So Pratt and Schwarzenegger have scaled all the practical hurdles that come with meshing two lives together. And they also share that hard to define spark that needs to be present for any coupling to truly work. As the insider puts it, the pair are simply "madly in love." 
And when you take one effortless bond and add a healthy dollop of chemistry, well, yeah, it makes perfect sense that they're considering springing for matching house keys. "Chris and Katherine fit really well into each other's families and love spending time all together," notes the insider. "Chris sees a very serious future with Katherine. They just love each other's company and it's not slowing down anytime soon."