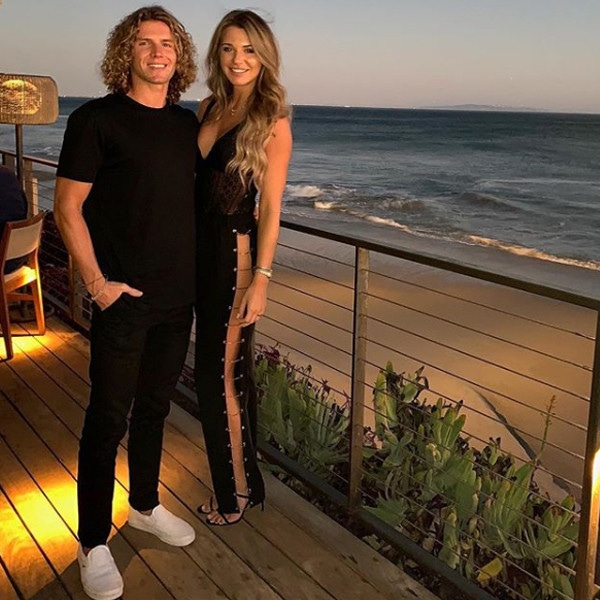 Instagram
Sometimes, the sparks keep on flying outside the Big Brother house.
Earlier this summer, Tyler Crispen and Angela Rummans signed up for CBS' reality show with a simple goal of coming in first and winning the $500,000 cash prize.
But after being part of the Level Six alliance, these two contestants developed real feelings for each other that didn't go unnoticed by viewers.
Exactly one month after the Big Brother  finale, fans of the couple nicknamed Tangela are hoping for an update on a showmance that turned into a real-life romance.
Spoiler alert: These two remain crazy about each other.
"After the Big Brother house, it only seemed natural [to move in together]. We were so used to living together and sharing a bed together throughout most of the season so going back into my normal life, it felt natural for him to move in with me," Angela shared with E! News exclusively. "I couldn't imagine living without him."
Tyler added, "It's been great…The move has been so smooth. It feels so natural. I love it."
Instead of experiencing the nightlife in Los Angeles, the pair mostly enjoys hanging out at their house and ordering a lot of Postmates. They're also able to watch their season of Big Brother for the very first time.
"We're almost finished so that's kind of been our date night is ordering take out in and watching an episode or two," Angela shared. "It's kind of embarrassing and weird and awkward, but we love it."
Season 20 proved to be a season of love for Big Brother as contestants Haleigh Broucher and Faysal Shafaat formed a romantic relationship. Viewers also witnessed a surprise engagement on finale night when Chris "Swaggy C" Williams got down on one knee and proposed to Bayleigh Dayton.
For those wondering if Tangela could be next, you'll just have to wait and see.
"I'm patiently waiting," Angela teased to us before Tyler added, "We're very happy right now."
For now, the couple is enjoying quality time together while also meeting other couples from the Big Brother franchise. The pair was able to experience Jessica Graf and Cody Nickson's gender reveal party and admitted the newlyweds are "definitely role models for us."
And although Big Brother may be over, fans may not be seeing the end of these two on the small screen. When asked if they would like to compete on another CBS reality show, they sounded more than open to the challenge.
"We're totally open to doing more shows and I think The Amazing Race would be the most amazing experience," Angela shared. "I think Survivor would be really cool too. At the end of the day, I'm not going to do anything that Tyler doesn't do with me and I can't imagine being on another season of Big Brother in the house without him there."
She added, "We're kinda a package deal."