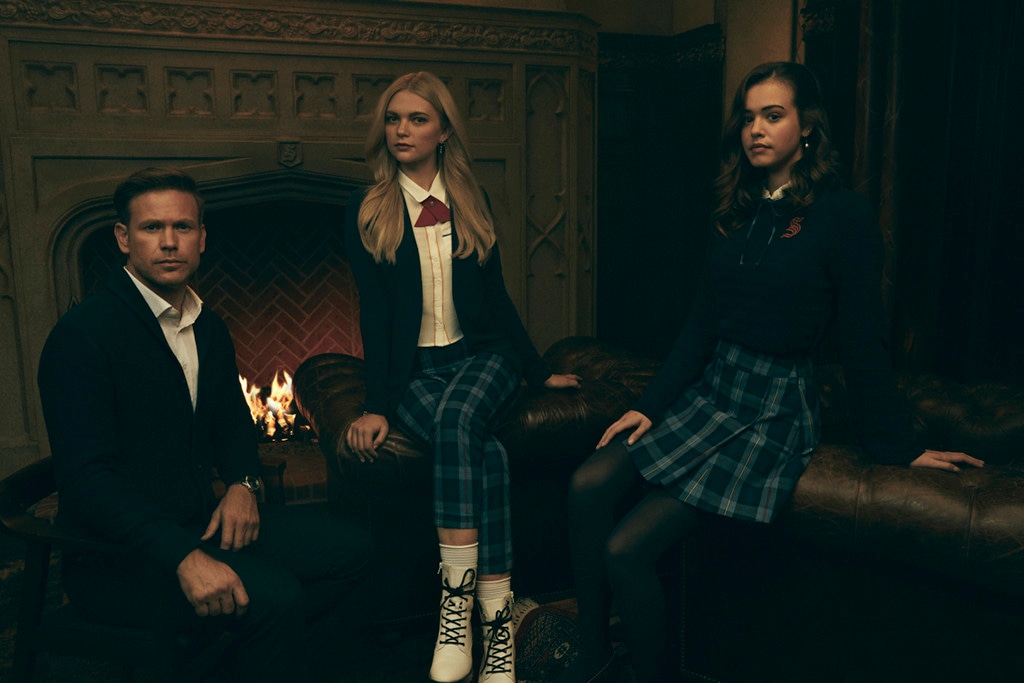 The CW
This fall TV season might have saved one of its best for last. 
The CW's Legacies finally makes its debut tonight, the last of the new broadcast shows to premiere this fall, and if you ask us, it's good. The show takes place in the Salvatore Boarding School established at the end of The Vampire Diaries, run by headmaster Alaric Saltzman (Matt Davis), and filled with supernatural kids, like Alaric's twins, Josie (Kaylee Bryant) and Lizzie (Jenny Boyd), and Hope (Danielle Rose Russell), the werewolf/vampire/witch hybrid whose miraculous birth spawned The Originals. 
The show is technically a spinoff of The Vampire Diaries and The Originals but Davis, who has played Alaric since season one of TVD, likes to think of it more as the third in a trilogy. 
"I've always [cringed] at the idea of these being spinoffs, so I've been actively pushing the concept that it actually completes the trilogy," Davis tells E! News. "It's interesting because you know The Vampire Diaries [was] the love triangle. It was Nina [Dobrev], Ian [Somerhalder], and Paul [Wesley], it was very much their show and the tone of the show was amplified by that love triangle. The Originals is very much Joseph [Morgan] and Daniel [Gillies] and Charles' [Michael Davis] show and amplified their voice and their tone and their style. And I'm very proud that this will amplify sort of my style and Danielle's style." 
Legacies is very much its own show, taking as much inspiration from Harry Potter and Buffy the Vampire Slayer than from its parent shows as its powerful supernatural teens (specifically its powerful supernatural teen girls) fight off monsters-of-the-week while working to control the monsters they can also be themselves. That's not a new concept, but it does feel like a new version of that concept, one that takes place firmly in 2018.
While the pilot spends quite a bit of time reminding you of where you are and who everyone is and how much baggage they're all carrying around, Davis promises that we're in for a "wild ride." 
"So we established the world, we established the characters, we established where we are in time and space in the first episode and by episode two, we're just off to the races," he says. "I think like two, three, four, five, six, seven, eight—we're on nine, about to be on ten—they're each unique episodes that I feel can stand on their own." 
The monster-of-the-week element was kept as a bit of a surprise until long after the show had been announced. It's a departure from how super serialized The Vampire Diaries and The Originals were, and Davis says it brings a whole new element to the show. 
"I love that [the episodes] are tied together and yet very unique and different in and of themselves," he tells us. "Every week we'll have a new tone, a new tenor, a new thrill and yet sort of act as a binding, driving force for our cast and sort of internal dramas within the school. I really love what we're doing." 
He describes the monsters, which we have yet to see, as "a nod to the old Hollywood monster effects." 
"So we've got this really old Hollywood monster vibe, and we also have this wonderful sense of humor," he says. "You have this new sort of like millennial existentialism that we explore within the teen drama at the school and you have it all sort of anchored around the characters that people are familiar with at large." 
Legacies also takes on supernatural fiction in a totally different way, acknowledging that it exists in a world alongside Harry Potter to the point that the school has a sport that's literally described as a safer version of Quidditch. These are kids who grew up dreaming of Hogwarts who now actually have to learn to live with supernatural powers. But it goes beyond just other supernatural fiction—Cutthroat Kitchen gets a shoutout, and Davis says there's even a Legally Blonde reference coming up. 
"We definitely are breaking a lot of rules of the show in all the best ways," he says. 
As for the Vampire Diaries and Originals of it all, the origins are not forgotten. Hope's tragic history plays a huge role in her story, Sheriff Matt Donovan (Zach Roerig) makes an appearance in the first episode, and Caroline (Candice King), who gave birth to and helped raise Josie and Lizzie, is mentioned and will continue to be mentioned. 
"You'll feel her presence as we talk about her," Davis promises. "She's out and about in the world sort of finding and recruiting kids for the school—or so we believe—and so you'll learn little bits about her here and there." 
Davis specifically mentioned a moment in episode nine, which they just finished shooting, where Josie and Lizzie come back from visiting Caroline.
"Basically they confront me in my office. They're like, dad, we were talking to mom and we all feel like it's time for you to start dating," he teases. "It really puts him on the spot and he has this moment where he gets defensive where he's like, well first of all, I have an immense amount of responsibility, this matrix of delicate responsibilities and if I add romance to it, it'll all come crashing down. Second of all, is she dating?" 
Davis wants to make it clear—as does the pilot—that this show is having a little more fun than the franchise has typically had before. 
"We got a whole new sense of humor," he says. "We don't take ourselves too seriously but when we do, it's super poignant." 
There is so much fun that could be had in this world, and if the show is all it's promising us it is, it's exactly the kind of fun we want to be having right now. 
Legacies airs Thursdays at 9 p.m. on the CW.