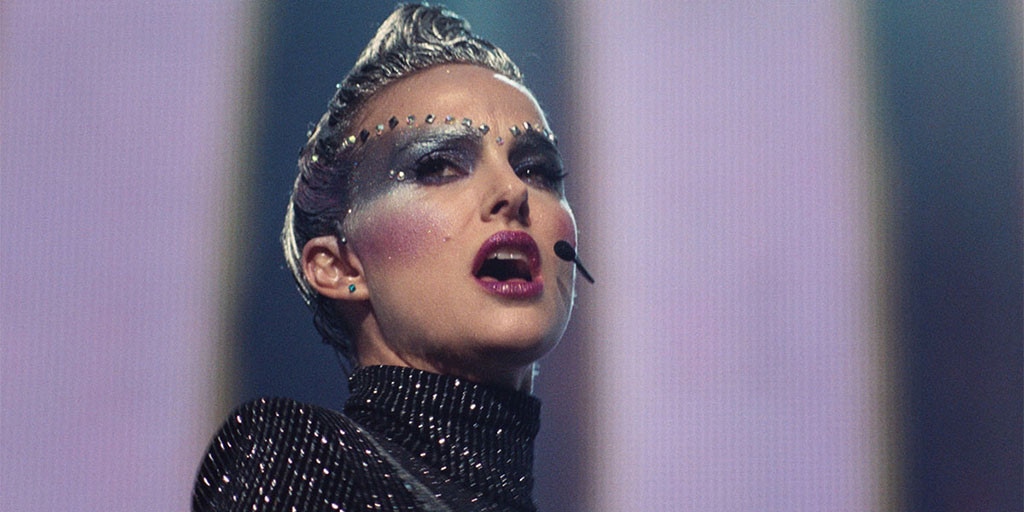 Courtesy of Neon
"That's what this show is about—it's about rebirth."
And just like her character, Natalie Portman has also been reborn into Celeste, a no-holds-barred music star with a tough New York accent and vibrant metallic hair to boot. The character is the focus of Brady Corbet's Vox Lux, an upcoming music drama and vibrant setting for the Oscar winner's latest silver screen transformation. 
After suffering an undisclosed violent tragedy with her sister in 1999, the two teenagers perform a song that catapults their careers and gets the attention of a manager, played in the film by Portman's former Closer co-star, Jude Law. 
Fast forward to modern day 2017, where Celeste, now a mom to her own teenage daughter, is faced with a tumultuous career and another act of violence. 
The captivating trailer leaves a few sparse clues for how Celeste's story will turn out, with flashes of a car lighting on fire, masked people armed with guns and someone undergoing a scan in a hospital. It is clear, however, that Celeste is nearing her boiling point with a full-blown meltdown in a dressing room. 
As for why, your guess is as good as our's.
The character is seemingly inspired in some ways by the brightest modern pop stars of our day, among them Lady Gaga, who has been known to sport a similarly flashy stage style. In an interview with Variety, Portman confirmed she watched Gaga's Netflix documentary as well as Madonna's Truth or Dare among other documentaries about female pop stars to get an idea of what that life is like. 
The film, also starring Christopher Abbott, Stacey Martin, Willem Dafoe and Raffey Cassidy, is due out on December 7. 
We'll leave you with the trailer's final quip from Celeste: "They wanted a show. I gave 'em a show."