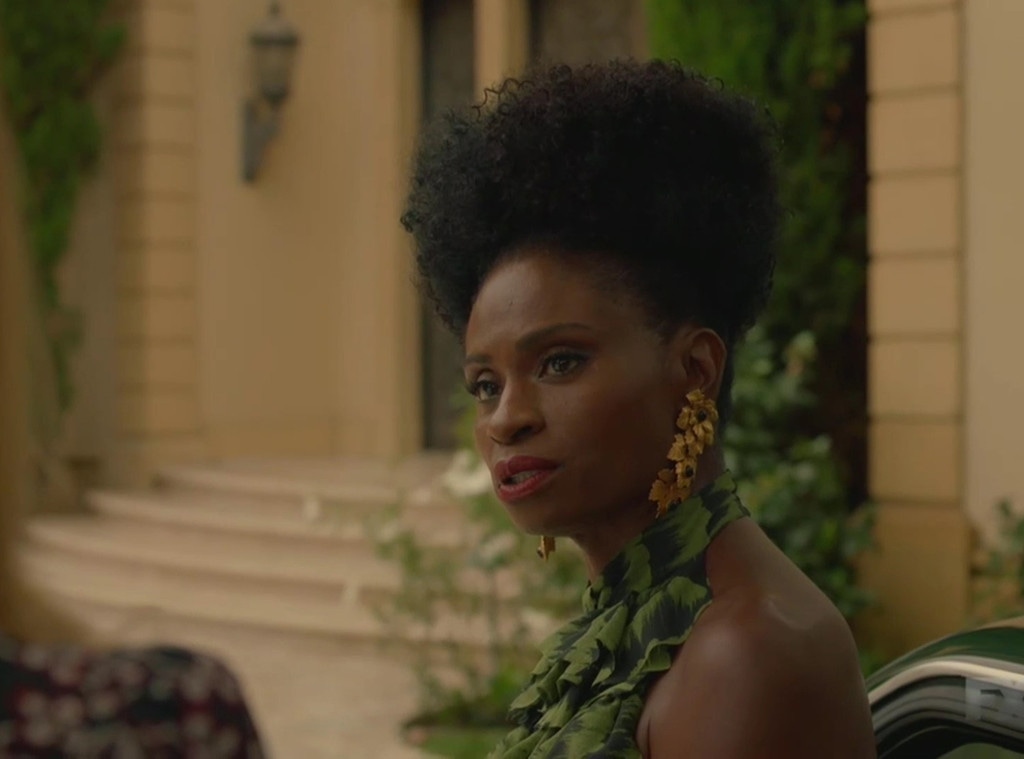 FX
Adina Porter put her own stamp on American Horror Story: Apocalypse's magic lore with some of her very own experiences with voodoo. Porter plays Dinah Stevens, first introduced as a former talk show host, then re-introduced to audiences as the new voodoo queen in place of Marie Laveau (Angela Bassett).
"I spent time in Haiti and would travel around West Africa. We spend three months out of the year traveling around West Africa, so I brought my own history of Vodun ceremonies that I have experienced into the role of Dinah," Porter told E! News.
Dinah is a voodoo queen who isn't interested in the title and responsibilities, nor is she super interested in helping Cordelia Goode (Sarah Paulson), the most powerful witch on AHS: Apocalypse.
Dinah doesn't do favors. As Porter told E! News, she "chooses to use her voodoo power to make money," money is her bible. Viewers met the pre-apocalypse Dinah when she was helping a rich white woman get even with her husband. She hired Dinah to make it so his eye would never wander again through a spell, the heart of his mistress, toenails and a chicken leg.
Porter said the writers and producers didn't look for her for voodoo pointers per say, but she did simple things based off her experience. "And so, I decided to say some words underneath my breath as I put the mixture together. I just wanted, and I expressed it, that sometimes people in the west treat voodoo like it's something that just comes out during Halloween as a kitschy thing, but it's a religion. A religion that needs to be treated with respect, so we treated voodoo with the same kind of respect that we treated Christianity in the show," Porter said, being sure to note she probably has Born Again Christian relatives and voodoo-practicing kin who aren't happy with the depictions. "I just made people know that it's a religion, just be aware of that, so we did," she said.
The Dinah viewers met in "Traitor," the Wednesday, Oct. 24 episode of the series, was pretty different than the woman viewers met in the outpost after the apocalypse. This Dinah was sure of both her powers and place in the world, something Porter relished quite a bit.
"I'll tell you something that I did last night that I've—maybe I've done it once before, but it's very, very rare—I laughed at myself. I wasn't laughing at Adina, I was laughing at the scene. I was tickled by it, and I watched it again, which is not something that I do or do very, very, very rarely. I liked that she…excuse my French, but 'I don't give a f--k.' When you have power and you know you have power, you don't get intimidated by certain people. There's a…what's that French term where you don't give a f—k? Laissez-faire? 'Cause you know they really can't—they don't have the power over you. They think they have the power of you, but they don't," she said.
Porter said she's not sure if it's because she's played characters who have been intimidated by people with power and had to serve white women, but when she played Dinah because of her past, "I very much enjoyed having that power, having that freedom of knowing that no matter what, you can't have power over me. You can't get the better of me. I very much enjoyed that."
"Maybe it's because…I've played so many characters where I had to bow down and give deference to, that I very much enjoyed how Dinah, because she knew she had this secret in her back pocket, that she could have power over people. Even the most powerful witch in the world, she had to come to me to get to Papa Legba, I loved that. I relished that, that power," she said.
Another thing she's enjoyed is the camaraderie that comes with being part of Ryan Murphy's acting troupe. "You're working with such amazing actresses, as well as just actresses—how many times do I get to work with all these women?! I'm very much able to keep up, but there's no competition. It's more like steel sharpens steel, so I come in to do my part to keep everybody as sharp, and I'm also becoming better working with these badasses," she said.
Those "badasses" include Joan Collins.
"I showed Joan Collins all of my Tinder matches and she didn't approve of any of them," Porter admitted with a laugh. "I've shown my matches to other people too, and people are like, 'Oh, he's cute!' 'Oh, look at that!' and Joan didn't like any of them! I was like, 'Oh, come on, Joan,' but nope, she didn't like any of them."
What do you do when Joan Collins doesn't like a potential suitor?
"I am forever changed," Porter laughed. "OK, I like cats, Joan Collins does not, so I have maybe a new bar. I keep my old, but a new bar of what Joan Collins might like."
Maybe we should all set a Joan Collins bar.
American Horror Story: Apocalypse airs Wednesdays, 10 p.m. on FX.