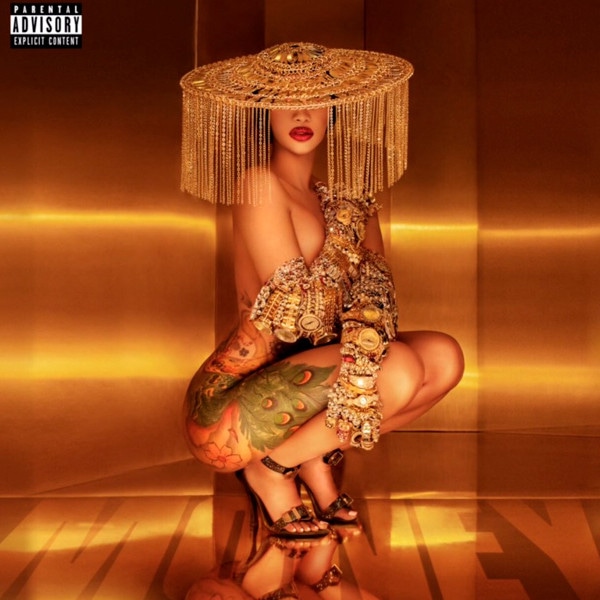 Atlantic Records
Cardi B's interest in Nicki Minaj seems to be waning.
In a FaceTime interview with Ebro Darden on his Beats 1 show on Apple Music, the rapper was asked whether she could be in the same room as Minaj—without fighting—following their Fashion Week showdown. "I don't care," she said. "It's whatever the energy's like. I don't care."
Earlier this week, Cardi B's song "Money" leaked—and she blamed Minaj's fans for spreading it. "This happens all the time, you know? When you give it to streaming services, it might go to a freakin' different country…and somebody from there leaked it. And, you know, people don't like you, so they're gonna keep spreading it. It was literally the people who hate me who posted it. My fans were like, 'Please, don't post it.' Everything that I do, they be on it before my fans," she said. "Seems like you love me, so it's like, 'F--k it. I can't retract it; I might as well put it out.'"
In "Money," she addresses her critics ("I heard that Cardi went pop / Yeah, I did go pop / That's me bustin' they bubble") and her competition ("Cardi at the tip-top, bitch / Kiss the ring and kick rocks, sis") But she denied speculation that it's a Minaj-inspired diss track. "The way that I came up, it was never about dissing nobody, and I still feel like I don't need to diss anybody for nothing. My music was never about that. I have a short temper, so that's like doing things that I don't stand for," the "I Like It" rapper explained. "I don't like when people be subbing me. So, why would I subbing you on music? Any problem I have, I always address people face-to-face."
Cardi B made similar comments when she called out the Barbz on Instagram Live. "They claim they hate me, but they really love me," she said, "because they be on my page before my fans."
Minaj has not responded to Cardi B's latest gripes.
After releasing her Invasion of Privacy album in April, Cardi B plans to share a collection of bonus tracks. "The plan was always to drop a, like, bonus. But I just didn't [think] I was going to be so busy doing back-and-forth, back-and-forth things after I gave birth. It's like, 'Oh my, God. Like, my schedule is so flooded.' Maybe in December or maybe January. I don't know," the rapper pondered. "It's just songs that I felt were really good songs that didn't make the album."