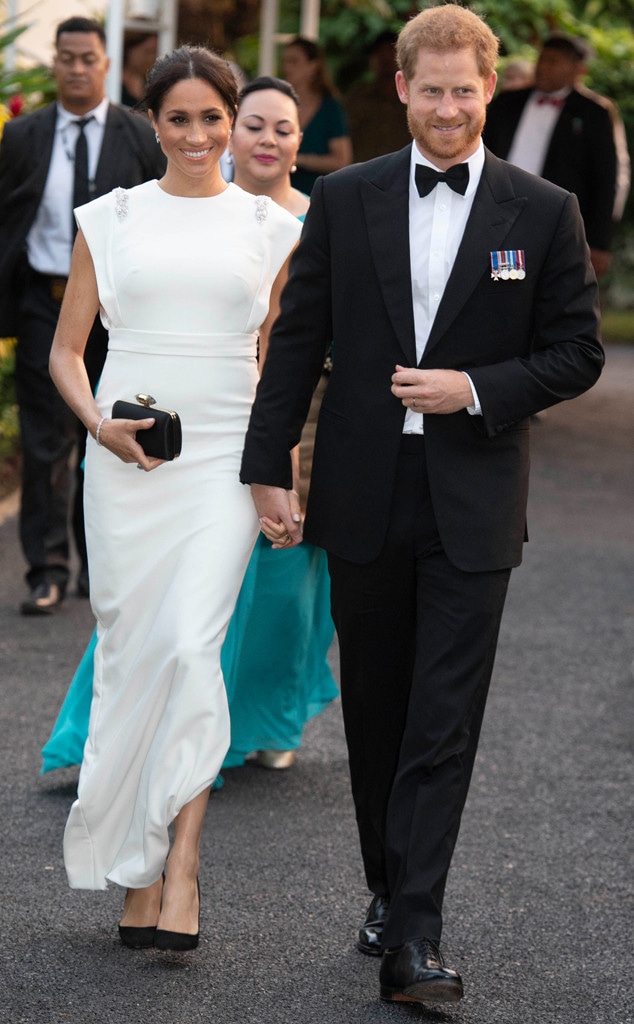 Paul Edwards/The Sun/PA Wire
Meghan Markle looked ready to walk down the aisle...again.
Five months after she married Prince Harry at St. George's Chapel in Windsor, the 37-year-old Duchess of Sussex gave fans wedding flashbacks when she joined her husband at the Consular House in Nuku'alofa, Tonga, for a private audience with King Tupou VI and Queen Nanasipau'u.
Modeling her third look in five hours, Meghan wore a custom Theia dress.
(Thankfully, unlike her Self-Portrait dress, Theia's didn't have a price tag accidentally attached.)
"When her stylist reached out to inquire if I could make a dress for her Australian press tour, I stopped everything we were doing (my bridal show was just a week away) and immediately went to work on Her Royal Highness' gown," Theia's creative director, Don O'Neill, said in a press release. The dress was made in two days and shipped to her. Meghan reportedly "loved" the look, but there was a slight problem: "We needed to remake it with extra seam allowance."
Paul Edwards/The Sun/PA Wire
At the time, Meghan hadn't revealed her pregnancy. "We knew immediately why this extra allowance was required, but mum's the word, and with less than one week to my bridal show, all hands were on deck once more," Don said. "We re-made the gown and I literally had to run down Broadway that Friday night to catch the UPS truck, making it with just minutes to spare!"
The dress is a hit—and Don knows it. "I am humbled and so excited to dress The Duchess of Sussex. It has been an exciting whirlwind collaboration," he marveled. "Her Royal Highness is a truly beautiful inspiring woman, a bright shining light in this world, and we at Theia are truly honored to be part of The Royal Tour of Australia, Fiji, the Kingdom of Tonga and New Zealand."
According to Don, Meghan "has long been a source of inspiration" for his design team. "Her classic, effortless and chic style—coupled with all the excitement leading up to her wedding earlier this year—inspired my Spring 2019 bridal collection," he said, "which I showed in April."
Meghan's gown will soon be available for pre-order, retailing for $995.
The duchess' actual wedding dress was designed by Clare Waight Keller for Givenchy. The silk gown featured an open bateau neckline, a sculpted waist and a rounded train. The veil, made from silk tulle, included a trim of hand-embroidered flowers in silk threads and organza, which represented the distinctive flora of each Commonwealth country. Meghan approached Clare in January and already "had an idea of what she wanted," the designer told ITV the day after the wedding. They "worked very closely together" to create a "modern, fresh" design. More than anything, Clare said she wanted her to "feel absolutely incredible" in the dress. Harry even thanked Clare personally, telling her, "Oh, my God. Thank you. She looks absolutely stunning."