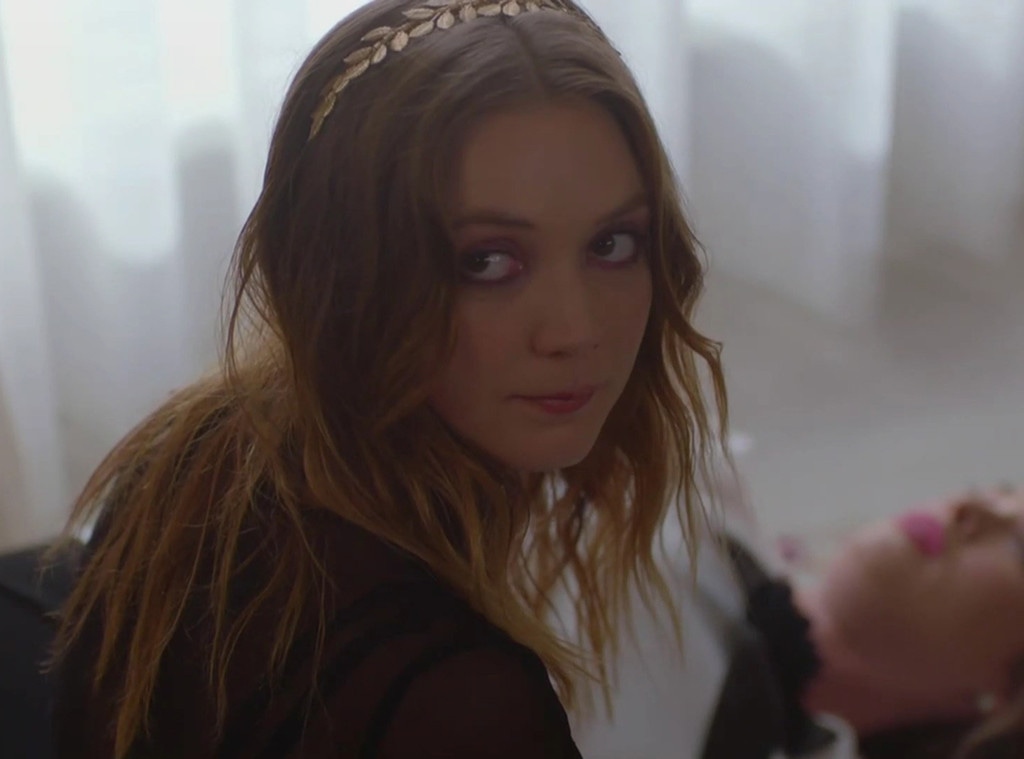 FX
Billie Lourd is going to save the world. 
That's how things are looking after tonight's episode of American Horror Story: Apocalypse, especially after Mallory (Lourd) passed the test of the Seven Wonders. But there were theories circulating around the internet before it was confirmed that she could be the next Supreme, just based on the fact that her powers are nuts. 
Tonight, dear sweet Coco (Leslie Grossman) choked on a snowball after practicing her power of telling exactly how many calories are in a food, and Mallory magically made a hole in Coco's neck, reached inside, pulled out the piece of snowball, and brought her right back to life. Just a couple weeks ago, she brought a deer not only back to life, but back to its youth, which made fans think that not only is she the next Supreme, but she might just be the good equivalent to Michael's (Cody Fern) evil, the Christ to his Antichrist. 
She might even have the power to reverse events completely, which would explain how the apocalypse happens in 2020, but Hotel  showed events that happen in 2022. 
For now, all we know is that the witches tried their hardest to defeat Michael before the bombs went off. They burned Ms. Mead (Kathy Bates) and the evil warlocks at the stake, after Mallory resurrected John Henry (Cheyenne Jackson), meaning Michael is now all alone, but clearly he still brings about the apocalypse anyway. 
Elsewhere tonight, we learned a few important things. 
First of all, we finally figured out how Myrtle (Frances Conroy) came back. As soon as Cordelia (Sarah Paulson) realized how bad things were going to get, she used a ton of her strength to resurrect her, despite her strict orders not to do so. 
Second of all, we met the new Voodoo queen. We've met her before, because it's Dinah (Adina Porter), but now we see exactly who she was before her memory was wiped and she ended up in the bunker. She brought Papa Legba to Cordelia, but Cordelia wasn't willing to give up any of her girls to join him and Nan (Jamie Brewer) in hell, so he refused to help. We highly doubt that's the end of Dinah and Papa Legba's involvement, but we shall see. 
And third of all: Bubbles. Frickin'. McGee. Turns out the fancy grandma played by Joan Collins in the first few eps was also a secret witch who had forgotten who she was. She was actually a movie star with telepathic powers, and she and Myrtle were fabulous BFFs. We've never had a need for more backstory in our lives!
American Horror Story: Apocalypse airs Wednesdays at 10 p.m. on FX.