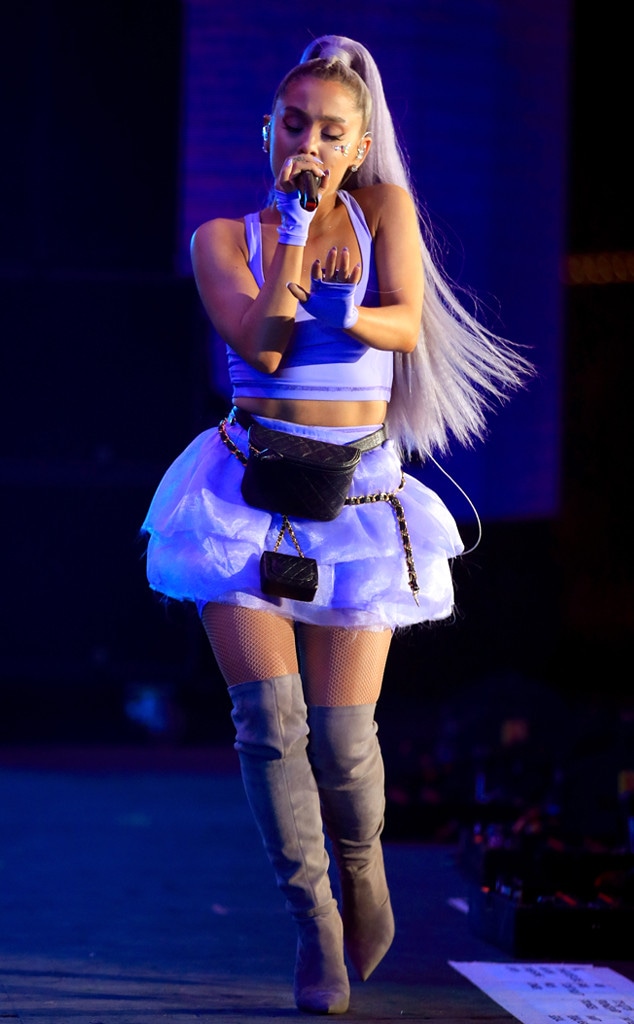 Christopher Polk/Getty Images for Coachella
Ariana Grande may or may not have "No Tears Left to Cry," but the singer is nonetheless providing the social media sphere with some much-needed information. 
On Oct. 14, Grande and her fiancé Pete Davidson split up and ended their engagement after a few short months. Since then, the two of them have slowly and surely made their way back into the public eye and are speaking out about their breakup. Davidson did it more directly, whereas the singer has sort of skirted around it.
When they were together, Davidson often appeared in Grande's Instagram stories in videos of him laughing or doing random day-to-day activities. Other times, they were all snuggling with her pet pig, Piggy Smallz. Now, Grande is back to conversing with her fans on Twitter and providing some clues as to what she's doing next, including tours and new music.
Before laying it all out on Twitter, Grande addressed the Davidson breakup on Oct. 16 in a note in her Instagram story. The slide connoted that she would be taking a step away from the Internet for a while, although she quickly deleted that and remained on social media. "Time to say bye bye to the internet for just a lil bit. it's hard not to bump news n stuff that i'm not tryna to see rn," she wrote in her story. "it's very sad and we're all tryin very hard to keep goin. love u. and thank u for bein here always."
The "God Is a Woman" singer has a tendency to thank her fans for their support but also tell them when she needs a moment. A few weeks before her breakup with the Saturday Night Live star and not long after the death of her ex-boyfriend Mac Miller, Grande pleaded to her fans on Twitter, "can i pls have one okay day. just one. pls."
She continued to talk about her "tough" few weeks in another tweet. "it's just been a tough month. i'm trying to get my work done and get back to normal and it's hard and i'm human and tired," she told her 58 million followers. "sorry i let u in or worried u. i shouldn't have tweeted. i kno better."
Her moment of silence is over. According to her Twitter, Grande has some big plans in store music-wise.
After telling her followers in an Instagram note that she probably wouldn't be touring for "a long time," the musician later changed her mind and said she wants to "tour now" because she's "antsy." She tweeted, "i'll do a mini one. i cant do what i did last time right now. that i do know. whatever it is i hope it's okay with you. i just love and miss you. everybody telling me i need to take time but i'm so antsy. idk. ily."
On Wednesday, one user tweeted at her and said that he wanted to know her future tour dates. She replied, "hi ily i promised i'd tell u when they were comin well .... they comin."
Well, when? She told one person "yea tbh" about her announcing tour dates. Grande later hinted at a big message in the coming days. Apparently, the dates that will be announced are only for the U.S., not anywhere else.
In another reply, Grande revealed how she was feeling as well as who the true love of her life really is. She responded, "better dis week ily v much" to one person who asked, "can u tell me how u doin fr."
Grande also referred to music as a healing mechanism for herself. One user praised her for being "the hardest working woman in the industry," and the Sweetener singer replied, "it ain't work when u love it r u kiddin ! i'm the luckiest girl in the world to be able to do this shit n express myself n heal this way .... my lifeline tbh."
Piggy Smallz, Grande's "emotional support pig" has its fair share of moment in the social media spotlight. She said Piggy is "the absolute love of my life ............. i have no idea what i did ...... to deserve her."
Despite Piggy being "the absolute love of my life," apparently she doesn't have any top 3 favorite songs on Sweetener because "she is a pig."
But could her favorite song be "Breathin?" She did make up the entirety of the music video, after all.
247PAPS.TV / SplashNews.com
While Grande is both hiding and spilling secrets on social media, Davidson is taking his feelings to the stage.
On Saturday, the comedian performed at the Judd & Pete for America comedy show and joked about his current relationship status. "Does anybody have any open rooms? Looking for a roommate?" he said. He and Grande shared a $16 million New York City apartment after their engagement. 
When they first started dating, Davidson got some new body ink dedicated to Grande. Now, he's covering them up. He told the crowd at the show, "Um, I've been covering a bunch of tattoos, that's fun. I'm f--king 0 for 2 in the tattoo [department]. Yeah, I'm afraid to get my mom tattooed on me, that's how bad it is."
In the days and weeks after their breakup, sources told E! News about how they're both coping. A source told E! News that Pete is "doing fine. He has a strong support system of family and friends around him that are keeping him laughing."
The insider added, "While Pete's focusing on himself, he always wishes the best for Ari." 
Ariana is in a similar situation, according to our sources. Another source told E! News that she is "in close contact with her family and they are keeping an eye on her and supporting her."