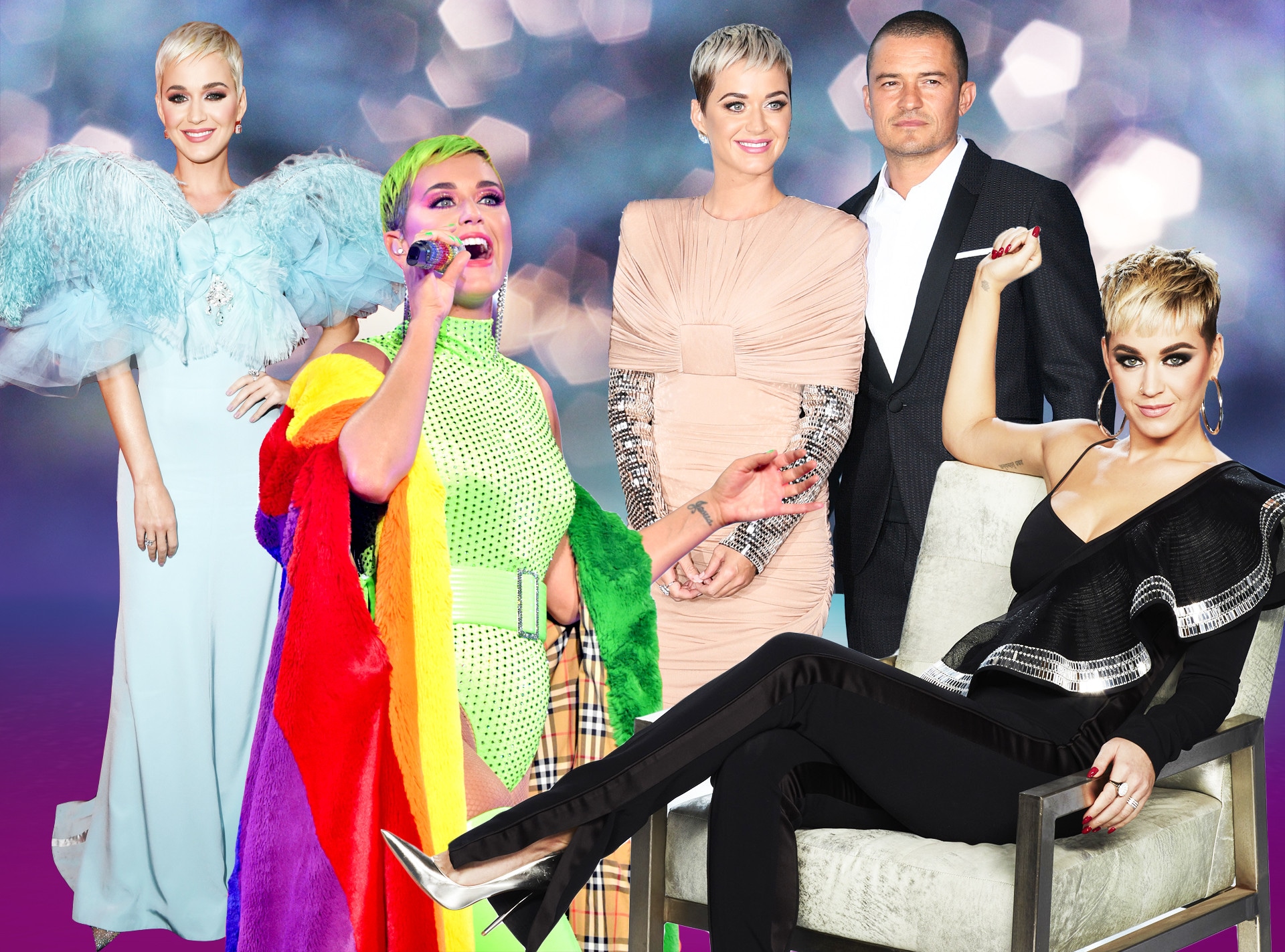 ABC/Getty Images; E! Illustration
Since when did Katy Perry become the adult in the room?
Maybe it's the increasingly serious relationship with Orlando Bloom, or her judgeship on American Idol, or that she's sending handwritten correspondence to Taylor Swift. It could even be the layered pixie haircut.
But we know that's not entirely it.
Perry is as whimsical, playful and powerful as ever on stage, as the sell-out crowds can attest to, but the "Teenage Dream" artist has simultaneously become the picture of maturity, serenity and common sense—still wrapped up in a patterns-, neon- and pastel-loving package, of course—in her day-to-day life.
"This is my disclaimer: my intention is so pure these days," she told The Guardian last summer. "I know nothing. All the thoughts and opinions I express are my own. Period, end of story."
In early 2017, Perry was all about "purposeful pop," using her platform to communicate a message of hope and strength to her fans—and to encourage them to not give up the fight for equal treatment and what they think is right. As an advocate for the LGBTQ community and women's rights in general, and as an avid supporter of Hillary Clinton from when the former presidential nominee first hit the campaign trail, Perry's world was pretty shook when Clinton lost in 2016. Her album Witness, led by the politically charged single "Chained to the Rhythm," was her response to that.
She wasn't looking to further divide this already too-fractured world, she said, but rather was eager to try to connect with those whose opinions differed from hers. "I just want to hear what they have to say, and hope they can hear what I have to say," she told The Guardian.
Kevin Winter/Getty Images for NARAS
While concerts are almost foolproof places for people to come together, Perry did end up dividing critics, who gave Witness, at best, mixed reviews. The album's June 2017 release was also tainted with the backlash over "Bon Appétit," a collaboration with Migos, after the rap trio was called out for homophobic comments—seemingly a culture clash with Perry's inclusive views.
And that understandably bummed Perry out, though she insisted that she didn't scurry underground because of it.
"I went on a vacation that I had planned weeks and weeks ago with my girlfriends," she said about a misunderstood retreat from the spotlight at the time. "Everybody calm down. Why don't people ask me what my story is?"
But by the end of 2017, the story had changed.
"You know, I had a lot of expectations at the end of 2015 and the end of 2016 that weren't met," Perry told Glamour for its March 2018 issue. "That was the first time, in a long time, that I didn't get my way. I think it was the universe's way of testing me, of saying, 'We're going to see if you really do love yourself.' That was challenging for me, because I didn't realize how much I relied on the outside validation."
Witness debuted at No. 1 on the Billboard 200 but underperformed commercially and critically when compared with the Perry classics that are Teenage Dream and Prism. The whole effect could best be described as "blah," and the artist herself felt it.
She had headlined the most-watched Super Bowl Halftime Show in history, sold tens of millions of albums, won a boatload of awards and been all over the world. She knew from excitement and inspiration. And this wasn't it. This was the feeling you get when it's time for a change.
"I've come to learn, after 10 years of success in the spotlight, that being happy is something you have to work for every single day," she also told Glamour. "Even if you have money or houses or status or fame—and all of that stuff is great for a moment—if you don't have happiness charging the train, you're gonna derail."
Matt Baron/REX/Shutterstock
Perry admitted to Vogue Australia this summer that Witness' so-so reception was upsetting.
"I have had bouts of situational depression and my heart was broken last year because, unknowingly, I put so much validity in the reaction of the public, and the public didn't react in the way I had expected to...which broke my heart," she said. 
But at the same time, having what she called her "validating 'blankie'" stripped away also proved very liberating.
"That brokenness, plus me opening up to a greater, higher power and reconnecting with divinity, gave me a wholeness I never had," Perry, who met Pope Francis at the Vatican in April, shared. "It gave me a new foundation. It's not just a material foundation: it's a soul foundation."
That extended to both her career and personal choices.
First of all, her decision in early 2017 to join the return of American Idol on ABC proved to be its own form of palate cleanser as she joined in on the search for superstar potential.
"I think we need someone who has a voice that you can feel," Perry told Glamour. "For me, when someone sings and all the hair on my arms stands up, I am immediately invested."
And she didn't settle for anything less on Idol, which premiered in March and quickly established the "Firework" singer as, if not quite the Simon Cowell of the panel, than as the tell-it-like-it-is judge.
Which, as far as she was concerned, was simply all a part of earning her reported $25 million paycheck.
"I'm really proud that, as a woman, I got paid," she told 103.5 KTU host Carolina Bermudez in May (while politely refusing to talk numbers). "And you know why? I got paid like more than like pretty much any guy that's been on that show. And, by the way, I love men. So I'm a paid woman and I'm ready for a beautiful man."
Her personal renovation also extended to her health and well-being, and maintaining a certain routine was essential.
"I feel very out of sorts without routine, and the devil is sort of my playground when I don't have it," Perry told Glamour. "Every day is just a preparation for the show. Sleep is really important to me. I'm a big sleeper. I get eight to nine hours every night. Nine to 10 hours, actually. I eat about four meals—or four and a half meals—a day. I'm constantly eating."
A chef takes care of her sugar- and dairy-free meals, and she starts each day with an hour of yoga, followed by 30 minutes on the elliptical machine. Then, around 4:30 p.m. or 5 p.m. each day, she stills herself for transcendental meditation, to reconnect to the world around her. 
In January, after years of watching friends come back "completely rejuvenated," Perry spent a week at the Hoffman Institute, which according to its website provides a "healing retreat of transformation and development for people who feel stuck in one or more important areas of their life."
Finally this year, Perry told Vogue Australia, "I was ready to let go of anything that was holding me back from being my ultimate self."
Neilson Barnard/Getty Images for Citi
While she's had a wildly popular social media presence for over a decade and has 108 million Twitter followers and counting, Perry also excused herself from any further online drama after a couple of rocky years in the Swift-feud realm, where every "like" was scrutinized and every post plumbed for hidden meanings.
Instead, she's staying positive, extending a "like" to Swift's first-ever foray into having an unequivocal political position by endorsing Democratic congressional candidates in Tennessee.
At the same time, she's taking pains to reconnect with her devoted fans, the people who couldn't care less if Rolling Stone gives Perry three stars instead of four, or if the Grammys don't reward her efforts. 
She told Glamour, "I read their letters or I'll meet someone who will say something like, 'I stopped cutting myself two years ago because of this song,' and I'll be like, Oh, right! That's why I wrote that song. I wrote that song so that it could bring a bit of joy back into people's lives."
David Fisher/Shutterstock
Also by the end of 2017, incidentally, Perry was once again dating Orlando Bloom after about a five-month break.
"Katy has never been happier and everyone around thinks that Orlando is great for her," a source told E! News this week about the couple, who have now been back together for more than a year. "Katy can really be herself, with no judgment."
And that has become a must-have quality. Perry noted to Glamour how important self-acceptance had become, saying, "This last year has been about killing my ego, which has been really necessary for my career. But for my personal life, it doesn't work that way. If I want to have that true balance, I have to step into being Katheryn Hudson.
Some time apart was what the pair needed at the time, but once Perry was spotted on the back of the British actor's motorcycle on the way to an Ed Sheeran concert last August, it's been full speed ahead for these two.
"Katy and Orlando want this to work this time, so they are working on mending their relationship," a source told E! News. "They've had some really good talks and have a better understanding on their needs. Time will tell at this point, but [things are] looking very positive."
Among the adventures they've had together over the past year: they relaxed in the Maldives in January, dressed up as Mario and Luigi to go go-karting in Tokyo in March and went to the Vatican together, with Katy's mom, in April. (And to show just how much he's matured as well—Bloom wasn't naked for any of it.)
A source told us in February that both knew it wasn't going to be easy to maintain their relationship once Perry was on tour again for months, "but they love each other and never really stopped talking when they were apart. They've been seeing each other off and on the entire time."
During some ABC Bachelor-Idol cross-promotion in May, Perry quipped to then-incoming Bachelorette Becca Kufrin, "Can I be in the running? I'm not single, but I still like you."
As it turned out, they made it through Perry's busy summer crisscrossing the globe. Just last month, getting ever closer to the three-year mark since they first hit it off at a Golden Globes after-party, they made their red carpet debut as a couple, at the Gala for the Global Ocean in Monte Carlo. Bloom was also on hand at the amfAR Gala with Perry in Los Angeles last week, where she was honored with the Award of Courage.
The couple are "going strong and are very serious," a source tells E! News. Perry thinks of Bloom as her best friend and always has a great time with him, whether they're off on an adventure in another country or just hanging out at home. 
We're told that Katy continues to get along great with Flynn, Orlando's son with ex Miranda Kerr (who had another son in May, her first child with second husband Evan Spiegel). "Orlando loves that Katy is respectful with Flynn and the dynamic is very easy and comfortable," the source says.
They've talked about marriage, the insider adds, but they're committed regardless and "both are content at how things are going right now."
Because as Katy Perry has learned over the past couple of years, it's important to be able to enjoy what you have, when you have it—just as it's also important to believe in yourself and not put too much stock in certain things.
"You can't always be sitting perched on the top of the mountain," she told Glamour.
Or, as she just tweeted this month, "Can't buy all the happiness in the world, it's a state of mind."