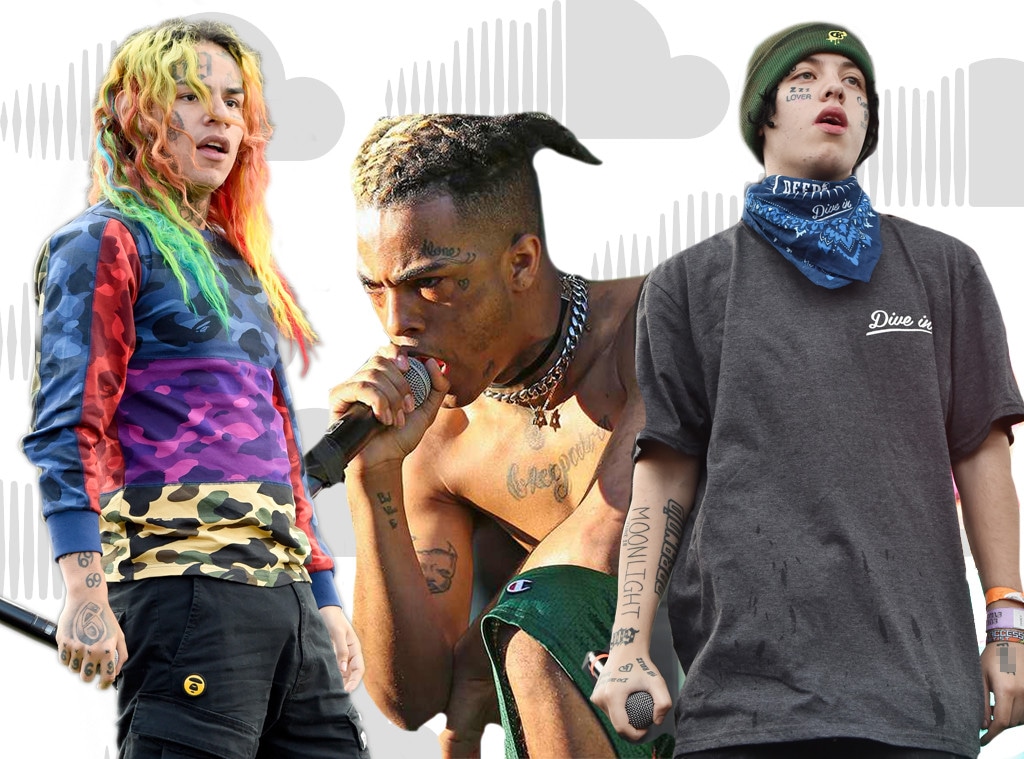 Getty Images
There's something to be said for the SoundCloud effect.
Ever since the digital music platform launched 11 years ago, it's not only allowed established recording artists, frustrated with traditional distribution models and the label execs who control them, to share with their fans new music that might not see the light of day otherwise, but it's allowed for burgeoning upstarts to share their music with the world, building fan bases in the internet age without the old-school permission of the cultural gatekeepers.
It's helped contribute to the democratization of music, while also making it incredibly easy for labels in search of the next big thing, especially when it comes to genres that the (generally older and white) powers-that-be just don't understand. After all, if you're looking to make headway in the lucrative urban market (read: rap/hip-hop), what better way than by signing someone who's already gathered legions of fans all on their own?
"Major labels who don't have executives in the company who grew up understanding the culture – I think they do just throw themselves at whatever shiny object or whatever they think is the entry point," Joie Manda, EVP of Interscope Records, told Rolling Stone this summer.
And there is no shinier object these days than the SoundCloud rapper—and no amount of money too large for the major labels to throw at them in this wild arms race to find the next rap god. But as they throw incredible sums as rappers like Lil Xan (reportedly netting over $1 million from Columbia Records), Lil Pump ($8 million from Warner Bros.), and the late XXXTentacion, who reportedly signed a $10 million dollar deal with independent label Empire just a week before his murder this summer, elevating these up-and-comers to a national stage, the skeletons have begun pouring out of everyone's closets. And what we're learning about these rappers who have come to define the genre for the Gen Z audience has become downright disturbing.
Matias J. Ocner/Miami Herald/TNS via Getty Images
Take XXXTentacion, whose real name is  Jahseh Onfroy and was fatally shot in June at only age 20 during an attempted robbery outside the Riva Motorsports dealership in Deerfield Beach, Florida in broad daylight. He's back in the news today after becoming something of a martyr in death—his records sold 4.5 million copies following the shooting, with another one full of unreleased recordings in the works, and he was posthumously awarded Favorite Album—Soul/R&B at this year's American Music Awards—and not for anything remotely positive. 
In an audio recording first obtained by Pitchfork, a voice seemingly belonging to the rapper can be heard admitting to abuse inflicted on a woman and the stabbing of eight people. In the 27-minute tape, which E! News obtained from the Miami-Dade County State Attorney's office and was recorded by an unnamed acquaintance of the late star around the time of his October 2016 arrest on charges of aggravated battery of a pregnant victim, false imprisonment and witness tampering (charges he plead not guilty to, with the cases closed following his death), the voice purportedly belonging to the rapper boasts, "What nobody's understanding, I put my source of happiness in another person, which was a mistake initially right? But, she fell through on every occasion until now. Until I started f--king her up, bruh. But I started f--king her up because she made one mistake. And from there, the whole cycle went down."
"Now she's scared. That girl is scared for her life. Which I understand. [Redacted], you seen me. You know what I do to people," the voice continued. "[Redacted] know, all of them boys knew. It's on f--king [Miami] New Times. I'm on New Times for stabbing. How many people they put in the news? They said three, it was eight. In Deerfield. She know that. She's seen this s--t. She's seen when I came back from stabbing [redacted]...She seen when I came back. Had a brand new laptop. No tears on my face, no remorse. I just knew I was going to jail. She knew. So she's scared. She thinks I'm going to kill her."
It's heavy stuff, indeed, and it certainly throws the legacy that's been built up around him following his death into question, but the thing is it's hardly new. For those who'd been paying attention during the rapper's rise, as more established artists like Noah Cyrus and Juicy J signed off on him and recruited him for feature appearances on their tracks, reports of his violent past were already a part of the conversation.
He'd been arrested multiple times, for charges ranging from gun possession to assault with a deadly weapon to the aforementioned battery of a pregnant woman and witness tampering. He'd been involved in physical altercations with fans more than once, openly boasted about attacking a homosexual cell mate in an interview with underground hip-hop podcast No Jumper—"I was gonna kill him because of what he did, because I was naked. He was staring at me. I started strangling him"—and made no secret of his disturbing feelings towards women. And yet, the recording contracts, the high-profile co-signs, and incredible sums of money kept coming in until his short life ended this summer.
XXXTentacion's story may seem like the sort of one that would be the exception, the outlier, but as we learn more and more about his fellow SoundCloud rappers, it's shockingly proving to be the rule.
There's 6ix9ine (real name Daniel Hernandez), who rose to fame late last year with the release of his single "Gummo." The rapper, who's known for his rainbow-dyed hair and rainbow-plated grills and also goes by the name Tekashi, has already got a lengthy rap sheet, beginning with his 2015 guilty plea to a felony count of use of a child in a sexual performance that followed an incident where he had sexual contact with a 13-year-old girl and later distributed videos of the incident online. Under his plea deal, he was required to obtain his GED, refrain from posting sexually explicit or violent images of women or children to social media, and not commit another crime for two years. If met, he would get three years probation and not have to register as a sex offender; if not, he would face up to three years in prison. By January of this year, a court hearing revealed that he'd failed his GED test and by July, he'd been arrested for an outstanding warrant relating to his allegedly choking a 16-year-old in Houston at the beginning of the year. On Friday, he was sentenced to four years probation and 1,000 hours of community service for violating the terms of a plea agreement. 
And in spite of all that, Nicki Minaj, the self-proclaimed queen of rap, joined him for a verse on his song "FEFE" and the accompanying music video with nary a mention of his horrifying rap sheet. In fact, she wanted to bring him along to perform at this year's MTV Video Music Awards and wasn't too pleased when she was told no. "I wanted Tekashi [6ix9ine] to perform with me at the VMAs, but somewhere along the lines he did not get approved by the powers that be," she told listeners during an August taping of her Beats 1 Queen Radio show. "When I know somebody, there's nothing you can tell me about them."
The list goes on. There's Tay-K (real name Taymor McIntyre), who gained popularity after he was arrested on capital murder charges for a 2016 robbery that left a man dead and another a year later. He infamously cut his ankle bracelet off and went on the run, releasing new tracks to his SoundCloud account as he did. His track "The Race" was released the same day he was apprehended by authorities. It peaked at No. 44 on the Billboard Hot 100 and has over 100 million views on YouTube.
Scott Dudelson/Getty Images
There's Trippie Redd (real name Michael White IV), who's appeared on recent Diplo and Julia Michaels tracks, despite two separate assault arrests this summer. There's YNW Melly (real name Jamell Demons), who released his music after being released from prison for a shooting he was involved in when he was 16, with his brutal track "Murder On My Mind" written from his jail cell. There's Lil Xan (real name Diego Leanos), whose brief relationship with Noah Cyrus nearly consumed the internet once it imploded in spectacularly public fashion and speaks openly about his addictions to Xanas, opiates and other benzodiazepines. (Though, to his credit, he's currently advocating folks stop abusing drugs—but he also once called late rapper Tupac Shakur's music boring, so maybe it's a wash.) And then there's Lil Peep (real name Gustav Åhr), whose frequent and open drug use, citing addictions to cocaine, ecstasy and Xanax, took his life late last year.
Music, especially hip-hop and rap, has been rife with stories of artists and their troubled pasts. Jay Z famously sold crack, Snoop Dogg was charged and later acquitted of murder, Tupac and The Notorious B.I.G. both lost their lives due to the violence that used to walk hand-in-hand with the rap game. But there had been the notion that the genre had moved past that and the luminaries left standing had rehabbed their lives and gotten out of the darker game. But these kids on the come up? They're still in the midst of it and no one really seems to care.
When you remove the traditional gatekeepers to success—hell, when you knock down the damn gates entirely, as SoundCloud has—you make access available for everyone; the good, the bad, and the ugly. And in the abstract, that's a good thing. It should be easier for people with something to say to reach an audience who's ready and willing to hear it. But this influx of remarkably troubled young men—and their audience's propensity to overlook just about everything—is alarming, indeed. 
As major labels keep investing big bucks in these underground artists, the bubble keeps growing and growing. But all bubbles burst. We know this. In this instance, though, it's clear that it will be up to us, the listeners, to pull out the pin and pop it.