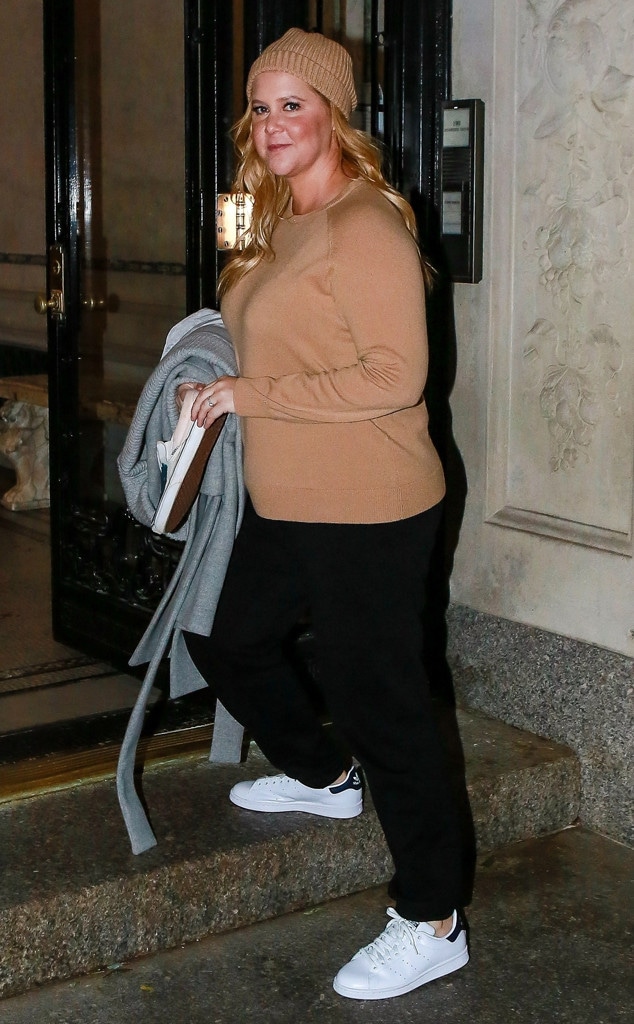 BACKGRID
Mama-to-be spotted! 
On the heels of her baby announcement, photographers snapped the pregnant star in New York City on Tuesday. The expectant actress was bundled up in a sweater and matching hat while toting a coat and sneakers in one hand and waving to paparazzi with the other. 
The sighting comes shortly after the Golden Globe nominee revealed on Monday that she is expecting her first child with husband Chris Fischer. The two shocked fans when they confirmed in February that they had tied the knot in an intimate Malibu ceremony.
The star shared the exciting baby news on journalist Jessica Yellin's Instagram account by writing "I'm pregnant—Amy Schumer" on a list of candidates she endorses for the upcoming midterm elections. 
As pop culture fans well know, Schumer is not the only American star with a baby on the way. Duchess of Sussex and former Suits actress Meghan Markle is also expecting her first child with husband Prince Harry, a pregnancy that has dominated headlines since it was first confirmed just a week ago. 
It's even inspired Schumer, who teased her followers with the reveal by sharing a silly photo of her and Fischer's faces photoshopped onto a snap of Harry and Meghan from their current royal tour. 
In a statement to The Los Angeles Times, Schumer joked, "Chris and I are thrilled and almost positive he's the father. I look forward to competing with Markle every step of the way."
Schumer has continued with that royal theme. On Tuesday, she shared a photo of herself with her back to the camera hunched over a toilet, seemingly because of morning sickness. 
"Today Markle is in Figi #same," she wrote on the picture. "Milf alert."
Clearly, we can expect Schumer's signature humor throughout this pregnancy—and we wouldn't want it any other way. Congratulations to the parents to be!