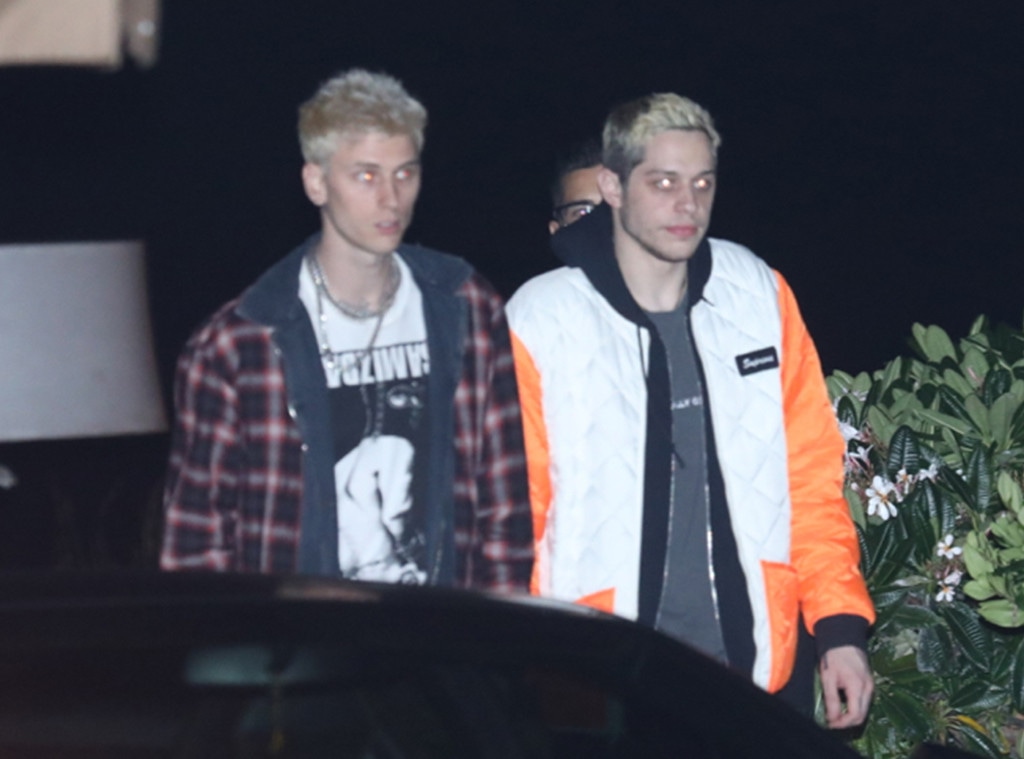 MEGA
There's nothing but good things happening at this dinner.
Just days after breaking his silence on the Ariana Grande breakup, Pete Davidson stepped out for dinner with a familiar face in the industry.
In photographs obtained by E! News, the Saturday Night Live star traveled to Nobu where he met up with Machine Gun Kelly for a quiet Malibu meal.
Pete was spotted wearing a colorful bomber jacket and casual black pants. As for Machine Gun Kelly, he opted for beige pants and a plaid jacket over his white T-shirt.
For those who may not be familiar with this friendship—or maybe we should say bromance—we've learned these two go way back.
Watch:
Pete Davidson Breaks Silence on Split With Ariana Grande
Earlier this summer, the pair teamed up for a music video titled "Loco" that was filmed in Syracuse, New York.
And when appearing on SiriusXM's The Howard Stern Show, Pete was asked if he had any advice to leave "for the kids." His answer may surprise you.
"Go check out Machine Gun Kelly's new album, Binge," he told Howard Stern.
Close to two weeks after Pete and Ariana's breakup went public, the comedian is trying to keep a low profile. But slowly but surely, the Saturday Night Live star's life is getting back to normal.
In fact, he was able to return to the stage as he co-hosted the comedy show Judd & Pete for America, benefiting Swing Left at Largo at the Coronet in West Hollywood. While performing, Pete couldn't help but address the breakup that has made countless headlines.
"So, obviously you know [Ariana and I] broke up or whatever but when me and her first got engaged we got tattoos," he shared. "And it was like in a magazine like, 'Was Pete Davidson stupid?' And 93% of it said yes."
Pete continued, "So my boy, he was like, 'Don't listen to that s--t man. They're literally f--king haters.' And I'm like, yeah, f--k that. I'm not stupid. And the other day we were in my kitchen and he was like, 'Yo bro. Turns out you were stupid.'"
Like they always say, laughter is the best medicine.