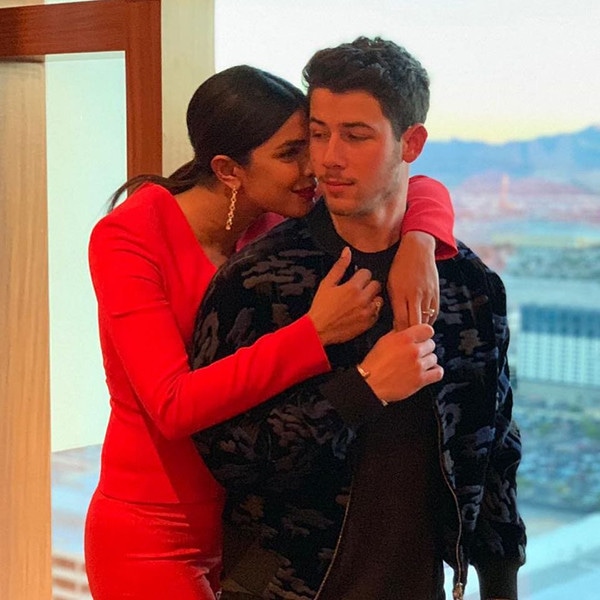 Instagram
Nick Jonas is giving the people what they want.
Priyanka Chopra cozied up to her 26-year-old fiancé in an Instagram picture Tuesday, affectionately captioning the picture, "Bae." When Jonas saw the 36-year-old Quantico star's picture, he commented, "REEEDDDD DRESSSS," adding three fire emojis and four heart emojis.
To the casual follower, that comment might not have meant much. But to longtime Jonas Brothers fans, it was a nod to one of his more popular adlibs from the 2008 song "Burnin' Up." While one follower dubbed it "iconic," another wrote, "OK, this is seriously the best thing ever!"
"Oh, I see what you did there," one of his fans wrote. Many users said they were "crying" or "screaming" at the reference, while one asked, "Did you sing it in his voice when you read it?" Perhaps one user summed it up best: "My inner child is crying. I'm burning up for this couple."
Jonas last laughed at his emphatic pronunciation a Twitter user brought it up in June:
Chopra was watching from the wings Tuesday when Jonas performed at the TIDAL x Brooklyn Benefit Concert at the Barclays Center, calling the pop star "amazing" in her Instagram Stories.
Weeks ago, Chopra opened up to E! News about being "excited" to spend the rest of her life with Jonas. "It's a very different feeling. I never realized that having a boyfriend and having a fiancé are completely different. It just feels different; there's gravitas. You feel like family, which is just so different." The couple, who got engaged after a whirlwind courtship, felt "connected" by their family values and strong faith, which Chopra said is "so important to us."
Although Chopra and Jonas have not announced a wedding date, both stars have expressed a desire to start a family after they tie the knot. In fact, as the actress joked with E! News last week, "A few of my friends are having babies right now, so I'm like, 'God, I need to catch up!'"