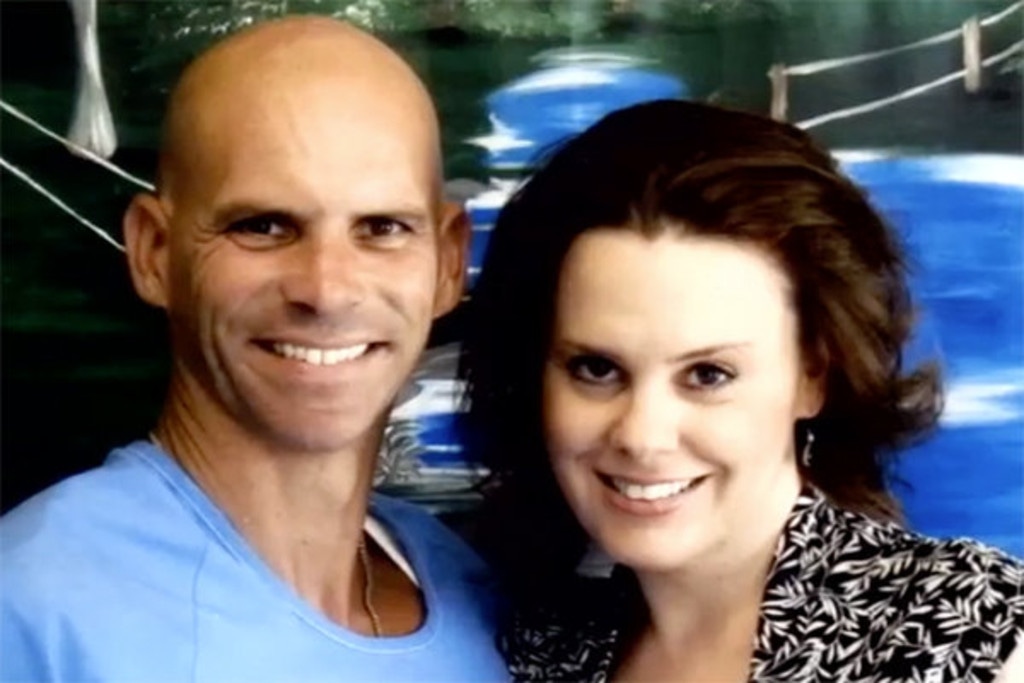 Oxygen
An unexpected place to find love? Prison. But it actually happens more often than you might expect.
And it turns out there is actually a word and a condition for having an attraction to someone behind bars: hybristophilia, a phenomenon that's played out in and because of the media over the years and was most recently seen in Making a Murderer Part 2. 
Per Psychology Today, sexologist and professor John Money first defined hybristophilia as a sexual paraphilia in which a person gets sexual arousal and pleasure from having a partner who is known to have "committed an outrage or crime, such as rape, murder, or armed robbery."
This could be why a notorious serial killer like Ted Bundy ended up married and becoming a father after committing at least 30 murders or why both of the Menendez Brothers are currently happily married, despite being in prison for almost 30 years.
For Sheila Isenberg, who interviewed female hybristophiliacs for her book, Women Who Love Men Who Kill, one of the reasons for choosing to be with a man in prison is the fantasy element of it all, along with having control.
"If you are in a relationship with a man behind bars for life or a man on death row, then you have a lot of control over the relationship," she wrote. "You can decide when to make the visit, when to accept the phone call, or if you will accept the call, and you are that man's primary link with the outside world. So as you can clearly see it's a very powerful position to be in."
Dr. Michael Aaron, a sex therapist and the author Modern Sexuality, told Vice, "So there's two parts to [hybristophilia]--there's that taboo danger part to it, and there's this hyper-masculine aggressive part that could be very appealing to some women."
Basically, some women are able to act out their fantasies with these dangerous men in a safe, controlled environment, as part of the draw for them is the alpha-male or "bad boy" nature of the imprisoned man. It's a quality that even non-hybristophiliacs can be drawn to.
"In ways that our culture really does not want to admit, the serial killer is a figure that draws us, that fascinates us in a more positive sense," Professor David Schmid, who wrote Natural Born Celebrities: Serial Killers in American Culture, told The Columbia Chronicle.
Just think of the true crime wave that has taken over virtually every form of pop culture since the hit podcast Serial introduced the world to Adnan Syed and his "dairy cow brown eyes" in 2014 and Netflix's Making a Murderer debuted in 2015. The wildly popular podcast My Favorite Murder gives people a safe space to connect with others who have a fascination with—you guessed it!—murder, calling themselves Murderinos. And in 2017, the TV network Oxygen completely rebranded to become a completely crime-focused destination. (Sorry, Tori and Dean!)
Whether they like to admit it or not, people are interested in the dark details that make us just a little afraid to turn off the light at night; it's just that some take their interest in the alleged killer at the center of it all to another psychological level.
Another major factor in these "groupie"-murderer relationships? The media circus of it all, with the coverage of the cases and trials often being the driving force behind these women reaching out to connect with the prisoners in the first place.
And ironically, Netflix gave viewers a front-row seat to that aspect of these relationships in Making a Murderer Part Two, which debuted on Friday, with the docu-series being the catalyst for a new romance for Steven Avery, a man claiming he is wrongfully accused of murdering Teresa Halbach. He's currently serving a life sentence after being convicted in 2007. 
facebook.com/StevenAveryProject
Part 1 introduced us to several of Avery's girlfriends, including former-fiancé-now-good-friend Sandra Greenman. But in the three-year gap between the two seasons, his love life had played out in the tabloids.
After splitting from Sandra, Steven began dating Lynn Hartman, who was previously married to a police officer before she began writing to Avery in prison "offer some kind of support," she explained during her brief appearance in Part 2. "I wanted to be a part of it." 
Avery acknowledged all of the attention he was receiving from female fans when talking about his relationship with Hartman.
When you're involved with me you get a lot of this attention and all this other stuff and I asked her about that sometimes," he explained in the fourth episode. "I just tell her, don't worry about what everybody's saying on the internet." (Sample of what they are saying? Steven is the world's "strangest sex symbol," per The Daily Mail.)
The couple got engaged before their first in-person encounter...and Hartman soon appeared on Dr. Phil to discuss their relationship, with Avery even calling in to surprise Hartman (which he later called "a set-up").  
A few days after they filmed the episode, the couple's engagement abruptly ended, with Hartman sending the break-up note she wrote Avery to the media, along with posing in the dress she bought for their wedding in a televised interview. During the interview with Inside Edition, she said she feared for her life. 
In a Facebook post by his former girlfriend, Avery called Hartman "a golddigger," and claimed she was only with him to make money from appearances.
But Avery is far from the first in-mate to get engaged or married or attract admirers while behind bars.
Arguably one of the most infamous mass murderers to develop a cult following after his conviction was cult leader Charles Manson.  In 1971, Manson was convicted of masterminding the brutal killings of actress Sharon Tate and six others, which were acted out by his devoted Manson Family followers, with most being young females. 
Young women with shaved heads flocked to the courthouse during his trial to conduct a 24-hour vigil, and after Manson carved an X into his forehead, many of his followers did the same. 
Rolling Stone once called him "the most dangerous man alive" when they put him on a 1970 cover, with Manson's eerie magnetism turning him into a macabre pop culture icon. Rock stars have covered the wannabe musician's songs. Manson memorabilia is sold. Countless movies, TV shows and books have been created with the Manson Family serving as their inspiration.
During his time in prison, he reportedly received an average or four fan letters a day, and during one parole hearing in the late '80s, "There were about 40 satanic worshipers dressed in black outside the prison chanting for his release," former prosecutor Stephen Kay told The Los Angeles Times in 2017. "Then there's these young people today who are intrigued by his mystique since he's America's most famous criminal. But they don't know what he's really about, what he really did."
Manson obtained a marriage licence in 2014 to wed Afton Elaine Burton, a 26-year-old admirer who had been visiting him for nine years. The two never ended up swapping vows before Manson died in November 2017 at the age of 83.
But one of his Manson family members also found love behind bars, as Susan Atkins (known as "Sexy Sadie" within the cult) married twice while serving her life sentence before dying in 2009. She had been with her second husband, James W. Whitehouse, who represented her during two parole headings, for 21 years before passing away.
While his total number of victims will likely never be known, Ted Bundy, one of the country's most infamous serial killers, is responsible for the murder of at least 30 women between 1973-1978, with his killing spree spanning seven states.
Bundy was eventually turned in by his longtime girlfriend, Elizabeth Kloepfer (who will be portrayed by Lily Collins opposite Zac Efron as Bundy in the upcoming film, Extremely Wicked, Shockingly Evil, and Vile). But it was another woman who briefly dated him before his arrest that would go on to become his wife: Carol Ann Boone, his former co-worker at the Washington State Department of Emergency Service who was a twice-divorced single mother when she and Bundy reconnected. 
After allegedly helping him escape prison in 1977, the two ended up getting married in a way no one saw coming.
Serving as his own defense attorney, Bundy was questioning Boone, serving as a character witness, on the stand when he proposed to her in what was later revealed to be an orchestrated event, as he made sure a notary public was in the courtroom to witness the nuptials. (The couple had previously been denied their request to get married at the jail.)
"We didn't do this for your benefit," Bundy told the jury after. "It was the only chance to be in the same room together where the right words could be said. It was something between she and I.''
Later that day, the jury recommended the death penalty for the murder of Kimberly Leath. 
Like most Death Row inmates, Bundy was not permitted conjugal visits—which is why Boone revealing she had a daughter in 1982 and naming the infamous murderer as the father was so shocking and lead to many rumors about how they conceived their daughter, Rose. "It's nobody's business," Boone said. "I don't have to explain anything about anyone to anybody."
And she never did, as Boone and their daughter Rose reportedly changed their names and haven't spoken out or really been seen since his execution in 1989, with Boone not visiting her husband in the last two years of his life. 
Boone wasn't the only woman seemingly under Bundy's spell during the time of his trial as E! True Hollywood Story once covered his gruesome killing spree and the surprising response he received, with some groupies even showing up at the courthouse dressed as his victims.
"Ted's mail was as strange as anybody's mail could be. He got marriage proposals," Stephen Michaud, co-author of Ted Bundy: Conversations With A Killer, said in the special. "Lots and lots of women sent him pictures, some sent him nude pictures." 
One of those groupies was Shirlee Joyce Book, who ended up marrying Kenneth Bianchi, one of the two Hillside Stranglers, in 1989, after initially having her sights set on Bundy. During his trial years earlier, Bianchi was able to convince one admirer to lie on the stand for him. But that woman Veronica Compton took her devotion to another level when she was convicted of attempting to strangle a woman. Why? So it would seem like the real Hillside Strangler was still at large. 
And if you're someone who complains about dating being impossible in [insert whichever city or town you live in here], just know that Lyle Menendez has been married twice since being imprisoned for the 1989 murder of his parents, along with his brother Erik Menendez.
Lyle and Eriksson had met after she wrote to him following the brothers' first murder trial, in 1993, which was televised.
In 1993, Lyle started a relationship with former model Anna Eriksson when she began writing to him after the first murder trial in 1993 and felt bad for him when it seemed his brother was receiving more letters than he was. "I am a fabulous letter writer," she told People in 1996, revealing her first letter "was just a little note saying, like, 'Hang tough.'"
The two eventually married in 1996, with their nuptials conducted over speaker phone by a judge.
But by 2001, the couple had divorced after Eriksson discovered he had been exchanging letters with another woman.
And in 2003, Lyle wed Rebecca Sneed, a magazine editor, in the visiting area of his prison, and the two are still married. Sneed visits her husband every weekend.
"Our interaction tends to be very free of distractions and we probably have more intimate conversations than most married spouses do, who are distracted by life's events," Lyle told People in a rare interview. "We try and talk on the phone every day, sometimes several times a day. I have a very steady, involved marriage and that helps sustain me and brings a lot of peace and joy. It's a counter to the unpredictable, very stressful environment here."
His brother Erik also married an admirer after their 1996 conviction: Tammi Ruth Saccoman was married when she began writing to the older Menendez brother in 1993 after watching the trial that riveted the nation. They continued to write each other once a month, with Erik supporting Saccoman when she discovered her husband had been having a sexual relationship with her teenage daughter (his step-daughter), which began when she was just 15. Her husband turned himself into the police, but committed suicide shortly after. 
The pen pals finally met in-person for the first time in 1997, and eventually married in 1999, with a Twinkie serving as their wedding cake.
Saccoman wrote a self-published book in 2005 about their relationship called They Said We'd Never Make It, revealing intimate details about their marriage, including that she didn't get along with his brother's wife Rebecca Sneed, who had briefly lived with her.
The two have never been allowed any conjugal visits, with Saccoman telling People, "Not having sex in my life is difficult, but it's not a problem for me. I have to be emotionally attached, and I'm emotionally attached to Erik."
For Erik, his wife's love "was a major step in my choosing life," he told People. "Having someone who loves you unconditionally, who you can be completely open with, is good for anybody — to know that this person loves me as I am."
Known as The Night Stalker, Richard Ramirez was sentenced to death and raping and murdering 13 women in the mid-80s, with the national publicity surrounding his trial resulting in many female admirers. In 1985, Doreen Lioy, a reporter who had seen his mug shot on TV, had begun writing over 70 letters to Ramirez, who was portrayed by Anthony Ruivivar in American Horror Story: Hotel. The two eventually married in 1996. Per The New York Times, she purchased her new husband a platinum wedding band because he told her, "Satanists don't wear gold." (And people think women are difficult to buy gifts for.)
"He's kind, he's funny, he's charming. I think he's a really great person," Lioy told CNN in 1997 of Ramirez. "He's my best friend; he's my buddy. I just believe in him completely. In my opinion, there was far more evidence to convict O.J. Simpson!"
Following his death due to blood cancer in 2013, a writer for The Los Angeles Times recounted his experience with the couple when he was interviewing another inmate at the prison Ramirez was held in.
The writer noted they would often nuzzle while eating vending machine snacks when Lioy would visit her husband four times a week, packing breath mints so she could "be able to kiss with confidence."
Lioy's family was reportedly unhappy with the relationship, which she explained away with a roll of her eyes, saying, "Hometown girl makes bad."
But after a court ruled that Ramirez was no longer allowed personal visits in 2010, it seems the couple may have quietly separated and Lioy has remained out of the public eye since his death.
Florida Department of Law Enforcement
But it's not always "groupies" that marry alleged murderers…it's also their lawyers.
While on death row after being convicted of killing three women in Florida while working at a carnival, Oscar Ray Bolin married Rosalie Martinez, a member of his legal defense team.
Martinez left her husband and gave up primary custody of their four children for Bolin and the two remained married until he was executed in January 2016.
'I never, never, ever thought for a second that he was guilty of those three murders,' she said during a 20/20 special on their unique relationship. Martinez would visit Bolin twice a week, but the two were never able to consummate their marriage, expressing their love through letters.
"I think the art of love making is probably in these cards," she said.
But what happens when a man you marry while he's in prison eventually finds himself on the other side of the bars? For Carol Spadoni, it meant tragedy.
Spadoni met and married Phillip Carl Jablonski, a serial killer, in 1982 while he was serving 12 years in prison murdering the mother of his child. (They met through a personal ad, so the old-school version of a dating app basically.) A year after he was released from prison in 1990, Jablonski murdered Spadoni and her mother, Eva Petersen, whom he also sexually assaulted. We went on to kill two other women before being apprehended a few days later and he's currently on death row. 
For these couples who found love and marriage through a glass partition, it seems their vows should've include "'til death brings us together."