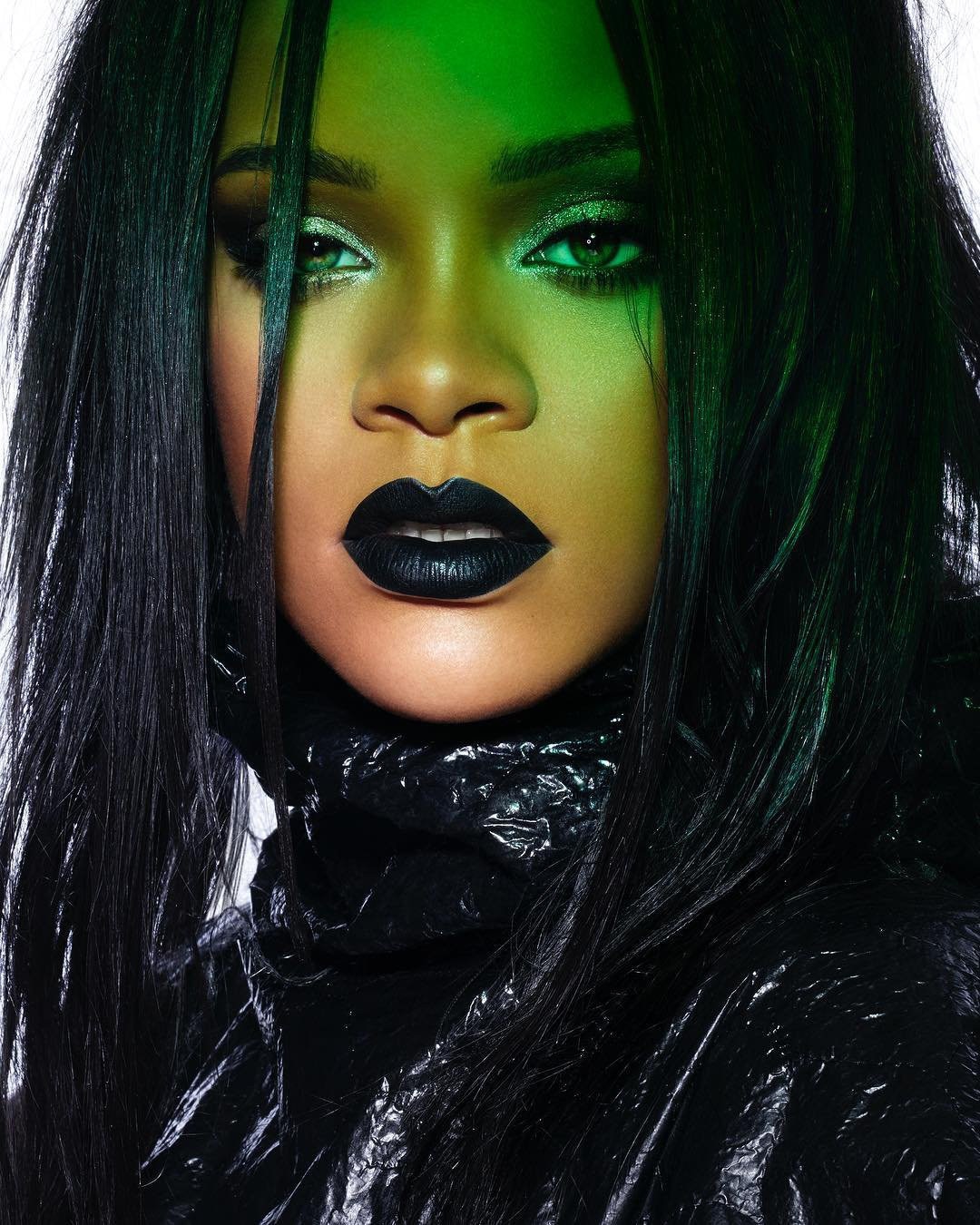 FENTY BEAUTY
Black lipstick just may be the next big thing, thanks to style and makeup icon, Rihanna.
Today, the Fenty Beauty owner channeled her inner beauty blogger in a YouTube video, "Tutorial Tuesday With Rihanna," in which she created a look she calls "gothic chic."
"Today is all about this lip and this flyliner," she said kissing into the camera with Fenty Beauty's Stunna Lip Paint in Uninvited, a black hue.
While black is considered a bold choice for the lips, the "Wild Thoughts" singer argues that it can be a casual look. However, if it's too edgy for your everyday, the tutorial comes just in time for Halloween. Whether your plans include going full out with a costume or slapping on a pair of ears and calling it a day, Rihanna's makeup is a clear go-to, considering how easy it is to recreate.
Thanks to the star, all you need are a few products and her game-changing tips below!
Layer on Dark Lipstick
The impact of your dark-toned lipstick relies on the appearance of the pigment, thus you want to avoid any sheer layers. 
"I'm really excited to show you guys how black this black is," she said while applying the matte lipstick with the accompanying precision wand. "You know I love black lips, but it only works if it's not sheer."
Control the Width of Your Eyeliner by Pressing Harder or Lighter on the Applicator 
To create a "light, flirty" eye look with Fenty Beauty Flyliner, "I'm just going to do a slight, little cat-eye, starting really, really, really thin in the inner corner and gradually getting slightly, slightly wider," she told YouTube viewers. "The tip of this brush controls everything, [if] you want to go thin you just create like really light tension on the brush. If you want to go thicker, just press into the brush slightly. If you want to go even thicker, you press more, then you let it go."
Create the Perfect Eye Shadow With a Nude Hue and Highlighter
After applying a hue that a couple of shades darker than her skin, the Fenty designer applied a silver-toned highlighter to the inner corners of her eyes. 
"This is the CLF Kilawatt," she said holding the product in the camera."We're going to just apply a little bit in the corner. Now, this adds a bit of drama, without doing the most."
Halloween makeup has never been so easy!