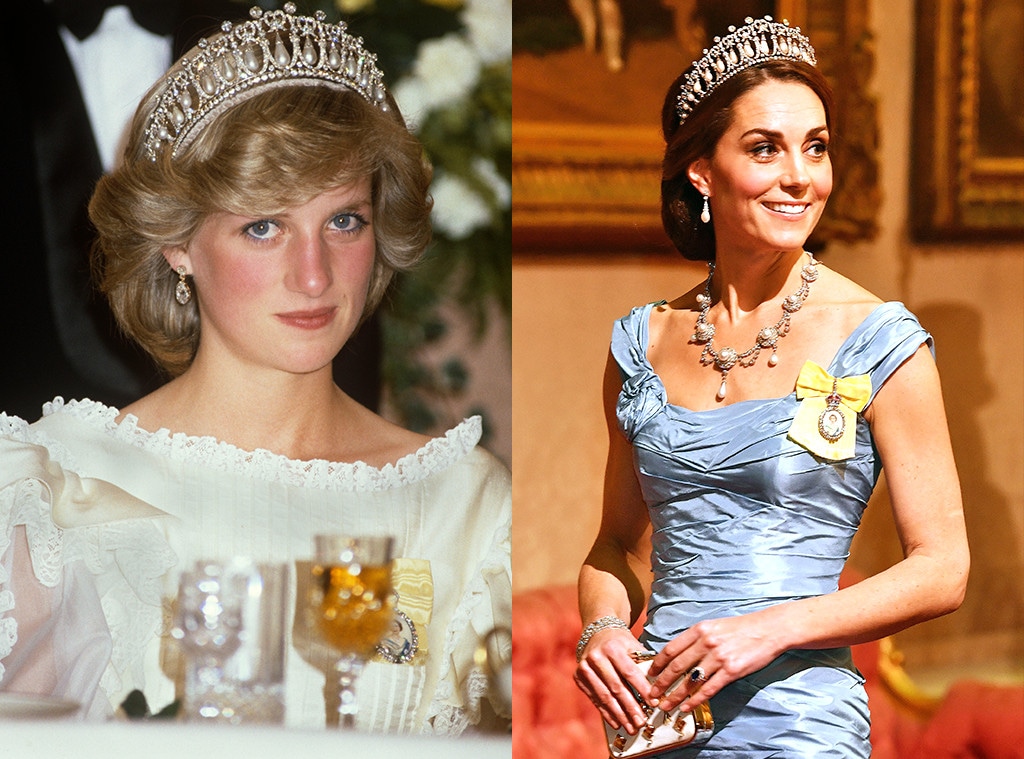 David Levenson/Getty Images; John Stillwell/PA Wire
Kate Middleton paid homage to her husband's late mother, Princess Diana, on Tuesday night at a state dinner.
The Duchess of Cambridge donned one of Princess Diana's tiaras, known as the Lover's Knot tiara as she and Prince William attended a formal event with King Willem-Alexander and Queen Maxima of Holland.
The Duchess has worn the Lover's Knot tiara on multiple occasions to other royal functions. Her matching pearl earrings also belonged to Princess Diana. People reports that the Lover's Knot tiara is over 100-years-old and belongs to Queen Elizabeth II, although it was originally commissioned in 1914 for Queen Elizabeth's mom, Queen Mary. 
According to People, she donned jewelry from fellow royal ancestors, including Queen Alexandra's wedding necklace. It was reportedly one of her favorites. Kate Middleton wore a stunning light blue Alexander McQueen gown to the function.
Princess Diana was gifted the Lover's Knot tiara as a wedding present for her marriage to Prince Charles, Town & Country reports. Apparently, the pearl head wear is so heavy, it hurt Princess Diana's head. Nonetheless, she loved it.
After Princess Diana and Prince Charles separated, she returned the tiara to the Queen and it did not make an appearance until 2015 when Kate Middleton wore it to another state function.
Princess Diana's jewelry has been getting lots of wear as of late. Meghan Markle also wore some of her jewels while in Australia during her first royal tour with her husband, Prince Harry.
Her choice of jewelry was especially symbolic on her first day in Sydney, Australia because that same day, Kensington Palace announced she and Prince Harry were expecting their first child together. While it wasn't a tiara, she wore Princess Diana's diamond butterfly earrings as well as her gold bracelet.
Kate Middleton made her debut after maternity leave earlier this month. On Oct. 2, the Duchess kept it casual in boots, jeans and a sweater when she visited the Sayers Croft Trust Forest School and Wildlife Garden right outside London. Kate gave birth to her third child, Prince Louis, on April 23. The 6-month-old is now fifth in line to the throne, bumping Prince Harry down to number six.