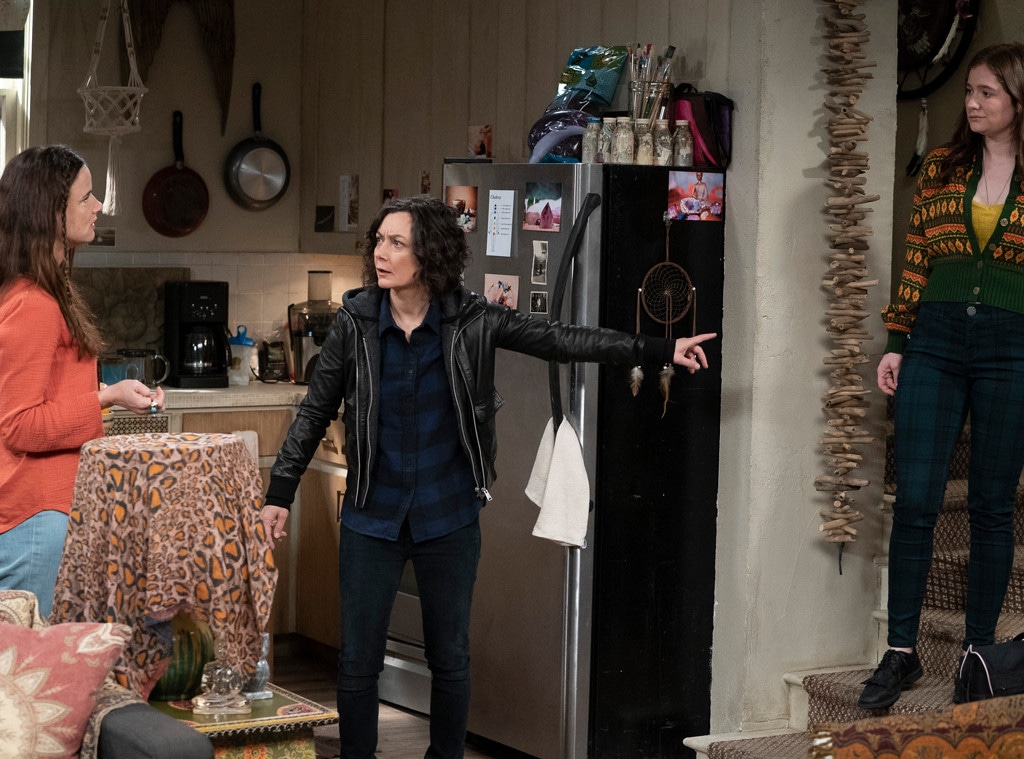 ABC
Another week, another real-life issue for The Conners to tackle. But "Tangled Up in Blue" didn't just stop at one issue, no, Dan, Becky, Darlene and Jackie took on several topics from divorce to alcohol dependency. Oh yeah, Justin Long was there too.
Viewers were introduced to Blue, David's (Johnny Galecki) girlfriend, for the first time and it was a National Lampoon's Christmas Vacation reunion with Juliette Lewis taking on the role. Galecki and Lewis played siblings in the flick. In the episode, David told Darlene (Sara Gilbert) that Blue is his soulmate and while he had the kids over for a sleepover, Blue let Harris (Emma Kenney) have sex with a boy. Obviously, this didn't sit well with Darlene, who was also having her own sleepover with a potential new beau played by Long.
Watch:
Lecy Goranson Tells All on "The Conners"
After Darlene, David and Blue have it out about Harris and parenting responsibilities, Darlene decided it was time she and David actually move from separated to divorced.
"It's going to be weird not being married to you," David told her.
With David in the past, Darlene is looking toward the future with nameless beau. "We only went out once, but I think he could be my soulmate," Darlene joked.
Meanwhile, Becky (Lecy Goranson) went to work with Dan (John Goodman) and his construction company, but showed up with a bottle of vodka disguised as water. Dan noticed immediately and had words with his daughter. Becky later admitted she has struggled with her use of alcohol recently and made a pact to get it under control. Dan told Becky she has six weeks to get a handle on it or the job is gone.
Nothing really happened with Jackie (Laurie Metcalf), aside from having one of the best lines of the night: "Did you know she was beautiful in her day? But none of her daughters inherited that," she said about living with her mother, Bev, played by Estelle Parsons.
The Conners airs Tuesdays, 8 p.m. on ABC.