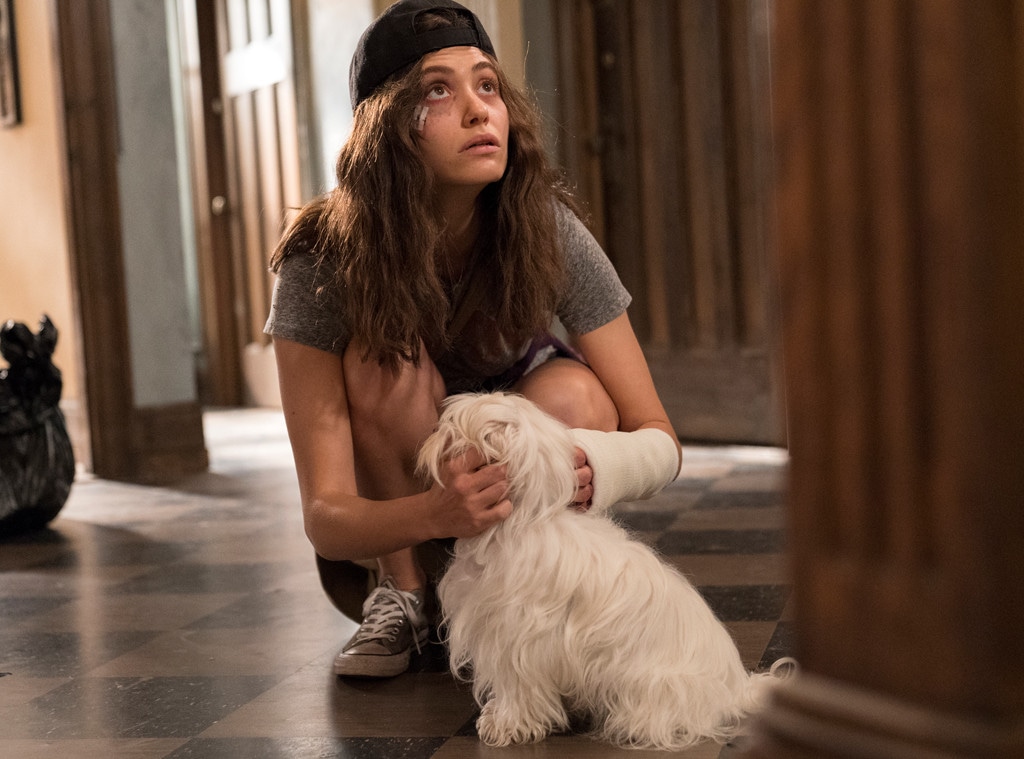 Showtime
It's the beginning of the end for Emmy Rossum on Shameless. In the midseason finale of Shameless season nine, Rossum's Fiona Gallagher moved back home after a series of events that included selling her apartment building, breaking up with a lying boyfriend and crashing her car. Fiona's spiral ended with her drowning her sorrows with alcohol. Things aren't going too well for Fiona.
"What we try and do on this show generally is show just how difficult [it is] for people in the lower socioeconomic classes to break out of the economic spaces that they're in. She was trying and she was making some progress, and then the hubris kicked in and the desire to make even more money," executive producer John Wells told TV Guide. "That's when you get into trouble...We didn't want it to feel as if we weren't realistic with portraying what can really happen and how difficult it is for folks to break out."
Wells told The Hollywood Reporter when new episodes begin in January it'll be a few weeks after the events of the midseason finale. "It's really about who we depend on when we hit our low spots: who do you turn to and who picks you up and who helps you get back up on your feet. This show has always been about the family and how they, in their own complicated ways, step up for each other. So that's really where it goes in the second half," he said.
The second half will also be the end of the line for Rossum's Fiona. The character isn't being killed off, but Wells did tease the exit will be "rewarding and appealing," like how the show handled Cameron Monaghan's departure.
"It's a little surprising and yet makes perfect sense. People leave, particularly someone like Fiona who has cared for and basically raised her siblings and been their primary parent for so long. There's a moment where you realize that they don't need you in a way that they did before and if you continue to try and make them need you, you're actually impeding their ability to become adults. You have to decide, 'Who do I want to be when my identity isn't primarily formed by the responsibilities I have for raising my own brothers and sisters?' That's the direction that we're headed in as Fiona realizes that she needs to make a decision for herself about what she wants," Wells teased to THR. "I'm being vague because I don't want to lose the fun of what she actually chooses to do or how that comes to be. I hope that people who have invested as many years in watching the show and caring about these characters as we have that it feels satisfying and enjoyable."
With Rossum and Monaghan leaving and the show already on season nine, just how much longer can Shameless go on? A season 10 has yet to be ordered, but it's very much a possibility. Wells pointed out that characters left fairly early on in the original British version of Shameless and the show went on.
"We hope that the audience cares enough about the characters that they want to continue to watch, but also, just in the basic storytelling, you're telling stories about families and people leave and then they return. And I think you need a certain amount of that to maintain basic narrative integrity or then it starts to feel false that everyone is still living next to each other and completely involved with each other's lives...You miss the actors, love the actors, wish Emmy would do it forever, certainly wish Cameron is here for a long time, and at the same time, every time someone does decide to leave it opens up all kinds of other storytelling opportunities. So, it's a balance. It's a tricky thing; you don't want anybody to leave, but then it starts to feel false if some of the actors don't choose to leave. [Laughs.] You don't want to lose your friends, but sometimes it can become invigorating for the show and for the narrative that you're trying to write," Wells told EW.
Shameless returns to Showtime in January.