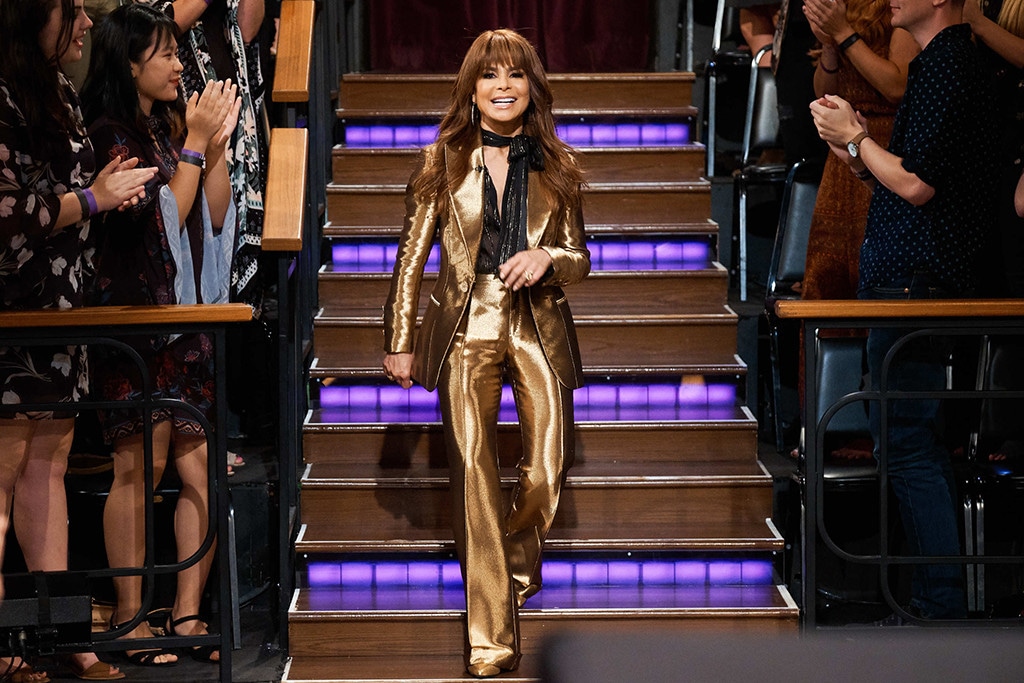 Terence Patrick/CBS
UPDATE: Paula Abdul wants her fans to know she's doing A-OK.
"I love you all so much and want to say thank you for all of your support and concern the past day—I promise you I am perfectly fine and fortunately not injured," she shared on Twitter Monday afternoon. "The show must go on, and it did! This tour is an incredible feat and you all are the absolute best—I am having so much fun already and I have the best fans in the world!" 
————
On Saturday, Paula Abdul tumbled off the stage during a performance in Biloxi, Mississippi. A fan happened to capture the moment on video and uploaded it to YouTube, where it went viral.
At the time of the incident, the 56-year-old entertainer was singing her 1991 hit "The Promise of a New Day." While clapping and dancing near the edge of the stage at the Hard Rock Live, she accidentally dove headfirst into the crowd. Fans gasped and shouted in response to Abdul's mishap, but according to TMZ, she bounced back and finished her set without further incident.
The singer has yet to comment on her accident via Instagram or Twitter.
Abdul is currently on her first solo headlining tour in 25 years—the Straight Up Paula! 2018 Tour—which is meant to coincide with the 30th anniversary of her debut album, Forever Your Girl. Saturday's concert was the third date on the North American trek, which ends in March 2019. Her next show is scheduled for Oct. 25 in Ontario at The Colosseum at Caesars Windsor.
When Abdul announced her tour in July, she wrote a special message for fans on her official website. "I'm thrilled to let everyone know that I will be hitting the road with my very own tour this fall! I was so overwhelmed by all the love and support that you showered me with during last summer's Total Package Tour [with Boys II Men and New Kids on the Block]," the singer told her fans. "I couldn't wait to share this exciting news with you! I'm looking forward to seeing all of you when I hit the stage starting Oct. 3, 2018! I love you all from the bottom of my heart!"
Sadly, Abdul had to cancel her show in Lake Charles, La. "I am devastated that tonight's show cannot take place due to an unexpected venue production issue that we learned about once we arrived," she tweeted Oct. 19. "As you know, I've been working tirelessly to make this show a memorable experience for you all. I am looking forward to continuing the tour as planned. You have no idea how excited I am to get on stage for all of you. I love you all so much—thank you!"
(Originally published Monday October 22, 2018 at 6:25 a.m. PST)