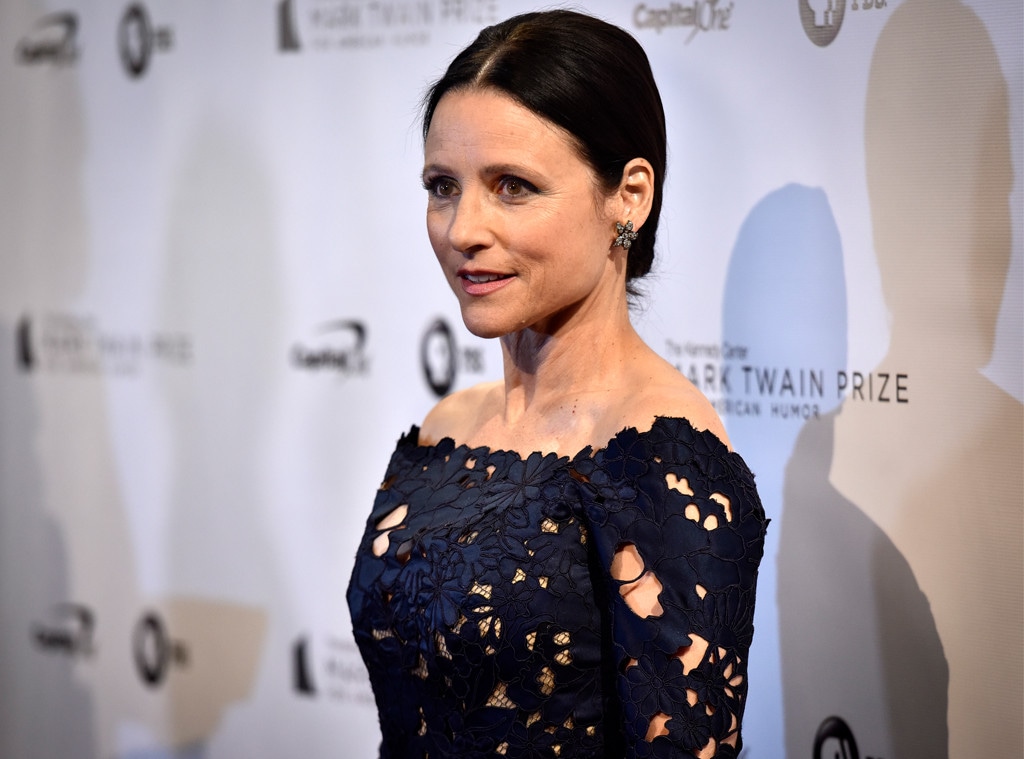 Bill O'Leary/The Washington Post via Getty Images
At long last, Julia Louis-Dreyfus finally received the Mark Twain Prize for American Humor.
Bryan Cranston, Tina Fey, Ilana Glazer, Tony Hale, Abbi Jacobson, Jack Johnson, Keegan-Michael Key, Lisa Kudrow, Kumail Nanjiani and Jerry Seinfeld came out Sunday to pay tribute to Louis-Dreyfus at the Kennedy Center in Washington, D.C. Per tradition, she watched the reception from a box overlooking the stage, seated next to her husband, Brad Hall, her elder son, Henry Hall. Louis-Dreyfus was the sixth woman to be honored with the comedy prize since it was founded in 1998; over the years, she's won 11 Emmy Awards and a Golden Globe Award.
Host Stephen Colbert kicked the night off by riffing on one of her lesser-known roles. "We're going to be hearing a lot tonight about her characters like Elaine and Old Christine, but I want to talk about another performance, one that truly speaks to me," he said. "I bet it speaks to a lot of people in this room, too. I'm talking about Julia's turn as Jeanette Cooper in 1986's Troll."
Later that night, Cranston—who played Elaine's dentist boyfriend on the NBC sitcom Seinfeld—described his former colleague as "the loveliest person who also happens to be immensely gifted." More seriously, he said, "My admiration for you goes way beyond your unique abilities as a performer. You helped me realize the actor I wanted to be and the person I wanted to be."
Fey, a fellow Saturday Night Live alumna, also got big laughs when she honored Louis-Dreyfus' career in comedy. "I've always liked Julia—maybe because I'd like to believe that we have a lot in common," she said. "We both studied comedy in Chicago. We both lost our virginity to Brad Hall." After taking a beat, Fey feigned embarrassment and jokingly asked the crowd, "Just me?"
Bill O'Leary/The Washington Post via Getty Images
Paying homage to Louis-Dreyfus' Seinfeld character, Fey continued, "Julia made the bold choice to for her character Elaine Benes to wear long, loose dresses, flat shoes, over-sized coats and a center barrette. Julia was letting us know that she was the real deal comedy-wise and she didn't need to give us midriff for us to watch her work, because—here's the secret—Julia's not afraid to be unlikable. Not onscreen and not in person. Just try sharing an elevator with her!" For nine seasons on Seinfeld, she marveled, "Julia let Elaine be petty and sarcastic and a terrible dancer."
Praising Louis-Dreyfus' work offscreen, the actress deadpanned, "She's a tireless advocate for women's health and the environment...and a bunch of other stuff that won't exist pretty soon."
By the end of the night, the audience was primed for Louis-Dreyfus to take the stage.
"When Mark Twain first emailed me about the Mark Twain prize, I have to admit I totally misunderstood. I thought I was being asked to honor someone else," the 57-year-old actress said, eliciting laughter. "What a hassle. I have to go all the way to Washington, D.C., and make up flattering things to say about how funny someone else is. And then I realized: It's me. I get the prize, and my attitude about the whole thing changed. It really did. This is a great night, a great honor. Anybody would be lucky to be part of a night like this honoring someone like me."
ANDREW CABALLERO-REYNOLDS/AFP/Getty Images
Louis-Dreyfus also poked fun at the stars who honored her earlier in the night. "Kumail, thank you for being here," she said. "It is so inspiring that you were able to co-opt your wife [Emily V. Gordon]'s harrowing medical ordeal for an Oscar nomination [for The Big Sick]." Calling Fey a "comedic genius," she joked, "Tina was honored with the Mark Twain Prize, too. You know, before they got real serious about it." Members of Louis-Dreyfus' own family were event called out, with her teasing, "According to Wikipedia, I have two sons, Charlie and Henry. When you're a working mother, you really worry about the time spent away from your kids. You try your best to be there as much as possible—but the truth is that you miss stuff and you worry that they're going just get all screwed up. And then you get the Mark Twain Prize. I gotta say, it's worth it!"
At one point, the actress got emotional as she discussed her recent battle with breast cancer.
"Last year, I was lucky enough to get an Emmy award for my performance on Veep, which was an incredible thrill—and it set some kind of a record for most the Emmys by somebody for doing something or other. Then, about 12 hours later, I was diagnosed with cancer, another hilarious turn of events. I'm only half-kidding, of course. Cancer isn't at all funny, but a big part of dealing with it has been finding the funny moments," said Louis-Dreyfus, who is thankfully cancer-free. "The old cliché about laughter being the best medicine turns out to be true—which is good, because that's what the current administration is trying to replace Obamacare with."
"When I was getting my hideous chemotherapy, I'd cram a bunch of family and friends into this tiny treatment room with me, and we really did have some great laughs. Of course, I was heavily medicated and slipping in and out of consciousness, so I was probably a pretty easy audience, but my point is that laughter is a basic human need, along with love and food and an HBO subscription. There's no situation—none—that isn't improved with a couple of laughs. Everybody needs laughs," she said, getting choked up. "The fact that I have had the opportunity to make people laugh for a living is one of the many blessings that I have received in my life."
Julia Louis-Dreyfus: The Kennedy Center Mark Twain Prize raised $2.2 million to support the center's artistic and educational programs. PBS will broadcast the special Nov. 19 at 9 p.m. ET.