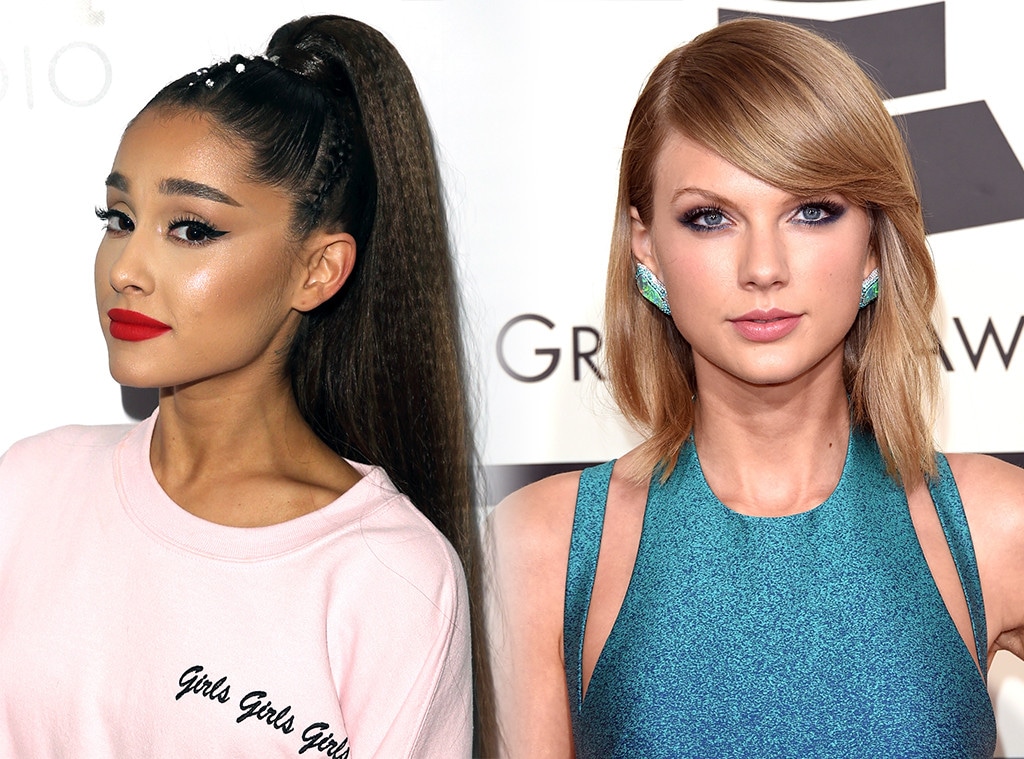 Getty Images
Ariana Grande is encouraging her fans to rock the vote.
The "Breathin" singer joined the likes of fellow pop star Taylor Swift and shared a message on social media about the importance of voting. Grande posted a photo of her ballot envelope on her Instagram story and wrote "vote, f--kers" as the caption. While she didn't specifically endorse any candidates, Grande's Instagram post comes just a few days after the singer said she was going to say "bye bye to the internet for just a lil bit."
The Sweetener artist didn't spend much time off of social media because she later shared photos and insights from her taping of the NBC special A Very Wicked Halloween, which pays tribute to the famous Broadway play, Wicked. 
Grande made her first public appearance since her split with fiancé Pete Davidson last week at the Wicked taping. "it's hard not to bump news n stuff that i'm not tryna to see rn," she told fans in her Instagram story last week about why she wants a social media hiatus. "it's very sad and we're all tryin very hard to keep goin. love u. and thank u for bein here always."
An insider told E! News that Grande has been leaning on her family since ending her engagement with the Saturday Night Live comedian.
She deleted that post not long after, but she has posted less frequently over the past few days. Rather, she's breaking her social media silence for posts and events that seem to matter a lot to her personally.
Swift, who is notoriously apolitical, posted a lengthy Instagram post on Oct. 7 about why she's speaking out about politics ahead of the midterm elections on Nov. 6. "In the past I've been reluctant to publicly voice my political opinions, but due to several events in my life and in the world in the past two years, I feel very differently about that now," Swift wrote. 
In 2017, Swift won a court case against DJ David Mueller, who allegedly groped her. She won a symbolic $1 after the case.
She continued in her Instagram caption, "I believe in the fight for LGBTQ rights, and that any form of discrimination based on sexual orientation or gender is WRONG. I believe that the systemic racism we still see in this country towards people of color is terrifying, sickening and prevalent."
According to Vote.org's director of communications, Kamari Guthrie, voter registration spiked immediately after Swift's message. Guthrie told BuzzFeed the next day, "We are up to 65,000 registrations in a single 24-hour period."
On Oct. 9, two days after her endorsement, Vote.org released a longer statement about Swift's impact on registration numbers. "Since Taylor Swift's well publicized Instagram post on Sunday night, where she urged her 112M fans to register and vote, Vote.org has found a massive spike of voters registering nationwide. While there are several factors contributing this, a large majority of new registrations since Taylor's post on Sunday have been from people between 18-29 years old -- about 102,000 out of the 240,000 total new registrations in less than 48 hours," the organization wrote.
Even Katy Perry  praised the "Delicate" singer for sharing her voice. Perry told Us Weekly at the amfAR Gala in Los Angeles, "She's setting such a great example."