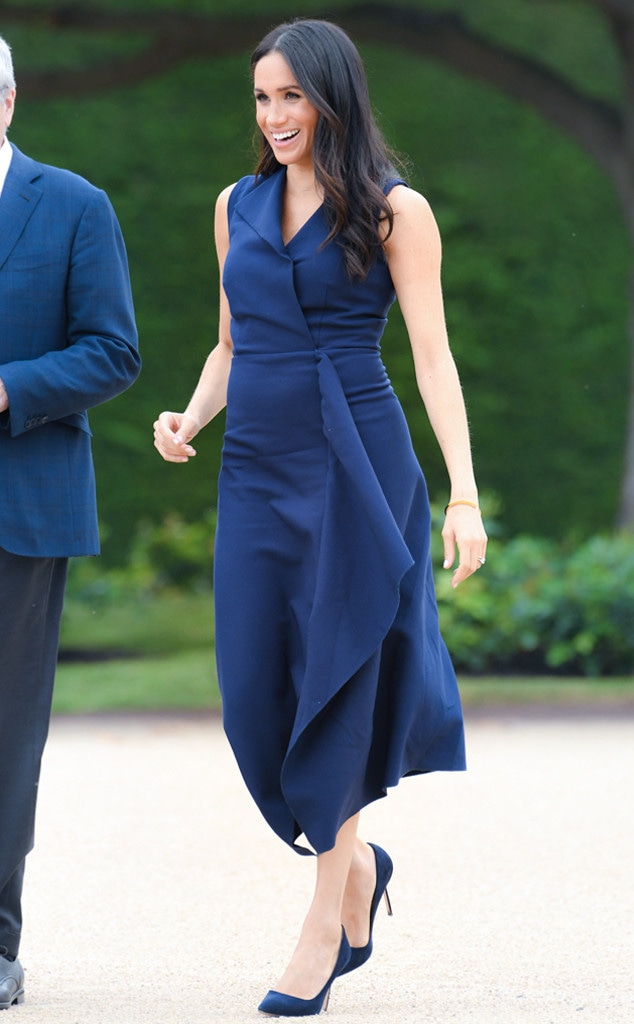 Karwai Tang/WireImage
Now that Prince Harry and Meghan Markle have announced the pregnancy, what is she going to wear?
As of this week, her growing baby bump is visible (See: Her bump in the navy blue Dion Lee dress she wore to a reception during the royal tour) and, behind-the-scenes, her team is prepping for her pregnancy and planning her wardrobe.
Of all of the designers that create maternity looks, the royals have one favorite: Séraphine, based in Notting Hill. And, according to the owner of the brand, Cecile Reinaud, her fashion brand is in the process of submitting a combination of custom and ready-to-wear designs to the castle, in hopes that they will be chosen to dress a pregnant royal once again. Most likely, they will, considering that the owner's problem-solving, women-loving brand has garnered a large number of famous fans, including Kate Middleton, Pippa Middleton, Princess Victoria of Sweden, Gwen Stefani, Anne Hathaway, Jessica Alba and Mila Kunis. Plus, the brand's affordability and professional wear align to Meghan's style, which also includes pieces from J. Crew and Club Monaco.
"When I started the brand, I was in my 30s and I wanted it to be affordable because I felt that's what I needed," Cecile told E! News. "I felt like you do have to rebuild your wardrobe when you're pregnant...You want to be able to have a big variety in your wardrobe and I also wanted the pieces to be really versatile, that they could be worn post pregnancy, you know so that you could nurse in them. It was really the ethos of the brand to keep that affordability...It's been great to see that [royals and celebrities] endorse the brand not because of the price point, but because of the actual high quality of the product and the design."
The brand made its entrance onto the global stage after the Duchess of Cambridge's first pregnancy with Prince George in 2013, when she wore the Fuchsia Knot Front Maternity Dress in their first official photo together. After it was reported that the royal's dress in the official photos was only $89, fashionable moms-to-be flocked to the site.
"That was kind of the start of the relationship between Séraphine and Kate Middleton maternity," the designer stated. "And then in her second pregnancy, you know, she started to show a little bit earlier and we worked with her and we worked on pieces for her official occasions, which is not something that we had done in her first pregnancy."
After that, it was pretty much downhill. Séraphine became a household name for royals and celebs. 
Now with so much experience, she's prepping for Meghan. Although Cecile read the pregnancy announcement at the same time as everyone else, she's been thinking about dressing the American-born royal for a long time.
She continued, "We learned with everybody, But, you know, everybody was expecting it, right? After the royal wedding, we thought it's going to come sooner than later, so I think we were already thinking about some ideas. And anyway, because she is a style icon, she is an inspiration to designers. So in our design journey, we are taking an account of Meghan's style...So for sure, her influence had started in our collection before her pregnancy."
According to Cecile, Kate, Pippa and Meghan have different styles, but together represent the wide variety of looks available through the maternity brand. For the first time in the USA, the designer revealed what went into designing and curating looks for each royal, plus what she's planning for Meghan.