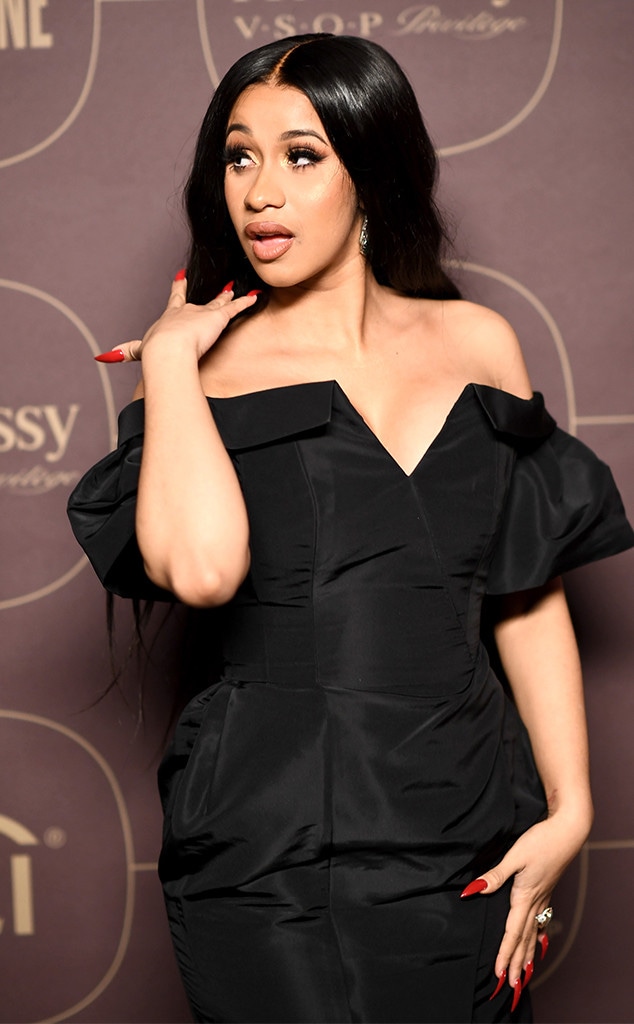 Dimitrios Kambouris/Getty Images
Cardi B does not mince words.
Ever since the Bronx-bred rapper burst onto the scene boasting about money moves and bloody shoes last year when her hit debut single "Bodak Yellow" took over the music industry and turned her from Love & Hip Hop: New York breakout star to the hottest female MC in the game with five nominations at the 2019 Grammy Awards, including one for the coveted Album of the Year for her hit debut album Invasion of Privacy, she's proven to be a much-needed breath of fresh air in an image-obsessed industry, always keeping it 100 when talking about pretty much every single aspect of her life.
From her early days as an exotic dancer to her newest role as mom to baby girl Kulture Kiari Cephus, there's no topic that's off-limits for Cardi B—real name Belcalis Almánzar—and whether she's spinning a story on a red carpet or during a talk show visit in her own uniquely hilarious way or taking it straight to the streets on social media, she's never not the realest. And we love her for it.
When she let us all know that childbirth is no picnic
During a late 2018 visit to Jimmy Kimmel Live, Cardi opened up to the late-night host about how much worse the act of bringing Kulture into the world was than she believed it would be. "It was totally harder [than I imagined it would be]," she told him. "She broke my vagina...Why nobody tells you about those things? Nobody told me they were going to stitch my vagina...People just be like, 'Oh, you know, when you give birth, it's gonna hurt,' but nobody tells you that like your vagina."
When she refused to hate on her past life on the pole
In fact, she made it perfectly clear during a May appearance on The Howard Stern Show that being a stripper saved her. "You wanna know something? I feel like a lot of people want me to lie and be like 'I hated it, I went through so much things, I don't recommend it,'" she told the shock jock. "I don't tell girls to go do it but I am not going to front—it really saved me. It really saved me. Before I was at the strip club I was a cashier at [a] market."
When she made it clear exactly what stripping saved her from
"When I was 16 years old, I used to hang out with a lot of…Bloods," she admitted in the May issue of GQ. "I used to pop off with my homies. And they'd say, 'Yo, you really get it poppin'. You should come home. You should turn Blood.' And I did. Yes, I did." It was only when she started stripping at 19 that she left the gang. "When I was a stripper, I didn't give a f--k about gangs, because I was so focused on making money."
When she spoke openly about her experience getting illegal butt injections
As she told GQ in that same profile, she got the injections at 21 in a basement apartment in Queens, New York where she paid $800 to have a woman inject her butt with fillers. "They don't numb your ass with anything," she told the magazine. "It was the craziest pain ever. I felt like I was gonna pass out. I felt a little dizzy. And it leaks for, like, five days." After the procedure, she intended on returning for a touch-up, but wasn't able to. "But by the time I was gonna go get it, the lady got locked up 'cause she's supposedly killed somebody," Cardi said. "Well, somebody died on her table."
When she admitted to feeling the same way the rest of us mere mortals would around Queen Bey
"When I met Beyoncé, people be like, 'How that felt? I bet you was mad happy.' " she told GQ. "It's like, 'Actually, I wanted to sh-t on myself.' It was a very scary thing. All she was doing was like, 'Hi. I love your music.' And I was like 'UHHHN!'"
When she shared why she's hesitant to call herself a feminist
As she told New York Magazine last year, it's not because she isn't one, but because of how other people react to the word. "You know what? I'm not even gonna consider myself nothing," Cardi told the magazine. "Here's the thing that b--ches got me f--ked up when it comes to that word. People think that being a feminist is a b--ch that, like, went to school. They wear skirts all the way to their motherf--king ankles like a godd--n First Lady. That's not being a feminist. Being a feminist is being equal to do what a man do. N----s hustle, and I hustle n----s."
When she shared her beef with Uncle Sam
With money moves comes more coin in the bank and, as Cardi learned earlier this year, more you've got to may in taxes. And in a March Instagram post, she let Uncle Sam and the world know she had some problems with that. "Uncle Sam, I want to know what you're doing with my f--king tax money," she said, citing the "always dirty" streets of New York, considering "there's still rats on the damn trains," and the allocation of funding towards prisons—claiming the money gives inmates "like two underwears [and] one jumpsuit for, like, five months"—as examples. "What is y'all doing with my f--king money?" she reiterated. "I want to know. I want receipts. I want everything."
When she thanked her haters
While accepting the award for Best New Artist at the 2018 iHeartRadio in March, she went through the whole process of thanking her team, her man, and her fans, before turning her attention to all the doubters out there. "And I want to thank my haters too. Because, ha-ha-ha, because, they be downloading my stuff so they can hear it and talk crap about it. But it benefits me. Ha-ha-ha," she concluded. "My album will be coming in April. Okay? Yes, sir. April. Stay tuned mother f--kers owwww."
When she shared her very specific feelings on Grammys night
In a now-iconic moment shared with E! News' very own Giuliana Rancic on the red carpet at the 2018 Grammy Awards, her first, she opened up about how she was feeling in that very moment. "I'm feeling good, I'm feeling nervous, overwhelmed—everything!" Cardi said. "Butterflies in my stomach and vagina!" Alrighty then!
When she opened up about the unwelcome side effects of motherhood
In September, Cardi took to Instagram to let the world know that Kulture "did me filthy" and she was now having to do something she'd never done before. "I have to f--kin' tape my t-tties up because, son, giving birth and s--t. Like, my t-tties were already like a little low-low because I got my t-ts done when I was 19, and I never wore a bra and s--t….But when I was pregnant my s--t was looking nice, though," she said, before adding her plans to do something about it. "I'm getting my t-ts done. I don't give a f--k. Matter of fact, I'm not even going to call it a surgery. I'm just going to say a 't-tty renovation' because I got to renovate these s--ts."
When she opened up about the unwelcome side effects of motherhood, pt. 2
In July, it was revealed that Cardi had received 10 nominations at the 2018 MTV Video Music Awards. And when she ought to have been celebrating, she was hiding her face from the world instead. "It's your girl Cardi B. I wish I could show my face right now, but a bitch looks f--ked up in the game. My hair's f--ked up. My eyes are so dark and puffy. Like, I'm wild pale," she told her fans on Instagram. "I know I haven't said anything about it but it's because I've just been so busy, so tired and like in a different world, different dimension."
When she gave Selena Gomez some excellent advice
After news broke that Selena had entered a mental health facility to address ongoing issues related to anxiety and depression, E! News spoke with Cardi on set while she was shooting for an upcoming project with Fashion Nova and she had a perfect message for her fellow "Taki Taki" singer. "I just want to let her know, Girl, you're beautiful, you're rich and hold on because even sometimes I feel like I'm losing my mind," she said. "I just got to pray hard to God and get away from social media."
When she spoke about the evils of social media
In a since-deleted post on Instagram, Cardi unloaded her thoughts on social media back in April. "Social Media have been the most disgusting place. It makes me question humanity and not only on celebs, on other people and situations. I see people on here laughing and getting joy of other people misery," she wrote. "People be wishing for other peoples kids to be taking away from them. Be wishing that people career fail and fall not knowing how they going to provide for their family next. Wishing heartaches and break up on people's relationships, marriage and homes. Lowering people self-esteem and what ya do it for?"
When she reveled in pride over her facial hair
As she let her Instagram followers know, she waxes her upper lip and she's proud of it. "You know, as I get older and I wax more I notice that my mustache is getting thicker, but it's cool though, cause bitches with good mustaches got good p---y," she boasted.
When she admitted she has mad love for one former president
In her GQ profile, Cardi revealed her incredibly extensive knowledge when it came to American presidents. And she went on, at length, about Franklin Delano Roosevelt. "First of all, he helped us get over the Depression, all while he was in a wheelchair," she told the publication. "Like, this man was suffering from polio at the time of his presidency, and yet all he was worried about was trying to make America great—make America great again for real. He's the real 'Make America Great Again,' because if it wasn't for him, old people wouldn't even get Social Security."
And when she let Nicki Minaj know what's good
Immediately after rap's two reigning queens went at it at the Harpers Bazaar ICONS bash during New York Fashion Week in September, Cardi took to Instagram to make it perfectly clear why she went after the "Barbie Dreams" rapper. "I've let a lot of s--t slide! I let you sneak diss me, I let you lie on me, I let you attempt to stop my bags, f--k up the way I eat! You've threatened other artists in the industry, told them if they work with me you'll stop f--kin with them!! I let you talk big s--t about me," she wrote. "I addressed you once in person, I addressed you a second time in person, and every time you copped the plea!! But when you mention my child, you choose to like comments about me as a mother, make comments about my abilities to take care of my daughter is when all bets are f--kin off!! I've worked to hard and come too far to let anybody f--k with my success!!!! B---hes talk all that s--t in the raps but in real life they p---y!! This s--t really is for entertainment!!"
Doesn't get much more real than that.
(Originally published Oct. 19, 2018 at 3:00 a.m. PST)