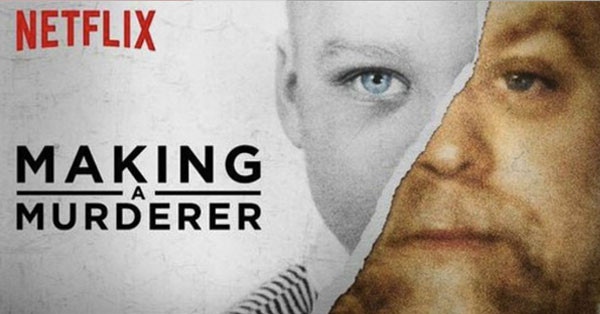 Netflix
The makers of Making a Murderer didn't set out to trigger a crime wave.
As far as our viewing habits go, that is.
"I think people are responding to the series because it really engages with the question of 'how do we define justice?'" Laura Ricciardi, who directed, produced and wrote the docu-series with Moira Demos, told E! News at the 2016 Webby Awards, held about six months after it became apparent that following the twisted, tragic road that led to Steven Avery being convicted of murder had become a national pastime.
"So, you know, in that regard I think it's understandable that people would be engaging and having lots of emotions about the roller-coaster ride the Averys, and the Dasseys, and the Halbach family and all of the subjects in the series experienced."
Ricciardi added, "We're definitely exploring the idea of doing future episodes because the story continues to unfold."
So it did, and Making a Murderer Part 2 premieres Friday on Netflix, picking up with Avery's nephew Brendan Dassey's own tortuous legal saga and a renewed effort to get Avery's 2007 murder conviction in the death of 25-year-old Teresa Halbach overturned.
Only now, the series returns to a TV and streaming landscape jam-packed with true crime programming, and with a built-in audience that has very strong opinions about what went down in season one.
Crime has historically been a subject that brings people, even ones with different theories of what happened, together—because everyone can agree it's entertaining. 
Fictional murder mysteries pack the shelves at airport book stores for a reason, and since the 19th-century days of Jack the Ripper the media have known which way their bread is buttered—"if it bleeds, it leads" remains a marching order at many a publication and TV station. Add to the mix the rise of cable news and more hours to devote solely to parsing the big mystery of the day or, quite often, a long-ago yesterday, and we ended up with a thriving genre that now has a home in every medium, from books and miniseries to podcasts and Reddit forums.
There has never been, however, such a proliferation of so-called highbrow true crime as there is now.
When Making a Murderer premiered, still fresh in peak-TV enthusiasts' minds was The Jinx, HBO's six-part, truth-is-stranger-than-fiction series about Robert Durst. The now 75-year-old real estate scion was a person of interest in the never-solved 1982 disappearance of his wife in New York, was acquitted of killing and dismembering a neighbor in Texas in 2001 (he claimed self-defense), and stands accused of murdering Susan Berman, a friend of his in Los Angeles who perhaps knew too much about his wife's fate.
Durst, who maintains his innocence in Berman's 2000 killing, was captured on audio (his microphone still on while he was in the bathroom) murmuring, "What the hell did I do? Killed them all, of course" during production of The Jinx. The seemingly gotcha moment caused major controversy—did director Andrew Jarecki and his crew sit on evidence that could have been helping authorities in order to keep their explosive finale a surprise?—and all sorts of free publicity for HBO.
"The truth is we hoped that Robert Durst would be arrested as soon as possible, and we were sort of amazed ourselves that he hadn't been arrested for so long," Jarecki said on CBS This Morning in 2015. "But the authorities were never communicating with us other than in their normal cordial way. They were going through their investigation."
What people were tuning in to see, however, was a villainous character, one who was already suspected of foul crimes. The point of that series wasn't to make people wonder if Durst had been unfairly accused. Rather, you're left wondering how he had been a free man for so long.
More resembling Making a Murderer, the podcast Serial, hosted by journalist and This American Life producer Sarah Koenig, also focused on a potentially problematic murder conviction. It caught on like wildfire when it premiered in 2014 (and continues to, with Kim Kardashian just getting into it this summer and breathlessly polling her Twitter followers to see if they think Adnan Syed is guilty), getting parodied on Saturday Night Live, making minor celebrities out of the cast of characters and spawning a wealth of true crime podcasts, including an impressive number devoted just to unpacking what happened on Serial.
Syed, found guilty of the 1999 murder of 18-year-old Hae Min Lee, was sentenced to life in prison and that's where he remains as his petition for a new trial makes its way through the courts in Maryland—the renewed mass interest in the case due to Serial's investigation. His conviction was vacated in 2016 by a Baltimore judge, but the judicial system that put Syed behind bars is fighting every step of the way to keep him there, convinced they already have the right guy.   
"I wasn't—and we weren't—trying to create problems where there were none," Koenig, who never staked her claim for Syed being guilty or innocent, told Fresh Air's Terry Gross in 2014 after Serial's 12-episode first season ended. "...Obviously I don't want anyone to suffer because of the work I'm doing, but I also feel like there's a strong tradition of doing these kinds of investigative stories. And we weren't doing anything differently than we would do in any other story."
Than along came Making a Murderer in December 2015. It wasn't the very first series of its kind, nor was it even the only one in production all those years, but it certainly blew up at just the right time, both for Netflix and for an entertainment industry grappling with how to keep audiences engrossed in anything these days when viewing habits are so fractured and appointment TV doesn't really exist anymore.
Moira Demos called Netflix "the perfect partner," telling E! News, "They left us to have a lot of creative control, they offered us the whole world as our audience, and they let us do the format that we needed to do to tell the story correctly."
Netflix has certainly become known for that in the ensuing years. The streaming behemoth, which topped reigning champion HBO in Emmy nominations this year, is expected to spend an estimated $13 billion on programming in 2018, 85 percent of that on original content.
Whether Demos and Ricciardi told the story correctly or not, that too has been a subject of debate since the show picked up steam, with armchair investigators (and actual investigators) pointing out that Dassey confessed and evidence does point to him and Avery, though—as the series also astutely points out—the injustices that remain baked into our criminal justice system, particularly affecting the poor and people of color, are a real thing. The arc of the story does seem to be suggesting that it was the system that was guilty, and not Avery.
"If there's ambiguity—which we believe there is—about who killed Teresa Halbach, then the question is, what do you do with that ambiguity?" Ricciardi told the Los Angeles Times in June 2016. "We were trying to show the experience of the accused in the criminal justice system. Do we really give any weight to individual rights?"
"There's definitely some pressure," Ryan White, director of the 2017 Netflix docu-series The Keepers, told E! News last year. The show examined the still-unsolved 1969 murder of Sister Cathy Cesnik, a teacher at a Catholic high school in Baltimore who may have been killed as part of a cover-up after she suspected a priest at the school (now deceased) of sexually abusing students. 
"When we began this, Serial wasn't even out yet," White said. "So while we were making it, Serial came out, The Jinx came out, Making a Murderer came out. It's some pressure that people are asking whether ours can be as successful, but if we could have a fraction of the success of any of those series then I will be a happy storyteller. My goal, and I know the goal of the people I was following, was to bring attention to this issue, and the more people are watching it, the more people are going to demand accountability for the murder and for the sexual abuse, and also demand justice."
In 2016, Ryan Murphy's Emmy-winning American Crime Story: The People v O.J. Simpson on FX and Ezra Edelman's Oscar-winning (despite premiering on ESPN), seven-plus-hour documentary O.J.: Made in America would paint complementary portraits of the perfect storm of race, celebrity, media hype, deep-rooted tensions between the Los Angeles Police Department and the citizens they're sworn to protect and a litany of legal screw-ups that converged in the Simpson murder trial—and how such issues were deftly (and understandably) exploited by the defense.
Just when you thought it was impossible to portray the case in a fresh, useful way, both Murphy and Edelman succeeded, and with that the lid of Pandora's box o' crime was irreversibly open. Also with the O.J. renaissance in 2016 came the 20th anniversary of the still-unsolved murder of 6-year-old JonBenét Ramsey, and multiple news specials, the requisite Lifetime movie (years after a miniseries based on one of many books about the investigation) and a strange Dr. Phil interview with the late child-pageant queen's older brother.
In fact, in the past two years, seemingly no '90s crime stone has been left unturned.
Inevitably, the Law & Order franchise ventured into true-true crime (as opposed to just ripping from headlines), tackling the 1988 murders of Jose and Kitty Menendez at the hands of their sons, Erik and Lyle, who first went on trial in 1993. Edie Falco was nominated for an Emmy for her performance as Erik Menendez's defense attorney Leslie Abrams, but otherwise it was hard to shake the whiff of melodrama that can't help but cling to the L&O canon. 2017 also featured Paul Bettany playing Ted Kaczynski in Discovery's limited series Manhunt: Unabomber, and this year Taylor Kitsch was a convincing David Koresh in Paramount Network's Waco, while Josh Duhamel's Detective Greg Kading was on the case in USA's Unsolved: The Murders of Tupac and Biggie.
Murphy's American Crime Story also returned earlier this year with The Assassination of Gianni Versace, and Darren Criss won an Emmy for his chilling yet very human portrayal of spree killer Andrew Cunanan, who was already the target of an FBI manhunt when he gunned the fashion designer down in cold blood in 1997.
So, everything that's horrifying is new again, and thanks to truth-seeking projects like Serial and Making a Murderer, the stories remain ongoing, even once the cameras have been turned off and true-crime junkies find new sagas to binge on. 
Netflix's true-crime section alone could keep you busy for years. Now, incidentally, it includes The Staircase, a 2004 docu-series that followed the trial of author Michael Peterson, accused of the 2001 murder of his wife Kathleen Peterson. The saga, which picked up again in 2013, aired in the U.S. on Sundance Channel and long preceded the recent true crime explosion, but inevitably ended up on Netflix in June with three new episodes. 
And now, Making a Murderer is back, this time with the weight of expectations and built-in backlash.
Because, while stories like The Keeper can't help but prove somewhat dissatisfying because the question of who did it hasn't been answered, the plight of Steven Avery and Brendan Dassey—much like the plight of Adnan Syed—doesn't pluck the heartstrings of the families of the women they were convicted of killing.
"It remains hard to see so many run to defend someone who committed a horrible crime, who destroyed our family, who refuses to accept responsibility, when so few are willing to speak up for Hae," Hae Min Lee's family said in a statement released by the Maryland Attorney General's office before Syed's new trial was granted on June 30, 2016. In March, the Maryland Court of Special Appeals upheld the lower court's decision to vacate his conviction, but the fight continues.
"It's terrible," Kay Giordana, an aunt of Teresa Halbach, said about Making a Murderer in 2016, telling People, "I can't believe this came out. It is really unfortunate."
The show "really presents misinformation," Avery prosecutor Ken Kratz told the New York Times.
And here it comes again, featuring Avery's new lawyer Kathleen Zellner, who specializes in fighting alleged wrongful convictions, saying, "If this case is solid, if he's guilty, I'll fail."
But Zellner didn't take on the case planning to fail. 
After part one, Moira Demos and Laura Ricciardi were criticized for leaving out certain facts that would have lent more weight to the prosecution's case. They were, in turn, accused of having an activist agenda. 
Demos and Ricciardi maintain that to look at the series as advocating for Avery's innocence is to misinterpret their intention.
Making a Murderer "wasn't premised on an opinion—at the beginning or the end—that he was innocent of this crime, or was guilty of this crime," Demos told Buzzfeed News ahead of the season two premiere. "The question was, 'Will this process be fair to him?' That doesn't matter whether you did the crime or didn't do the crime. It was sort of never part of what we talked about with Steven."
She added, "Most of the criticism that I heard about or read seemed to come from people who misunderstood what the series was about."