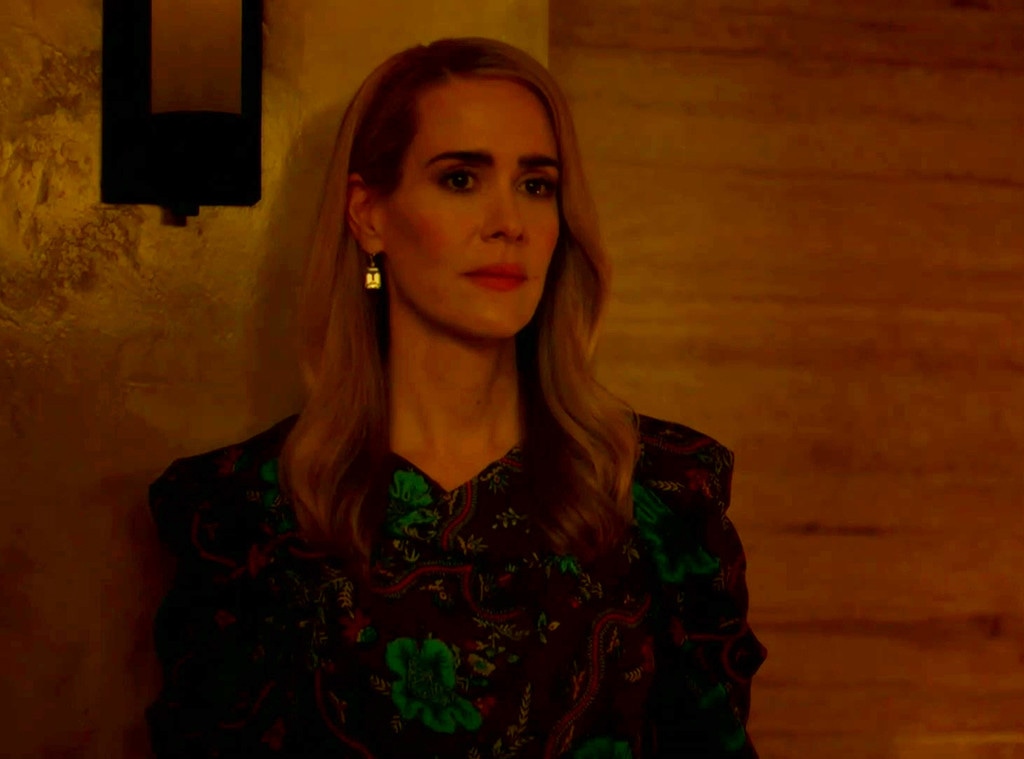 FX
Tonight, American Horror Story is going home.  
At the end of last week's episode, we saw Cordelia (Sarah Paulson) send Madison (Emma Roberts) and Behold (Billy Porter) off on a mission to find out everything they could about Michael from the one place she knew had all the answers: The Murder House. 
In tonight's episode, the show revisits where it all began, with that creepy house in Los Angeles filled with ghosts who couldn't leave. It's where Michael was born, and so it might be where the coven can figure out a way to defeat him, with some backstory from his mother, his father, his step father, his sister, and his doting grandmother (and the housekeeper, naturally). 
The episode brings Connie Britton, Dylan McDermott, Taissa Farmiga, Evan Peters, Frances Conroy, and Jessica Lange all back into the house, all under the direction of one Sarah Paulson, and boy did she understand the magnitude of the episode and the potential squeals and gasps from the audience, even as she was directing it. 
"Sometimes when Jessica entered and you first hear her voice, it's like 'And screams erupted all over the nation,'" Paulson tells E! News of the experience of directing what might be the show's biggest, most anticipated episode ever. "Like every time my editor and I would watch it, and I'd hear her say "Now who do you think you are?', I was like 'And the world explodes!'" 
She knew how much pressure there was on the episode in general, and with that pressure paired with the pressure of what was sort of a last-minute gig for her, directing this episode was a hell of a task. 
"It was a nightmare in a lot of ways," she tells us. "Ryan [Murphy] pitched it to me like, an episode where everybody's going to be sitting around talking. [...] I was originally supposed to direct the eighth episode, and so we were shooting episode five, and I thought, oh I have a full month before I'm going to have to face this music and do this thing even though it's terrifying. Then Ryan called me on the phone and he said, I want you to direct episode six, which was like a week away, and I was like, wait what?! I hadn't read it yet, I was shooting episode five which I was very heavy in as Cordelia, so all the prep work was happening on the fly, you know, in the morning in the makeup chair. It was a really overwhelming time." 
Not only is this the episode that really hits full crossover, but it's also the season's longest episode, and one of the longer episodes the show has ever done. 
"But I think it earns it, because this is where it all began," Paulson says. "This is what the audience has been waiting for and craving and they get to see these characters again, and I thought you know, if you're gonna write a script this long, you're going to have to let it be this long." 
Paulson was nervous to take on the task of an extra long, extra important episode, but only because it was the first time she'd ever directed at all. 
"It was scary to take that first step, but it's something I really wanted to do, and I knew if I was going to do it, I wanted to do it here at American Horror Story where I have worked for the past eight seasons with a lot of the same crew and a lot of the same actors, and with Ryan and the writers, and I felt like if I was going to make this leap, I wanted to do it in a place where I felt appropriately held, and I had that in spades," she says. 
It also helped that one of her biggest stars is a long time friend and coworker. 
"Jessica Lange is an actor I've worked with longer than any other actor I've ever worked with," Paulson tells us. "I've worked with her since 2005 on stage, so to be working with her in an entirely new way was totally daunting and intimidating but she was so open and ready and willing and curious as to what I thought and how we were going to pull something off, and I got so much encouragement from all of the actors, so I just decided it would be better to just show up with some semblance of confidence and excitement, rather than cowering in the corner, which is what I felt like some days." 
For everyone who's waiting for the show to really return to its first season, tonight is your night, because Director Paulson did her absolute best to make sure you really feel like you're back in the Murder House eight years ago, including recreating exact shots and using the same score.
"I watched the first season again more than once," she says. "There are certain images that stay with you that are sort of indelible about that season, much like the music was. We used all the same score as we did in season one. There are just certain things, like any time you're in Ben's office you see the ceiling. You never shoot from looking down. Usually, it's a low angle on the floor looking up, and you know, it was very important for me that I do things that will remind the audience instantly of that season, so they knew where they were, and that it would make them comfortable to know, oh we're really back in that house." 
You'll get to feel like you're back in that house when the episode airs tonight at 10 p.m., and be sure to come back after the episode for more from Paulson on her favorite scenes and the moments she fought for. 
American Horror Story: Apocalypse airs on FX.