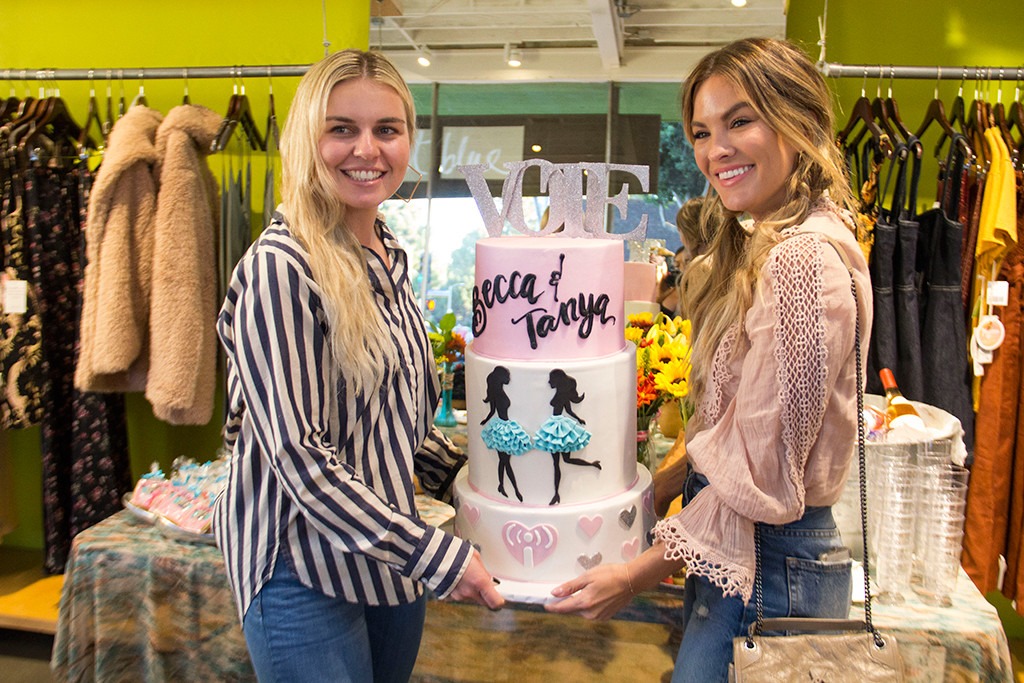 iHeartRadio
Becca Tilley and Tanya Rad are finalists for the 2018 E! People's Choice Awards and they couldn't feel more honored by the shout out.
On Tuesday, E! News caught up with the Bachelor alum and the radio presenter in Santa Monica, and they couldn't help but gush about being finalists in the Pop Podcast of 2018 category.
The podcast personalities couldn't believe that they were up against A-listers like Amy Schumer and Anna Faris for the coveted trophy.
"The nomination itself was very overwhelming," Tilley told E! News at the PCAs Voting Party for their podcast Scrubbing In with Becca Tilley and Tanya Rad at Planet Blue. "The people we were nominated against are big. We are the little engine that could. Beyond just the nomination, I think the support and for people being so excited for us, it's beyond anything either of us could ever expect."
Rad explained that the nod validated her in a way she's never felt before.
"Personally, I've been told in my life that I'm not good enough," she said. "For some reason, this nomination made it seem like we are."
"We're on the right path. It was like this sign that we were on the right path," Rad continued. "We've had a feeling that this is something bigger than us and it's been really crazy."
Rad's BFF and podcast co-host Tilley explained that she believed it was their "special" dynamic that got fans voting for their popular program, and she agreed.
"Becca is family to me. I would do anything for her and I know she would do anything for me," Rad noted. "I think we're so different that we connect to some aspect of every listener in some way. People keep coming up to us and say 'I'm the Tanya and she's the Becca' and it's hilarious."
The besties feel their relatable content and honest vulnerability is what keeps listeners coming back, and we couldn't agree more.
"I've cried over boys and I've done it on the podcast. It's totally embarrassing but I don't care because everybody does it," Rad said.
"Being able to hear someone who is going through the same thing and sharing these raw emotions of what life feels like sometimes—especially as women and going through the dating process—I think there's a lot of relatability in someone being like it's hard and I'm struggling," Tilley added.
Because they are BFFs, Rad acknowledged that their show brings a different perspective to the podcast industry.
"I don't know a lot of podcast hosts that are best friends and do it together," she said. "I think you can really feel that. When you're really hurt, I'm really there. When we're really fighting, we're really fighting and working through it."
"We actually do life together and I think it translates," Rad continued.
Circling back to their PCAs finalist nod, Tilley told E! that the news "exceeded any expectations" that she and Rad had for Scrubbing In. "It's validation in a really cool, fun way that we're doing something right here," she gushed.
"This isn't just a podcast," Rad chimed in. "This is a movement and we're spearheading it. It has sparked a fire in both of us to see this thing through and make a difference."
The duo revealed that they are "changing the game" when it comes to podcasts because they bring something different to the table.
"Being nice is cool. Being kind is cool and being yourself is cool," Rad said before Tilley pipped in adding, "Being a girls' girl is cool. Being a modern woman is cool."
Before celebrating and enjoying the night, Rad added the one thing she wants their listeners to remember which is, "Do what you want. Live your life the way you want and it's okay. I think that's the bottom line."
Fans certainly got that message, since Scrubbing In made it through to the final round of voting for this year's PCAs and could become the winner if you remember to vote for the pair and their show now.
Remember: voting closes this Friday, Oct. 19, so make sure to get your votes in for Pop Podcast of 2018 right now!
—Reporting by Mike Vulpo