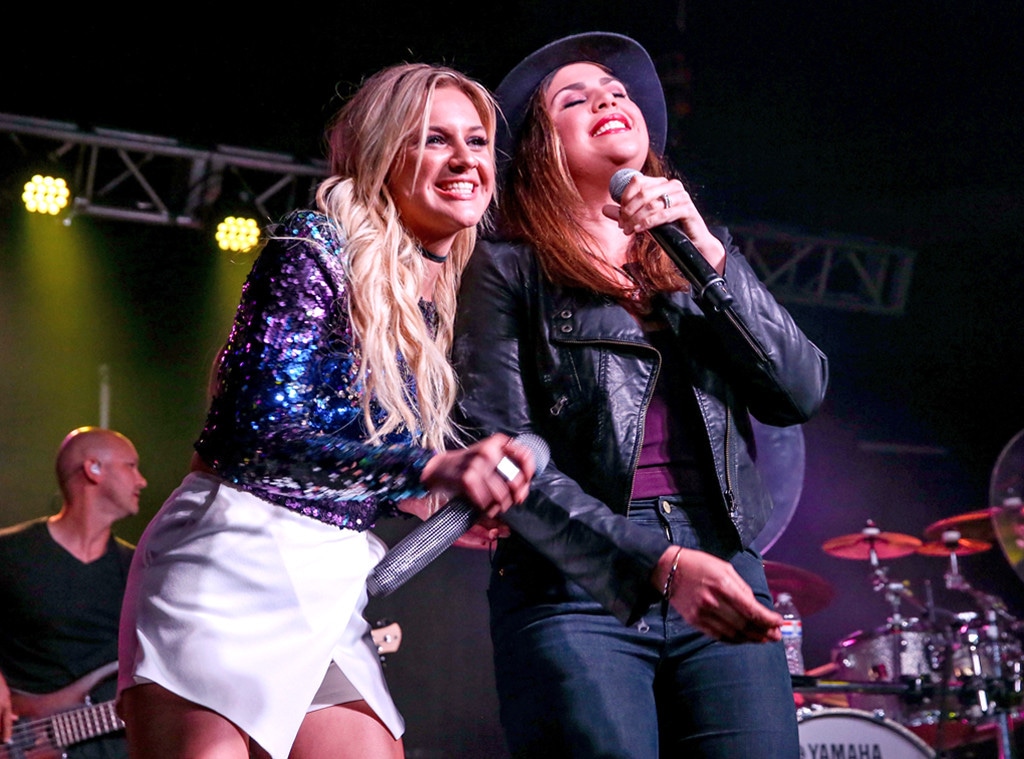 Terry Wyatt/Getty Images
When it comes to country music, family is everything.
The popular genre includes inspiring couples like Tim McGraw and Faith Hill or Garth Brooks and Trisha Yearwood. And yes, we love when artists like Thomas Rhett or Reba McEntire sing about love and relationships.
But there are also some friendships formed in and around Nashville that could rival any family bond.
During tonight's CMT Artists of the Year special, a group of strong, fierce ladies will be honored for their incredible voices, hit songs and contributions to country music.
And while all the artists including Miranda Lambert, Carrie Underwood, Maren Morris and the ladies of Little Big Town support each other, there's one friendship that may just be a step above the rest.
Yes, we're talking about the sisterhood between Kelsea Ballerini and Lady Antebellum's Hillary Scott.
Getty Images; Melissa Herwitt/E! Illustration
Whether they are sharing the same stage or hanging out in Nashville together, these two have grown to respect each other personally and professionally.
"Hillary is really intentional about making people in her life feel special and important to her," Kelsea shared with E! News exclusively. "Whether that means sending a sweet text just for encouragement out of the blue or hosting a 21st birthday at her house."
In fact, when Kelsea received her first No. 1 single thanks to "Love Me Like You Mean It," Hillary decided to buy her a gold necklace and said it would be her golden ticket.
"Hillary is such a dimensional artist. She's a songwriter to her core," Kelsea gushed to us. "She's the female perspective and heart in one of the most successful bands in country music and she is a Grammy winning solo artist. She has so many layers that make her unique in her well-deserved success."
John Shearer/Getty Images
The love and respect certainly goes both ways. Hillary is the first to praise all of Kelsea's accomplishments that she reached in such a short amount of time.
And the "Yeah Boy" singer continuously proves to be a thoughtful friend behind the scenes.
"Kelsea is always full of encouragement. She sent me the sweetest video on our first tour day this summer rooting me on," Hillary recalled to us. "I was nervous coming back from having the twins and needed the boost. She has incredible timing like that!"
As for her music career, Hillary was able to witness Kelsea's talents first-hand when she opened up for Lady Antebellum in the summer of 2017. As a result, the proud mom believes her close friend is more than deserving of a CMT honor.
"Kelsea knows who she is. She connects with her fans all over the world on all things 'love and life' and has such a strong, prolific way of telling her stories with incredible melodies and heartfelt lyrics that we can relate to," Hillary shared with us.
Lucky for us fans, there's no signs of this friendship slowing down. After all, Hillary admitted that she's "like my little sister."
"I've known her since she was barely 20. I watcher her get a record deal, do her first photo shoot, get her first number one. Getting to watch her star rise has been such a joy," she previously shared with The Atlanta Journal-Constitution. "I truly love her like family."
And isn't that what country music is all about?
CMT Artists of the Year 2018 Special airs Wednesday night at 8 p.m. on CMT.